Yippee for Yana: Blending Free Alcohol Marker Coloring
Hi friends! Happy Sunday and welcome to the latest edition of our bi-monthly Yippee for Yana card making series with Yana Smakula! Please be sure to watch the video for all the details, and enjoy!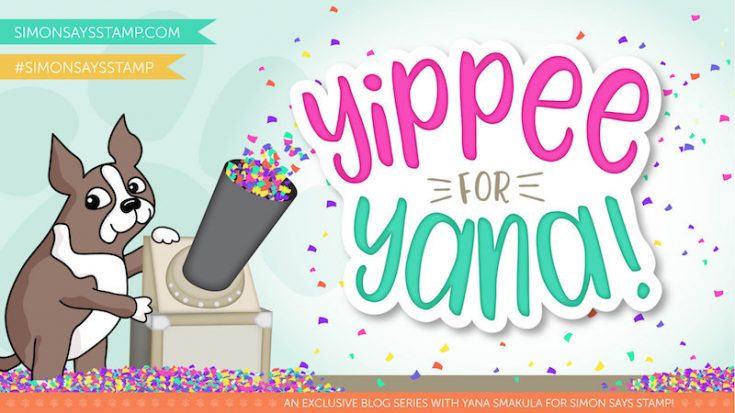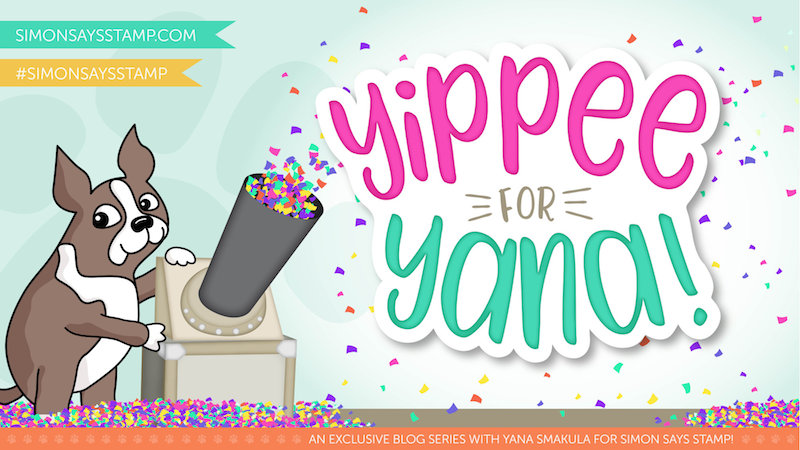 Hi everyone, this is Yana Smakula, welcome back for another Yippee For Yana video! In this episode, I'll show you a different way to color your floral images with alcohol markers without the stress of blending. I call this abstract coloring technique, it has a modern graphic colored look to it, and the best part about it is that you don't need alcohol markers that blend well together, in fact, the greater difference in color or shade of your markers, the better it is for this technique. I know we all have those odd marker colors in our collections that we can't really get to blend or work in other markers in our stash, so this technique is perfect for utilizing those markers. 
In my previous Yippee For Yana video, I showed you how to stamp a background pattern using masking technique and Simon's Look For the Rainbows stamp set. I am using the exact same stamp set for today's video and I am also doing background pattern stamping using masking. Because I shared the stamping and masking process in the previous video, I am not going to repeat the same thing in this episode, if you missed the previous episode I encourage you to go back and watch it. 
Now let's talk about the abstract, blending free coloring technique. You can use this coloring method with many different images, I find that I like to use florals the most for this. I like to begin my graphic coloring by applying the lightest color to the entire image.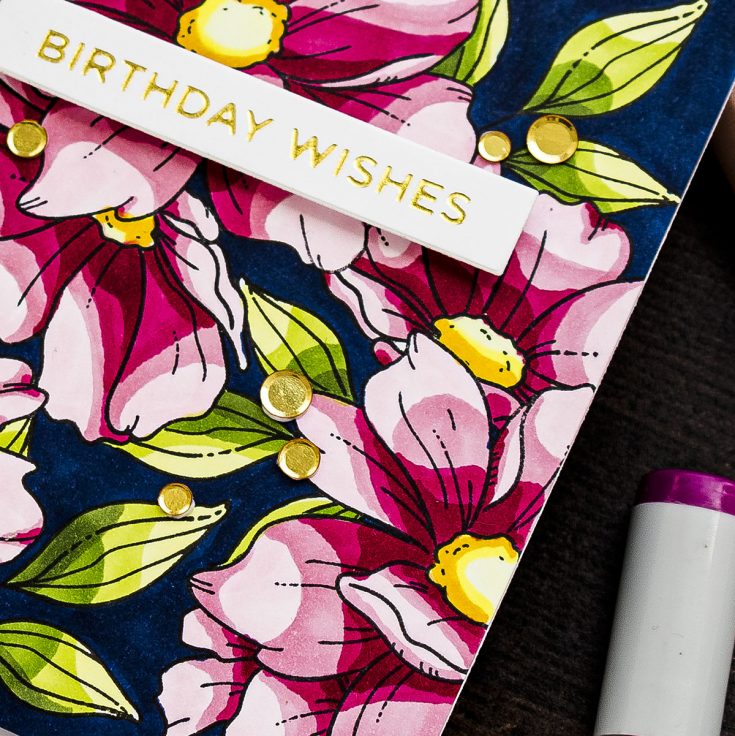 When you color with Copics you typically saturate your paper with the lightest color or go back to the lightest color to blend all the colors together. While the paper is wet it makes it easier to blend the colors, hence why you'd often start with the lightest color and apply it to the area you are coloring. When you color with alcohol markers in the usual way you also don't color the entire image, you work in sections. You color one petal at a time as this allows the ink to remain wet long enough on that area to help you do your blending.
Here, we don't want any blending to take place. In fact, it is rather best if blending doesn't happen. So color the entire image using your base color and even set it aside for a few seconds or minutes to dry. Next, you apply medium color, let it dry, and apply dark color.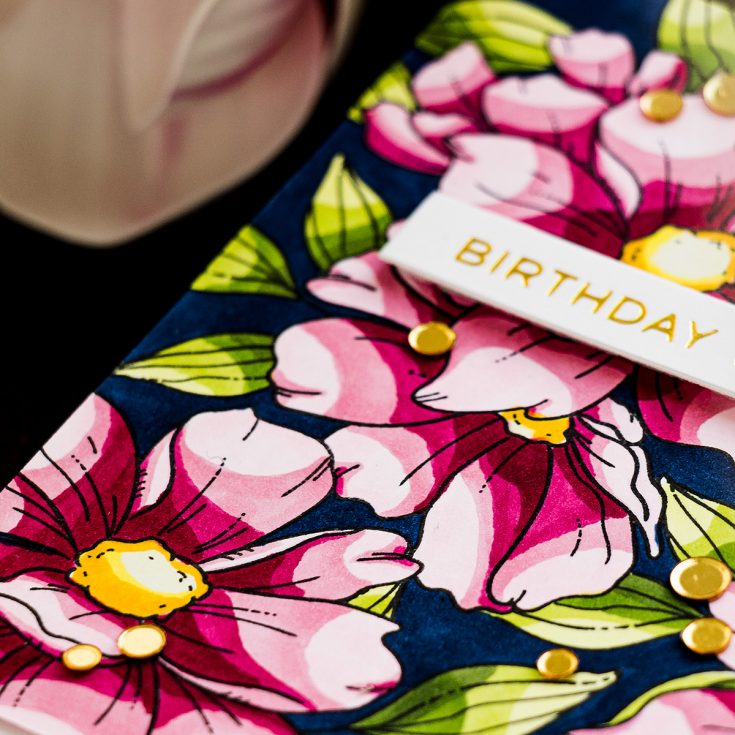 You want to avoid using colors that are too close together as they won't provide enough contrast on your finished piece. The darker you go, the less of an area you cover. Remember not to blend anything, just apply a solid layer of color. It is up to you how many marker colors to use to color your image in this way. I would say use 3 markers, a light, a medium, and a dark. If you have a big marker collection you can add a 4th or even a 5th color to add greater color variation to the flowers. 
You can try this technique not just with Copic markers, I know a lot of you have other alcohol markers in your stash and so I encourage you to try this coloring method with any alcohol markers you have. Some markers have a bullet nib and I think using a bullet nib marker would work even better for this coloring method. I have some Altenew and Tonic Studios Nuvo alcohol markers in my stash and they both have a bullet nib, I'm going to try using those markers next for this coloring method. 
From here you can use the colored background to make a card. With a gorgeous background like this, all you need to do is add a skinny strip sentiment. A skinny strip because you don't want to cover much of the background. You can stamp a skinny sentiment, foil it, or use one of Simon's pre-printed skinny strip sentiments to finish this card. 
To create a sentiment for this card I foiled one that reads Birthday Wishes. This comes from Spellbinders Everyday Sentiments II Glimmer Hot foil Plate and die set. 
I trimmed the colored background panel to 4 1/4 x 5 1/4" and adhered to an A2 white side folding card base so that a bit of a white card base showed at the bottom of the card.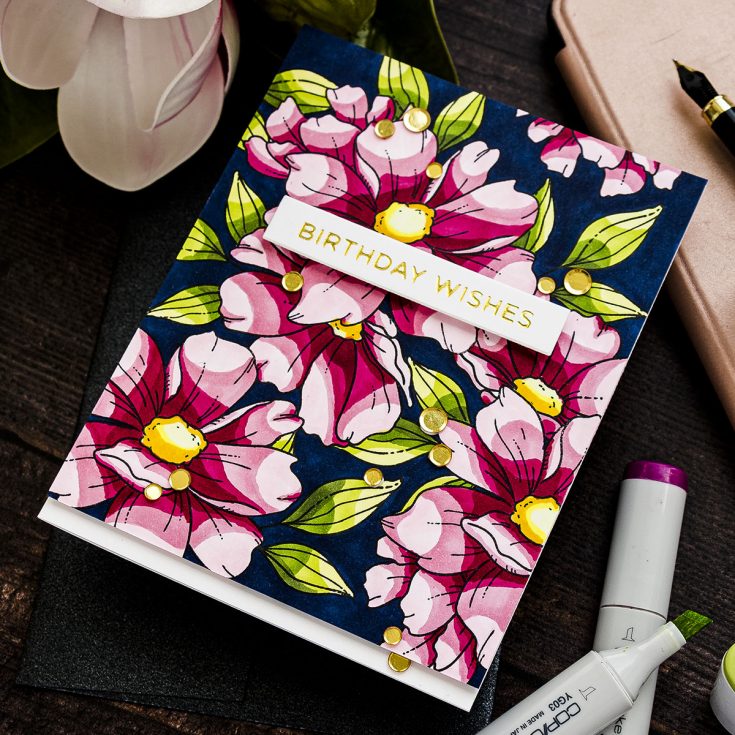 I embellished the card with Simon's Stay Gold sequins – I adhered them over areas where I had marker bleeding to cover the bleeding up and also scattered some over the background and lastly, I foam mounted my Birthday Wishes sentiment and that finished this card. 
Have fun stamping!
SUPPLIES:
Simon Says Clear Stamps LOOK FOR THE…

GLP-094 Spellbinders EVERYDAY…

Simon Says Stamp MASKING PAPER Sheets…

Simon Says Stamp CRAFT TACKY GLUE…

Simon Says Stamp Premium Ink Pad…

GLS-001 Spellbinders GLIMMER HOT FOIL…

Spellbinders PLATINUM 6 Die Cutting…

Copic Sketch Marker RV10 PALE PINK…

Copic Sketch Marker R83 ROSE MIST…

Copic Sketch MARKER RV19 RED VIOLET Pink

Copic Sketch Marker R39 GARNET Dark Red

Copic Sketch Marker YG00 MIMOSA…

Copic Sketch Marker YG03 YELLOW GREEN

Copic Sketch Marker YG17 GRASS GREEN…

Copic Sketch Marker G94 GRAYISH OLIVE…

Simon Says Stamp Sequins STAY GOLD…

Scrapbook Adhesives 3D 217 WHITE FOAM…
Thanks so much for stopping by, and thanks to Yana for the gorgeous inspiration!!