Winter Wonderland Mixed Media Scene
Hi friends! Happy Sunday! Thanks for stopping by our blog today! Here at Simon HQ in Columbus, Ohio we had a taste of Spring weather last week but are back to the winter cold. Sometimes amongst the dreariness of winter it's easy to forget the beauty it brings. Special guest Anna-Karin Evaldsson really showcases that beauty in her special project! Read on for step by step instruction and enjoy!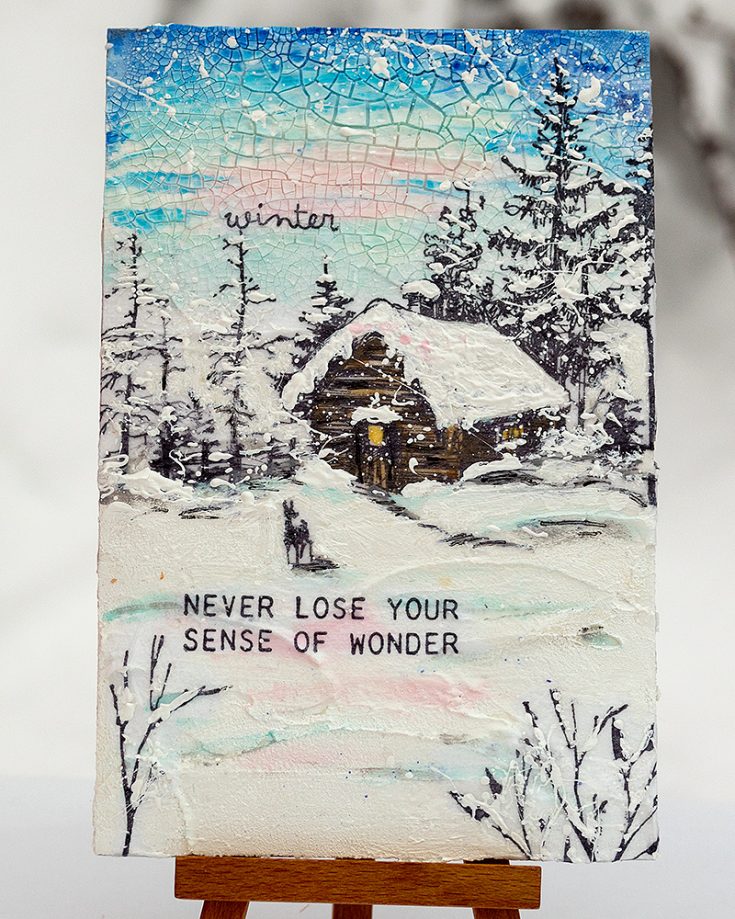 Hi everyone! I am so happy to be here today with an easy and fun mixed media tutorial. I was planning to have done a different project, but I was inspired by the very heavy snowfall we had here over the weekend, and two beautiful walks that I took, and changed my mind and made a peaceful winter project instead.
There is something very peaceful about snow and the world becomes brighter and quieter at the same time. I'd love to stay for a little while in the cottage on this canvas. The techniques in this tutorial can be used on any type of project, and not only for winter themes. All you need is a sturdy enough background. I used a Ranger Dina Wakley Media Board, 4×6 in, but heavy watercolor paper or cardstock, such as Heavystock Mixed Media, will also work well.
After I remove my Christmas decorations, I often leave out winter themed décor pieces, such as the one here, and only remove them once spring is here. Some of them might even stay up year around.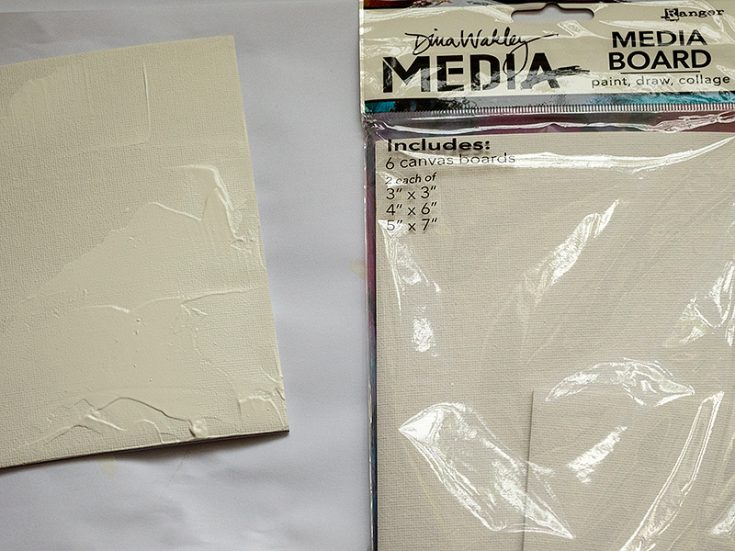 Start by coating the board with gesso. I wasn't planning to add more paste layers on top of the gesso at first, which is why I formed the gesso into snow heaps. You can skip this and use a thinner layer of gesso instead.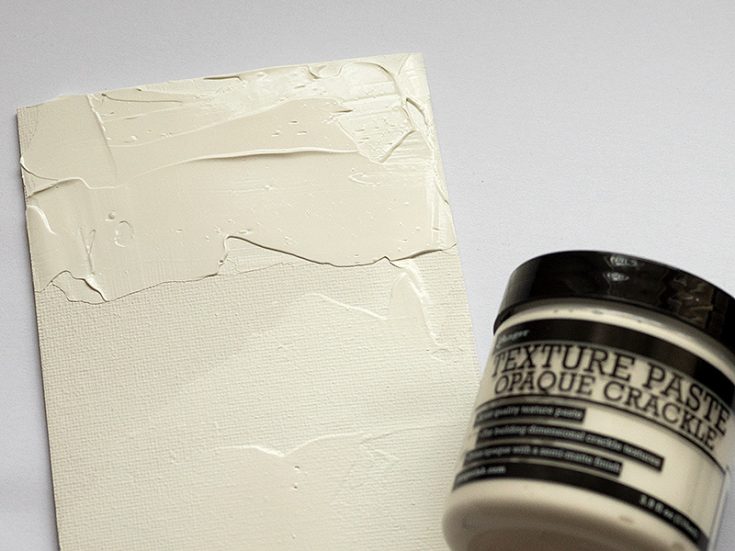 When dry, add a layer of Ranger's Texture Paste Opaque Crackle to the sky. I love the look of a crackled sky. Cracks will appear as the paste dries and the thicker the paste, the larger the cracks.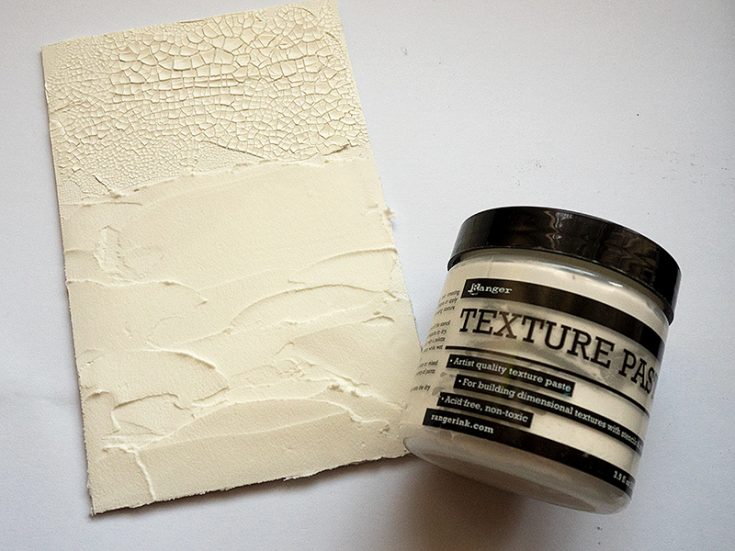 Smear fairly thick layers of Texture paste to create the snowy ground. Use a palette knife and to form the snow into heaps. Let dry.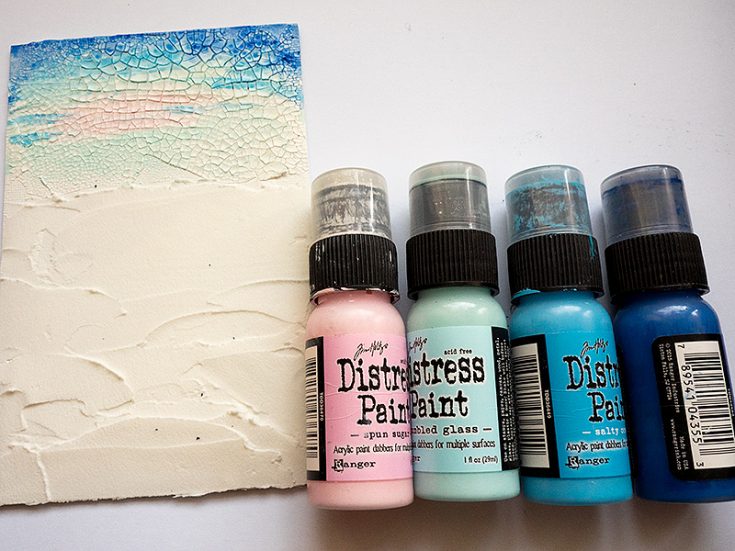 Paint the sky with watered down Distress Paints, starting with the pink.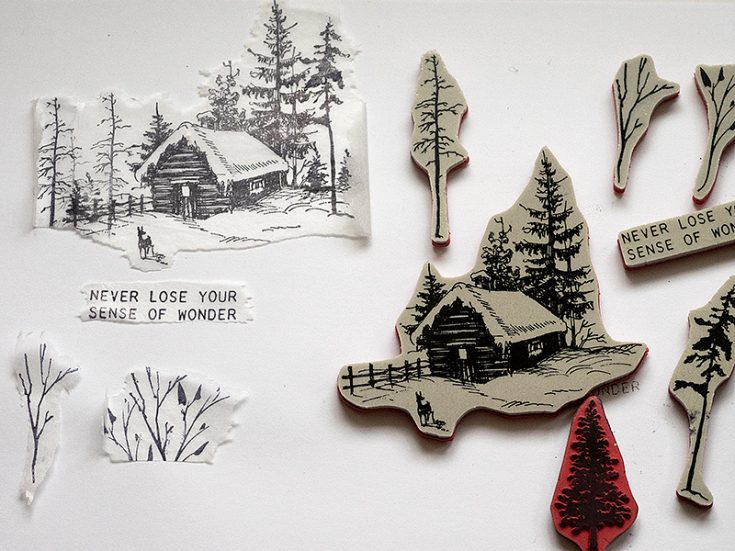 It is hard to get a good stamped impression on a textured background, so instead, we are going to stamp on ordinary tissue paper. Stamp on the glossy side of white tissue paper, using Ranger Archival Jet Black Ink. Tear around the images instead of using scissors, since a torn edge disappears better.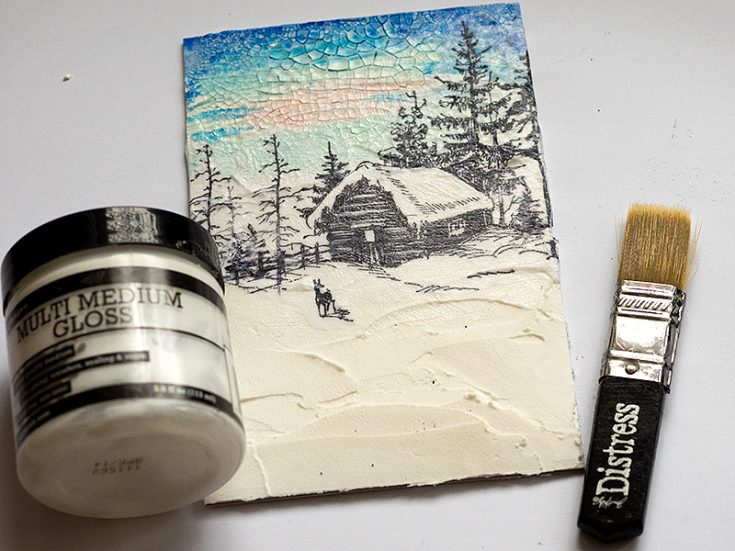 Use gloss medium to adhere the tissue paper to the background. Start by painting a layer of gloss medium on the background, where the image will be placed. Carefully place the tissue paper image into the medium and then add another layer of gloss medium on top.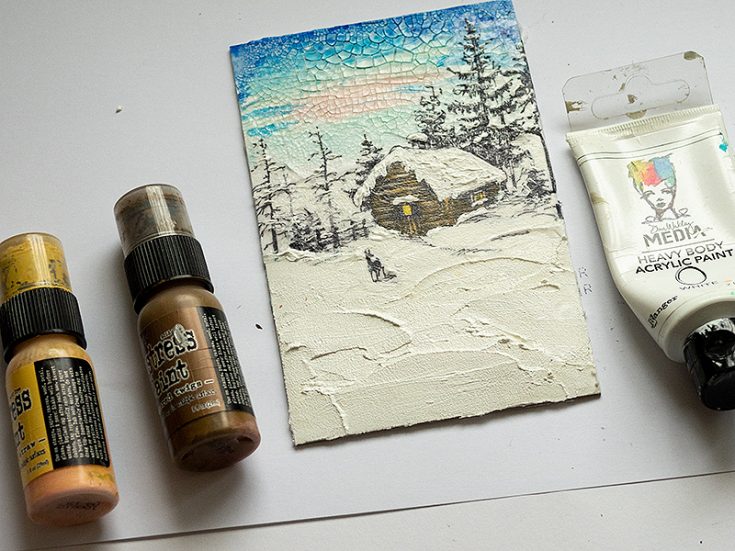 Paint the snow with white paint and the house with brown and yellow. Add thick layers of white paint to the branches of the trees using a toothpick.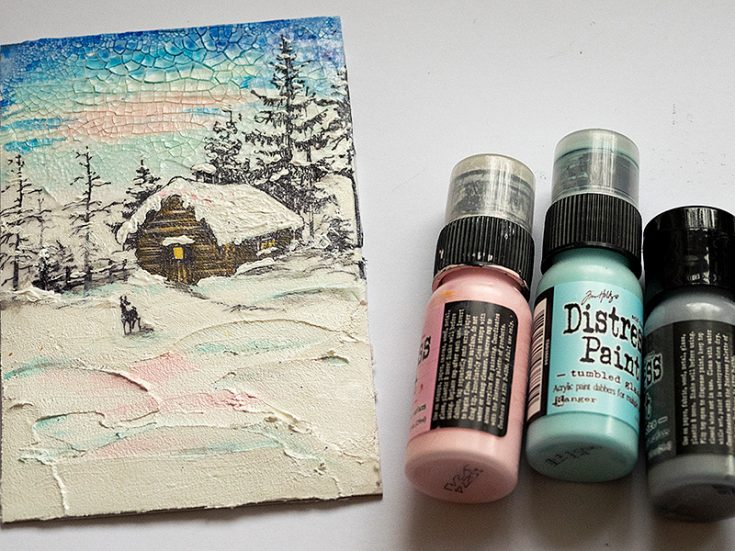 When the first layer of paint is dry, add a few areas of pink and blue to the snow, to connect it to the colors of the sky. Also, add some shadows with Hickory Smoke paint.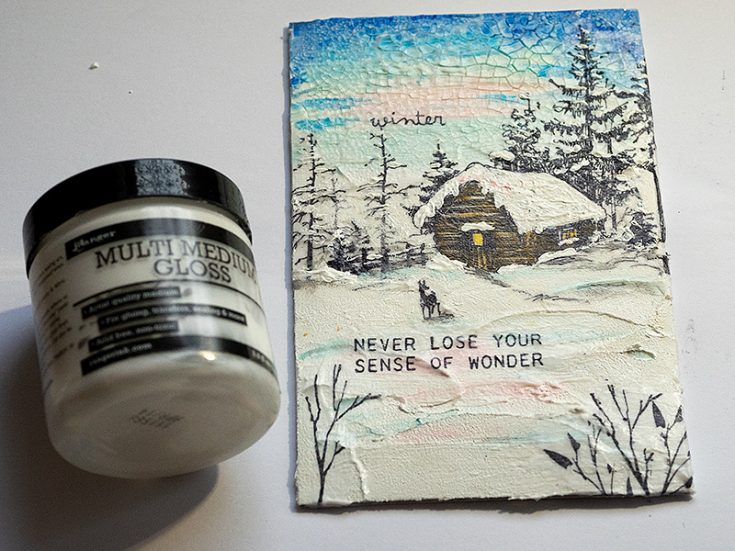 Adhere to the branches and sentiments with the same technique as before. The reason for not adhering them earlier is that I wanted to paint most of the background first so that I wouldn't paint over the words or branches.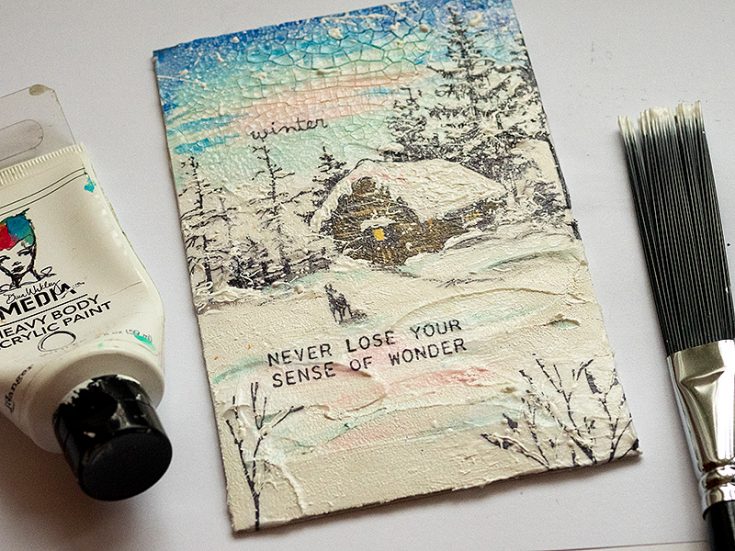 Splatter white paint on the scene to create the look of snow. Avoid the text.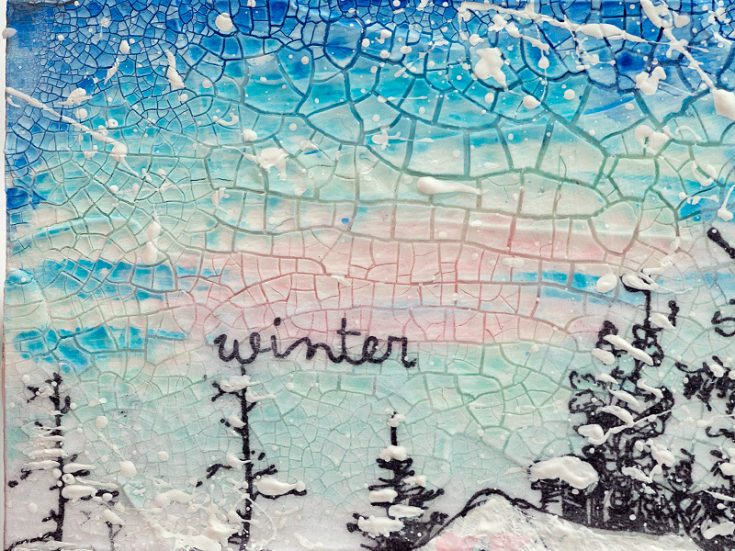 Here you can see a close up of the crackled sky and splattered snow. Note that the edges of the tissue paper aren't visible. Most tissue papers work well for this technique. Some are a little opaque and might not disappear completely, so experiment on a small area first. If the edge of the tissue paper is slightly visible, you can hide it by painting over it.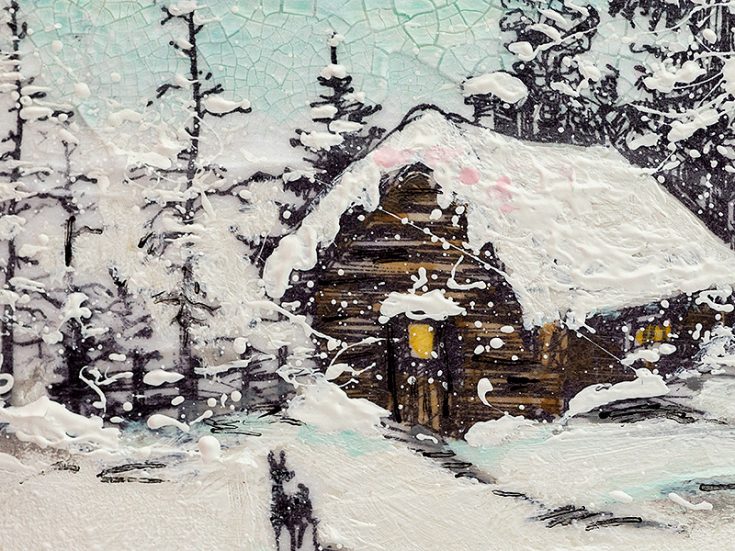 I added some black marker lines here and there, to bring back lines that were hidden by paint.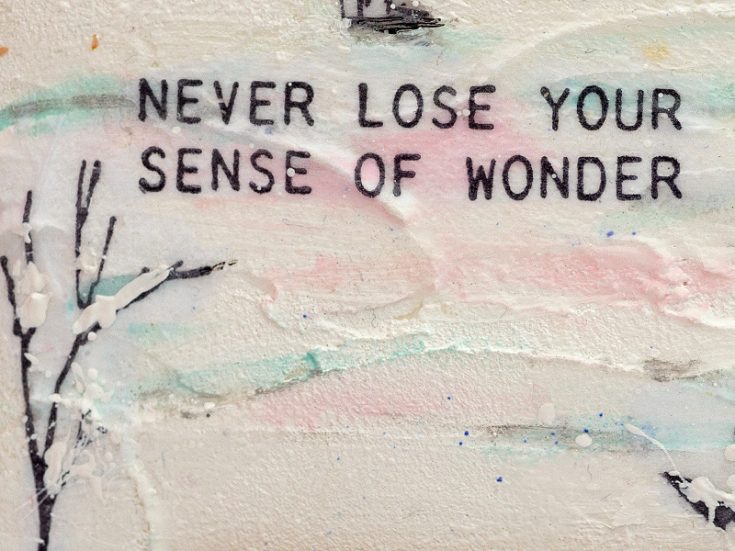 You could add even more details to the scene, but I wanted to leave it fairly uncluttered and peaceful.
I hope this tutorial inspired you to try out some scenic stamping in combination with mixed media techniques.
Thank you so much for looking!
Happy crafting!
Anna-Karin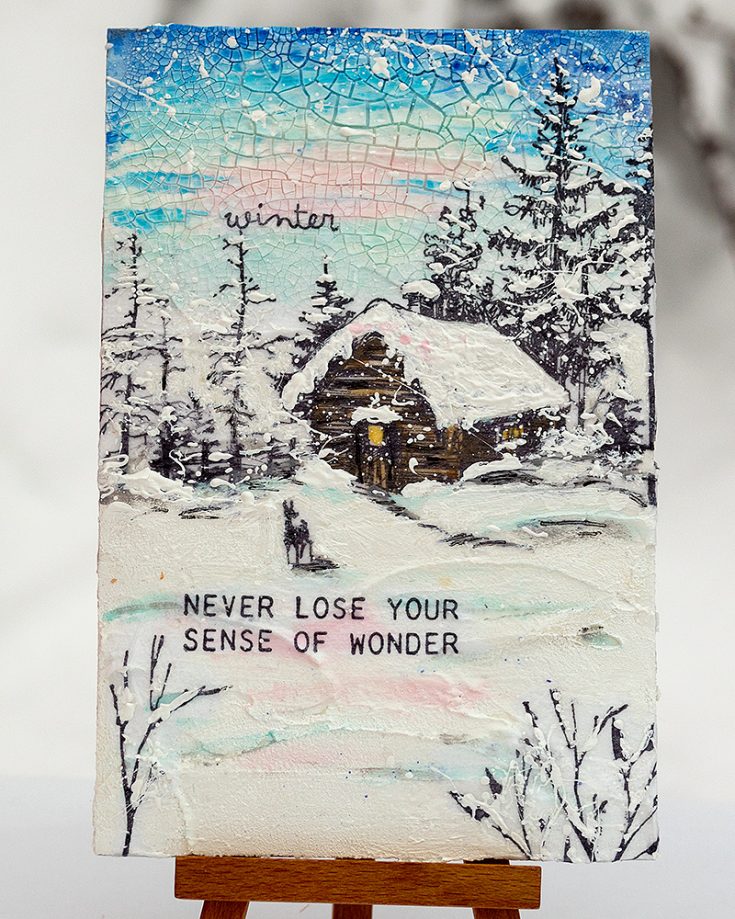 SUPPLIES:
Dina Wakley Ranger ASSORTED MEDIA…

Tim Holtz Cling Rubber Stamps…

Tim Holtz Cling Rubber Stamps GREAT…

Tim Holtz Cling Rubber Stamps 2018…

Tim Holtz Cling Rubber Stamps …

Tim Holtz Cling Rubber Stamps 2018…

Tim Holtz Cling Rubber Stamps MINI…

Ranger Archival Ink Pad JET BLACK…

Tim Holtz Flip Top Distress Paint…

Tim Holtz Flip Top Distress Paint…

Tim Holtz Flip Top Distress Paint…

Tim Holtz Flip Top Distress Paint…

Tim Holtz Flip Top Distress Paint…

Tim Holtz Flip Top Distress Paint…

Tim Holtz Flip Top Distress Paint…

Dina Wakley Ranger WHITE 1OZ Media…

Ranger MULTI MEDIUM GLOSS Paint INK41566

Ranger TEXTURE PASTE Opaque Matte 4oz…

Ranger TEXTURE PASTE OPAQUE CRACKLE…

Dina Wakley Ranger WHITE GESSO Media…

Dina Wakley Ranger PALETTE KNIFE…

Tim Holtz Distress COLLAGE BRUSH SET…

Tim Holtz Distress SPLATTER BRUSH…

Ranger Non Stick CRAFT SHEET 15 x 18…

Tim Holtz DISTRESS SPRAYER Ranger 4…
Thanks so much for stopping by, and thanks to Anna-Karin for being our guest!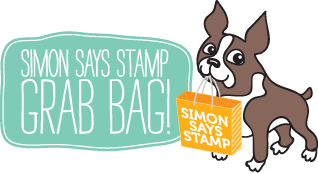 Blog Candy Alert!! Follow our blog via email and comment on this post for a chance to win special blog candy!