Weekender with Wanda – Tim Holtz Wildflowers!

Happy Saturday! It's time for the latest edition of "Weekender with Wanda" here on the Simon Says Stamp blog! I'm happy to see you today! Hope you are having a great weekend so far! There is a lot going on here at Simon Says Stamp! We will be announcing a new Release very soon and the stamps and dies are so awesome! The Instagram Contest is going on through April 15th (CLICK HERE for details).
Today is my monthly Tim Holtz feature for sharing all kinds of techniques, products and tools from one of our favorite craft superstars! I'm sharing a tried and true technique that I have used and loved for years – watercolor stamping with markers. It's a fun and easy way to get awesome watercolor results. The Tim Holtz Wildflowers stamps were my inspiration for today's card and tag. They are perfect for this technique! (And who doesn't love Distress Markers?) I took a lot of photos to show you the technique, and also how it looks on different types of papers. Sit back and grab a cuppa joe and read along with me!
Here is a photo of my card and tag – two different takes on the same technique!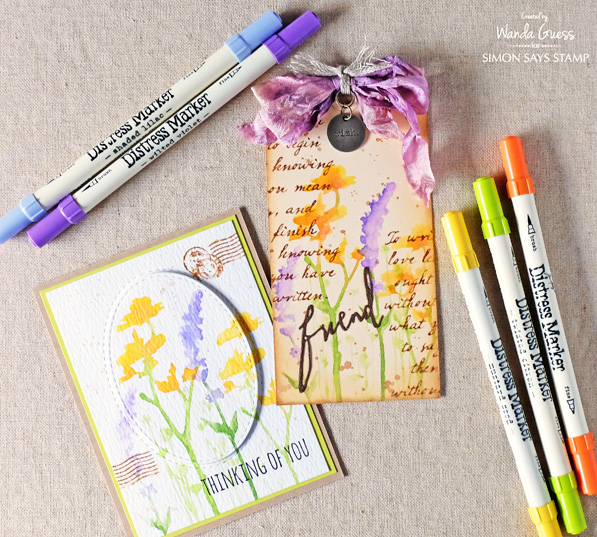 For the card I used Watercolor paper and also combined it with another favorite technique – stacking die cuts! I kept the colors bright and vivid with minimal 'distressing' around the edges, etc.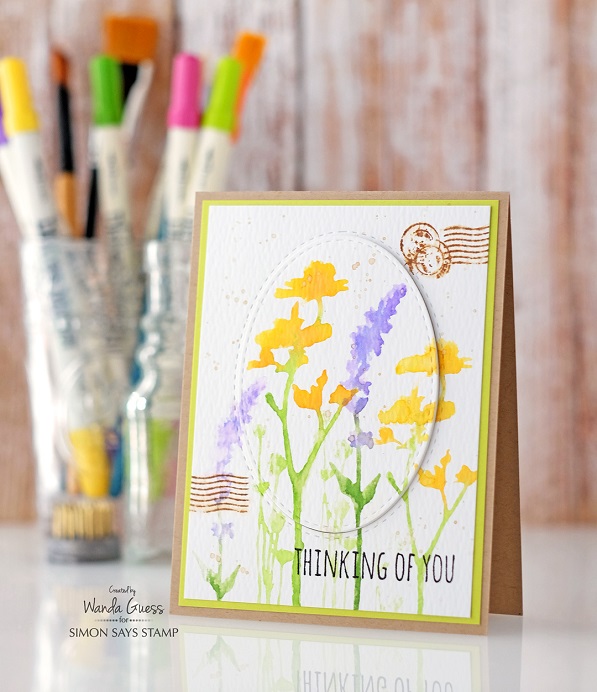 For the tag I used a Ranger Manila Tag – this made the colors more muted and subtle. I also used a lot of ink 'distressing' around the tag in rich brown tones. I hand dyed my own Crinkle Ribbon with beautiful Wilted Violet Spray Stain mixed with Antique Linen Spray Stain.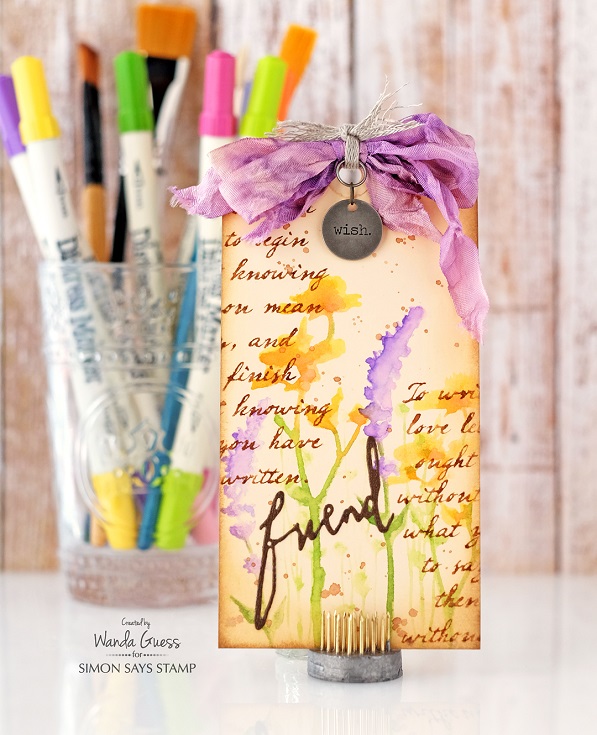 The watercolor with markers technique has just three steps! First, I used my Distress Markers to color (with the brush side), directly onto the stamp. No need to be super careful about it. Mix your colors together so you will get a nice blend. I usually put my lighter color down first. Second, I used my Sprayer to mist the stamp. I hold the sprayer about 10 inches away from the stamp and give it about six pumps of a fine mist of water. You want it pretty wet, and you will see the water start to mix the colors together. The third step is to stamp! I stamped directly down onto the paper. You need to let it dry to see the final results. You can get at least three stampings out of one inking!! That's it! And, it looks like you painted the images.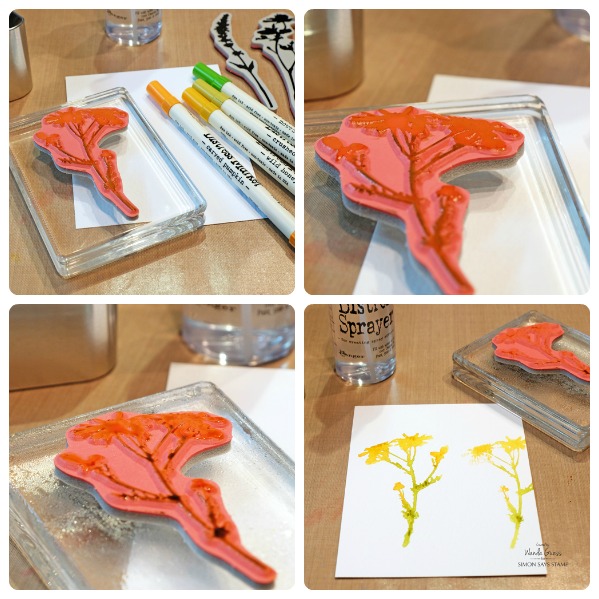 I got all excited about it, so I wanted to see the results on different papers. Watercolor paper gives the most 'painted' effect since the paper allows the inks to spread. I think this is my favorite. The Manila Tag gives a more solid image and the color of the tag mutes the ink colors. The Woodgrain paper is really pretty, since it is white and allows the bright color to show through. However, you can see that the lines from the wood grain changes how the images appear. I like them all – which on do you like the best?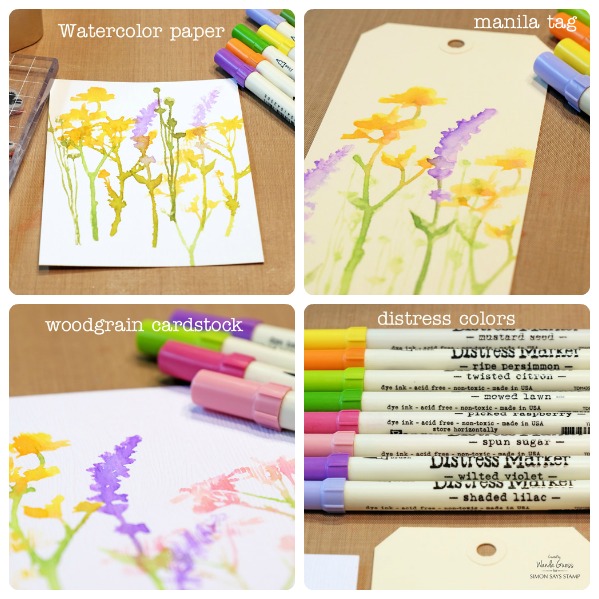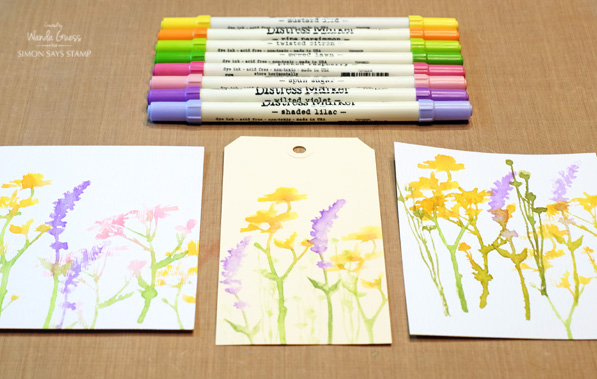 Here is a close up of the card. After my watercolor flowers were dry, I went back with some Antique Linen Ink, water, and my Splatter Brush and added flecks of brown paint to the card. I die cut a Stitched Oval from the center to use as my raised focal point. This technique is very fun! I cut the oval out and then replaced it in my original paper with another oval of paper. Then I put foam squares all over the back of the top oval piece and mounted it directly in place to match up with the bottoms of the stems. I love how this looks.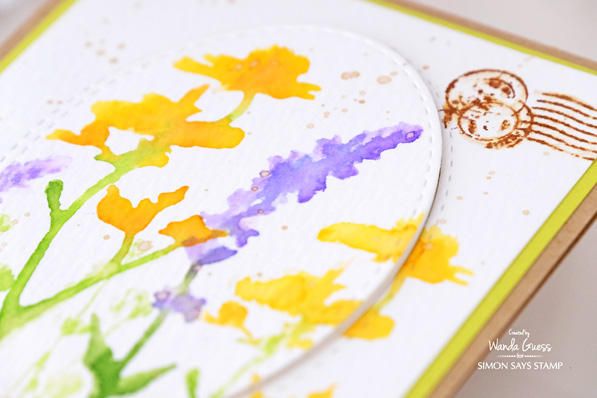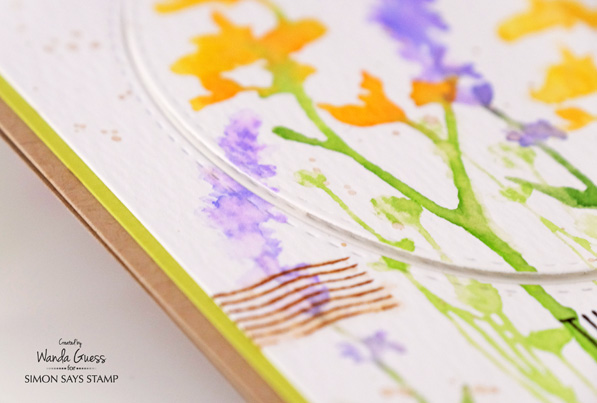 I stamped my sentiment, from the Crazy Talk Stamp Set,  in Simon Says Stamp Intense Black Ink. Here is a side view of my card. I mounted some pretty Juicy Pear Cardstock onto a Kraft card  base.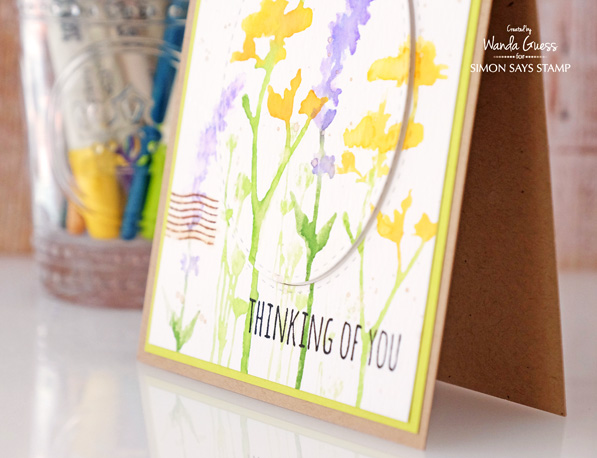 I stamped the post marks in Vintage Photo Distress Ink. Then I went back with my Water Brush and put a touch of water over the images to soften the look, and to make them look watercolored too.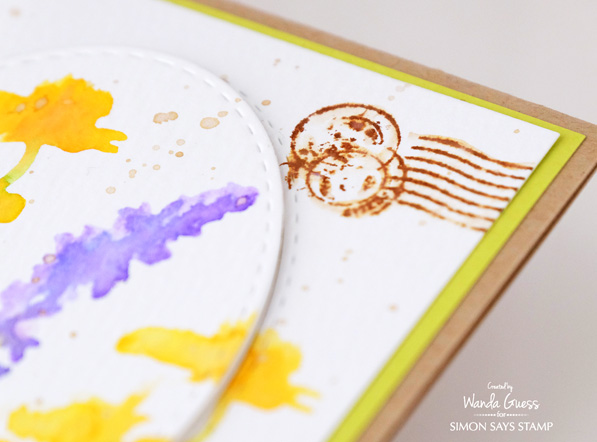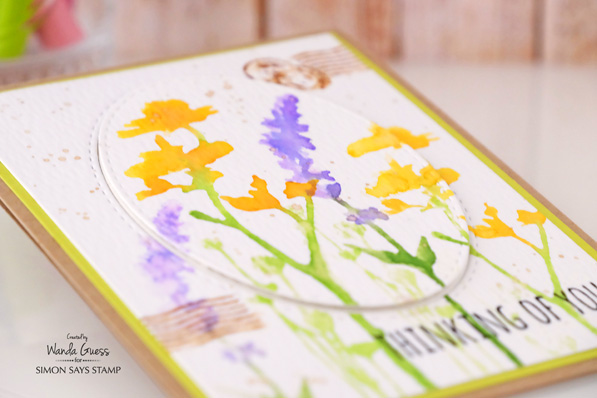 Here is a close up of my tag. I used the beautiful script stamp and the same technique as the wildflowers! I inked the stamp with Vintage Photo Distress ink and then spritzed it with water and stamped it over my flower images. I also added some ink speckles to this the tag.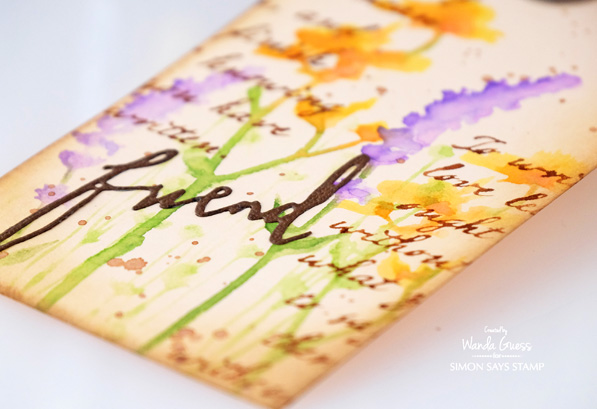 Be still my heart…. Wilted Violet Ribbon!
To finish the tag, I edged all around it with Antique Linen Distress Ink and Vintage Photo Distress ink and a sponge dauber. I added some Linen Ribbon and a Typed Token on the top.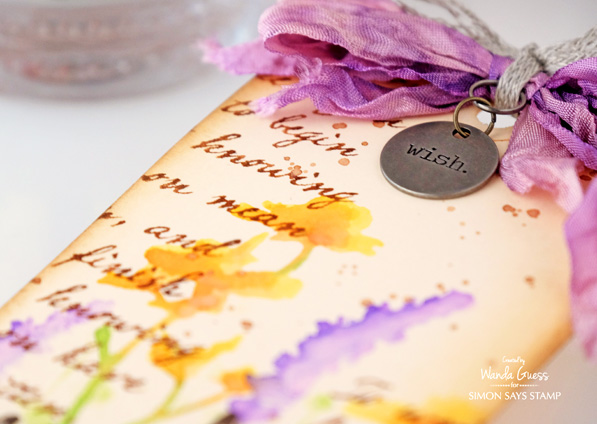 As always, thank you, my friends, for coming by to see what I'm up to on the weekends! I hope that you will try this technique and hope you have some time for creative play this weekend! See you soon!
SUPPLIES:
Blog Candy Alert!! Follow our blog via email and comment on this post for a chance to win a grab bags and blog candy! Remember to tag your awesome projects with #simonsaysstamp on social media so we can see what you are creating! See you next weekend!