Weekender with Wanda – Doodlebug Spotlight!
Hello! Welcome back to the latest edition of Weekender with Wanda here on the Simon Says Stamp Blog! I'm so happy to see you here! It's already Christmas week, and by this time next weekend all the festivities will be over. It's hard for me to believe another year will soon be here. Today's post features the super bright, colorful, happy and cheery products from Doodlebug. I have been a fan of their company for many years. Their vision is so pure – color and happiness! You cannot help but smile when you make projects with their cute items. One of the best things about Doodlebug products is that they all MATCH. The colors are the same – whether it's paper, stickers, enamel dots, doilies, or twine. You can so easily mix and match things to get a great look. I know that color matching is difficult for some crafters and Doodlebug makes it so simple!  Also, if you're a beginner – this is such a great product line for you.
My treat bag/gift card holder project for today is all about last minute crafting! Because, let's face it…it's now the last minute! I came up with a cute idea that is quick but so fun. Perfect for holding candies or gift cards – or both! This project has no stamping – just stickers and embellishments. It would be super easy to make a bunch of these to have on hand. I like to give Starbucks gift cards to certain people and I'll be using these holders for that purpose this year.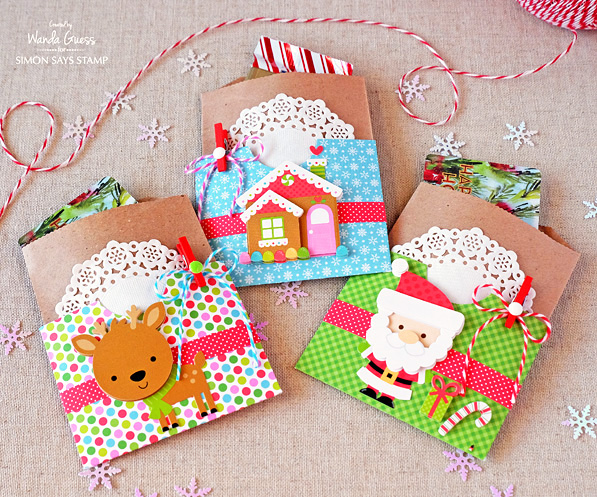 Instead of decorating the kraft gift bags, I made paper wrappers for them and then decorated the wrappers! I think this makes the gift bags a bit more substantial and definitely more colorful! I first adhered a white mini doily to each of the kraft gift bags. Then I used the Doodlebug Sugarplums 6×6 paper pad to make the wrappers. Here you can see my Starbucks cards and candies popping out of the top!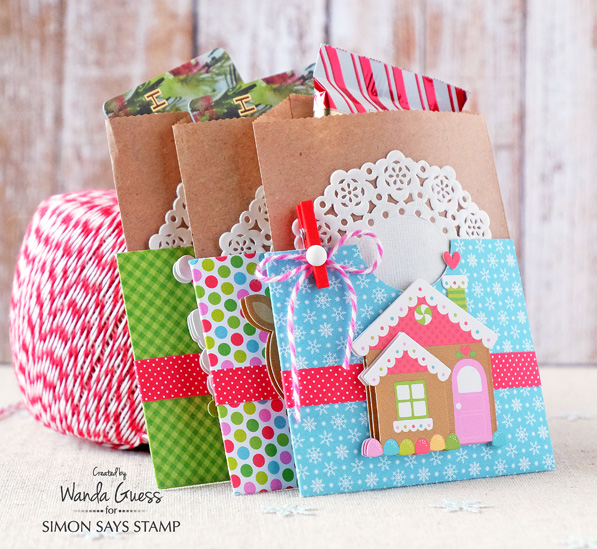 There's really no measuring involved. I laid the kraft treat bag down onto my Mini Score Board and then scored right around the bag, leaving a 1/8 inch margin on each side. Then I simply folded the sides together and glued them.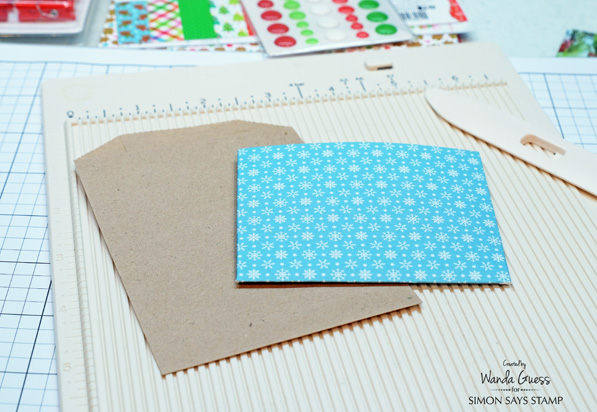 In this photo you can see how the treat bags fit into their wrappers. I used a circle punch to make a tab – I thought this gave a more polished finish. I love the colors in this paper pad!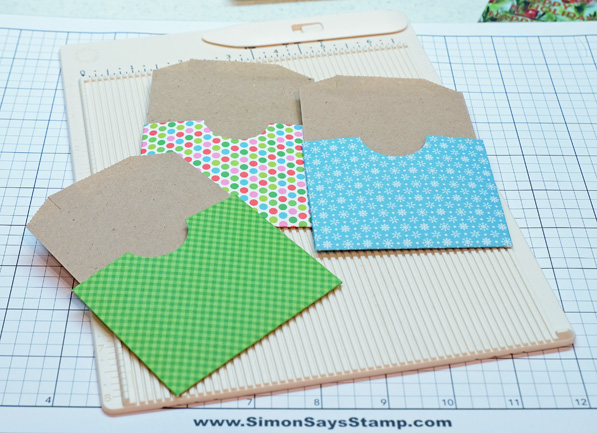 This photo really shows how all of the products mix and match. LOVE all that red for Christmas! The Doodle Pops Stickers are too adorable….and they have them for every season and occasion.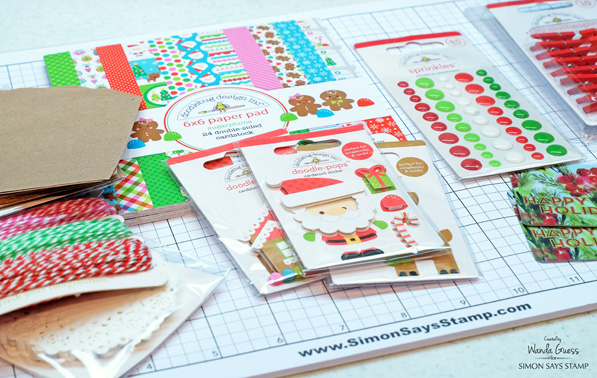 I added a tiny band of red polka dot paper around the wrapper to pop some more color. Then I attached my stickers. Lastly I tied a cute twine bow and used a mini clothespin to clip it to the bag wrapper. A crisp enamel dot finished off the bow!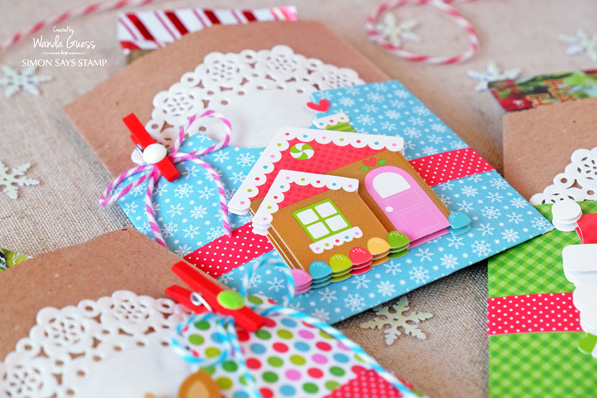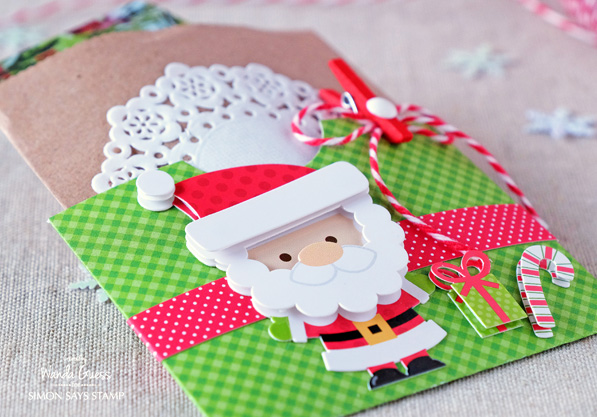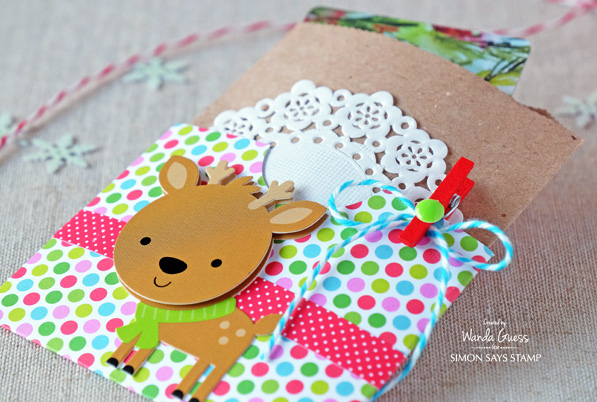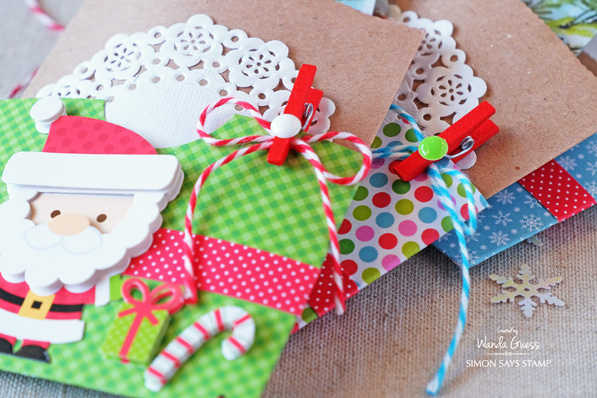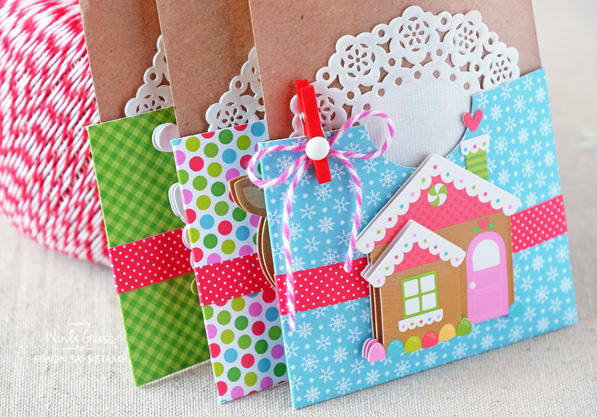 How do you make treat bags? I'd love to hear your fun and unique ideas! I really love to make handmade treats. It's a nice way to give a little present to someone you care about. Thank you for coming by today and spending part of your weekend with me. I look forward to seeing you! I want to wish all of you a very happy holiday season! And I can't wait to get crafty with you in the new year. Take care!
SUPPLIES:
Blog Candy Alert!! Follow our blog via email and comment on this post for a chance to win a special blog candy! Remember to tag your awesome projects with #simonsaysstamp on social media so we can see what you are creating! See you next weekend!