Weekender with Wanda – Christmas Thank You Cards with Tim Holtz Products!

Hi everyone! Happy weekend! And happy week before Christmas! Welcome back to the latest edition of Weekender with Wanda here on the Simon Says Stamp Blog! Is your shopping all done? Cards mailed? I still have a few things left to do and still need to go to the post office (I have been procrastinating on that) but otherwise I'm ready! I've been enjoying the season, drinking hot chocolate and driving around looking at Christmas lights. Christmas light hunting is one of my fav things to do this time of year. People are so creative and festive! My husband is such a good sport driving me all around. He even installed battery operated Christmas lights on my car!
I think it's safe to say that we are winding down on our holiday crafting and maybe looking ahead to the new year. One of the things I like to do every year before I put away all of my Christmas stamps and supplies is make Thank You cards! It's so nice to have some holiday themed Thank You notes on hand to give out if someone invites me over or gives me a present. I am always glad that I made some. Today is my monthly post in which I use supplies from Tim Holtz and Ranger. I used lots of my favorite Tim Holtz stamps and Distress inks and a lovely new stencil to create a set of three cards to share today.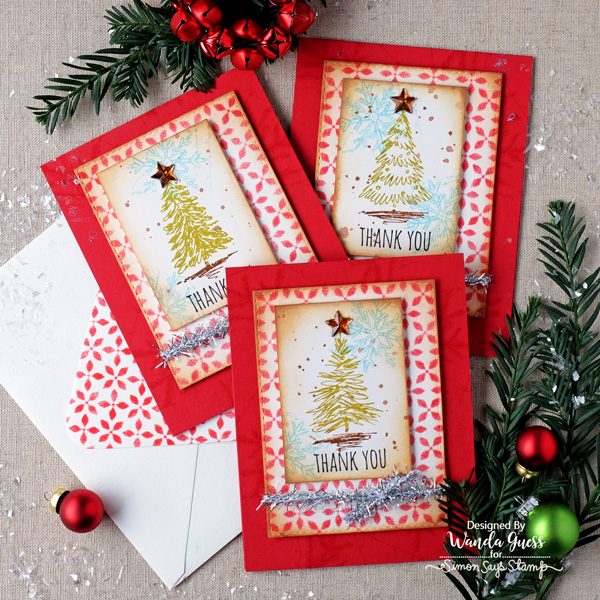 The Tim Holtz Scribbly ChristmasTrees stamp set has beautiful tree stamps that are the perfect size for cards! I used three different trees for my card set. All the other supplies are the same on each card. For the sentiment I used Thank You from the Crazy Talk stamp set. Here is a close up of my stamping layers. The snowflakes are from the Tim Holtz Mini Blueprints stamp set.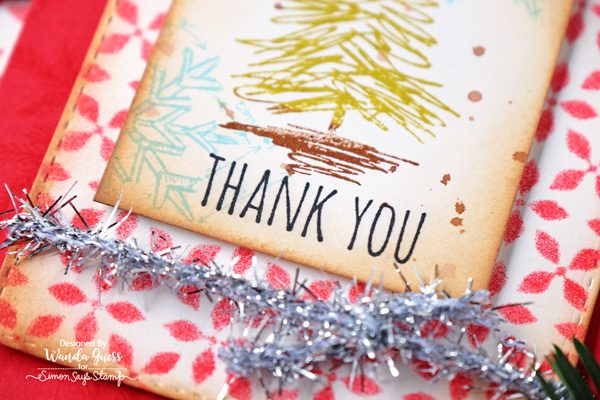 The cards have a few layers, but are basically flat for easy mailing. This card layout is a good one for many occasions and a nice way to use your stencils to create background paper layers.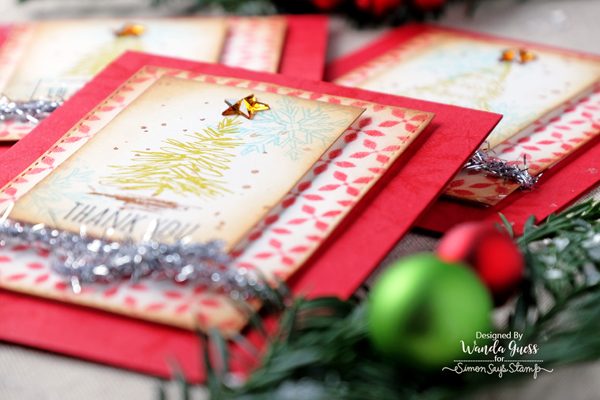 Here is a close up of the layers. I started with a vivid red A2 card base. My stamped and stenciled layers are with cream cardstock for more of a vintage feeling. I've inked the edges of the two top layers using Antique Linen and Vintage Photo Distress Inks and a sponge.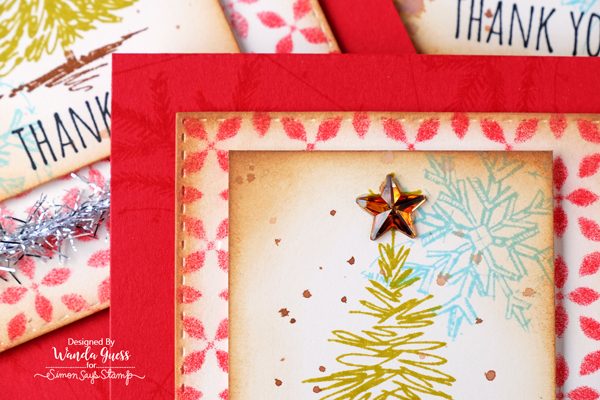 I used a mini sponge dauber and Festive Berries Distress Ink with the gorgeous Nordic Stencil! I used a light touch so that the images would not be completely solid red. I always use washi tape to tape my stencils onto my craft sheet. Makes it a lot easier to get a clean impression.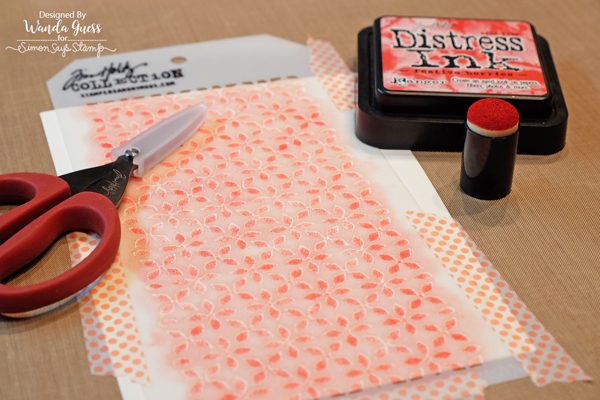 I stamped the Blueprint Mini Snowflake in Tumbled Glass Distress Ink. My stenciled layer was die cut into a rectangle using the Simon Says Stamp Stitched Rectangles Dies. A strand of shiny tinsel trim completed the vintage notes!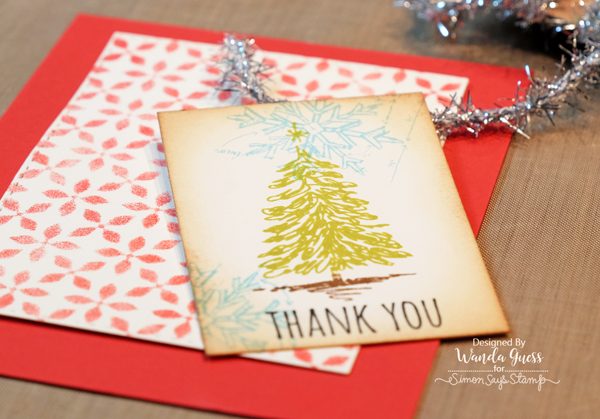 When I was putting my card together, I thought that the red layer seemed like it needed a little something. One trick I use a lot is tone on tone stamping. I did that here by using Festive Berries (red) ink on red cardstock. It gives just that little pop of interest and texture to the card base. I used the pine bough image from Mini Blueprints 7.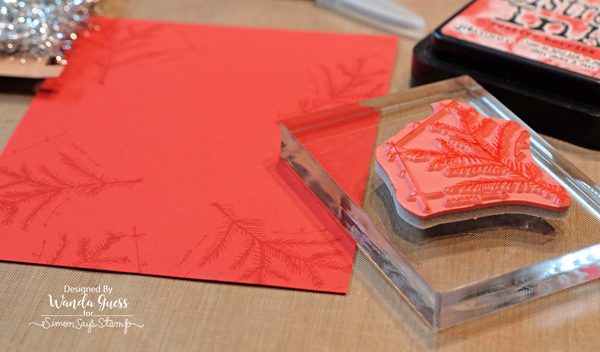 I colored the pretty mirrored stars with Alcohol Ink in Butterscotch. This color is a beautiful vintage-y gold!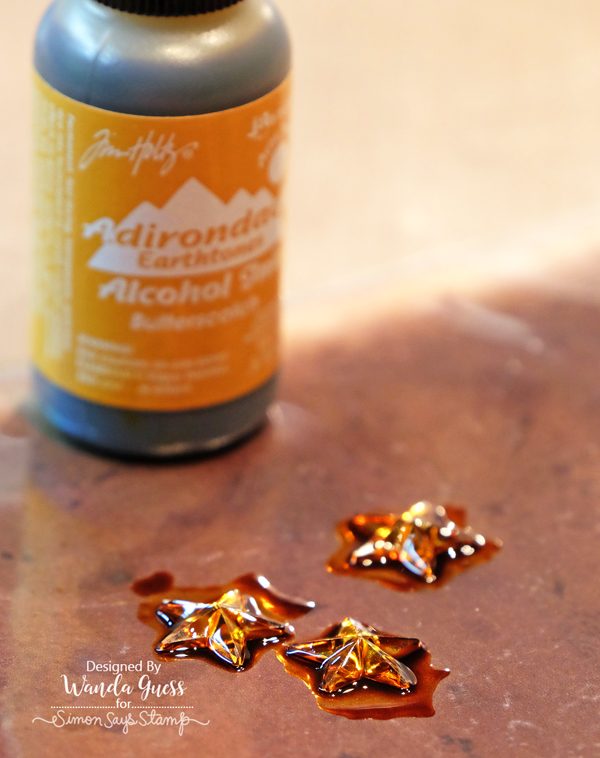 These are the insides of the three cards. I matched the trees on the front to the ones inside to tie it all together. Clean and simple, with room to write a greeting or message.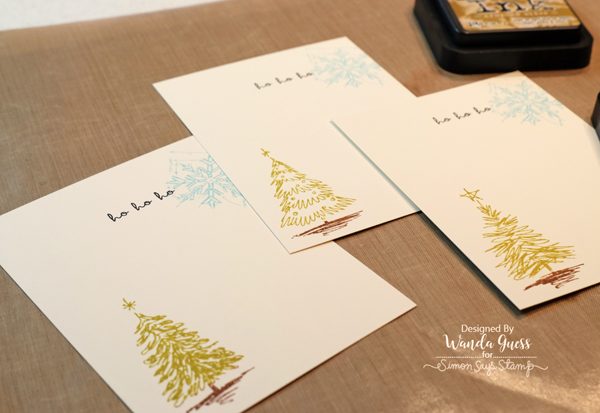 Then I had an idea! Why not stencil the envelopes! Another nice touch to make your project look polished and pretty. This just took a minute – but what a great impact!
I love that the envelope matches the card! The top two layers are attached to the card base using foam tape. I wrapped the silver tinsel around the stenciled layer before attaching it.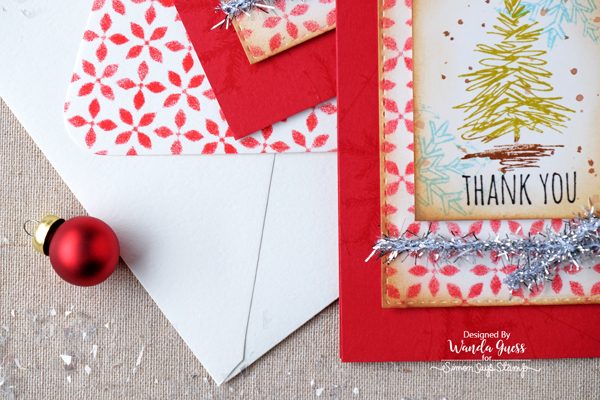 The gold stars are the perfect touch with all that red!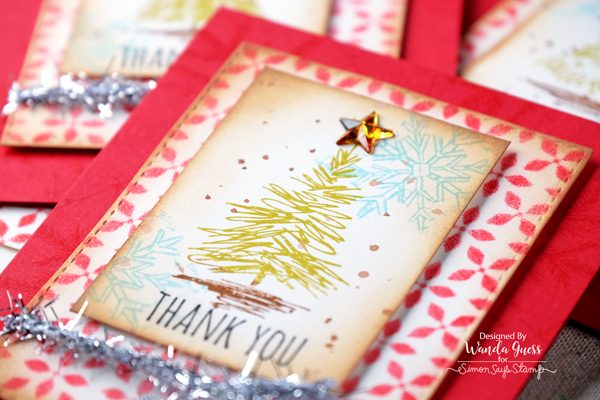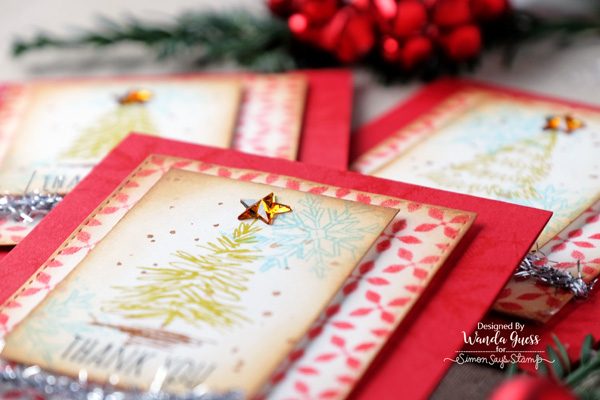 Thanks for stopping by the Simon Says Stamp Blog today! Have a great week! I'll see you one more time before Christmas is here!
SUPPLIES:
Blog Candy Alert!! Follow our blog via email and comment on this post for a chance to win grab bags and blog candy! Remember to tag your awesome projects with #simonsaysstamp on social media so we can see what you are creating! See you next weekend!