Tim Holtz Distress Ink Color POP: Wilted Violet!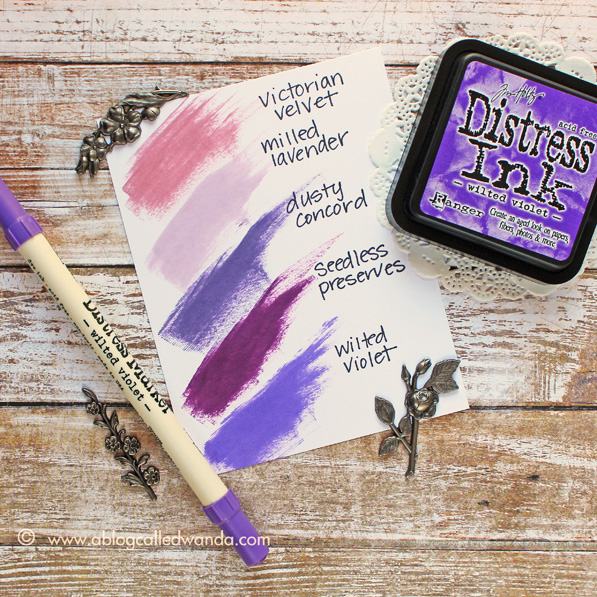 It's one of my favorite days of the month! It's Color POP day! (Happy Halloween too!) I'm here today with the latest installment in our Color Pop series – featuring the newest Distress Ink Color! I'm excited to share a project with the color for September — Wilted Violet. This is the prettiest shade of purple you have ever seen! Clear, clean, vivid, pure color. It is the color of beautiful grapes. I'm hooked for sure! Since it is Autumn, I paired Wilted Violet with warm tones of Mustard Seed, Spiced Marmalade and Crushed Olive. This month I thought it would be fun to make a tag instead of a card. I used lots of pretty leaves dies and lots of glitter too.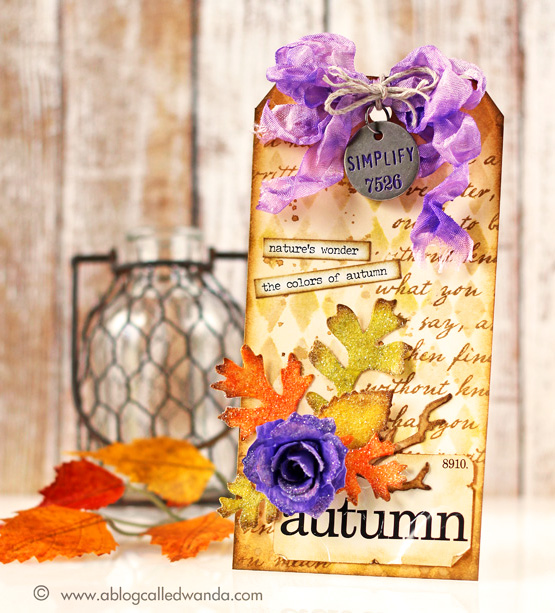 Have you ever made a rose out of a pinecone die before? If not, I highly recommend it. This is the Tattered Pinecone die, and if you roll it just so, you get a beautiful rose. Here is my pretty violet rose. CLICK HERE for Tim Holtz's tutorial on how to do this.  The part about the roses is at the end of the video! This bright purple flower is the focal point of my tag.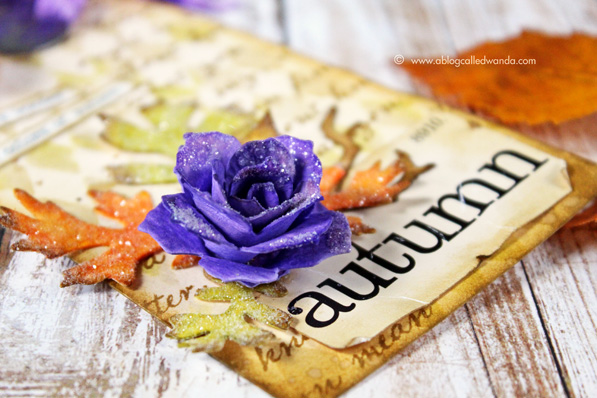 To make my background layer for my tag I first used the Harlequin stencil and inked it with shades of Antique Linen, Crushed Olive and Brushed Corduroy inks. Then I sprayed the tag with water to let those colors run together. After that part was dry I randomly stamped words on the tag with Brushed Corduroy Ink. I then splattered wet ink over the entire tag for some more character. Lastly I inked the edges with both Antique Linen and Brushed Corduroy Distress Inks.  To get your tag to lay flat again after all that water and ink, you can put it under some heavy books – or even iron it!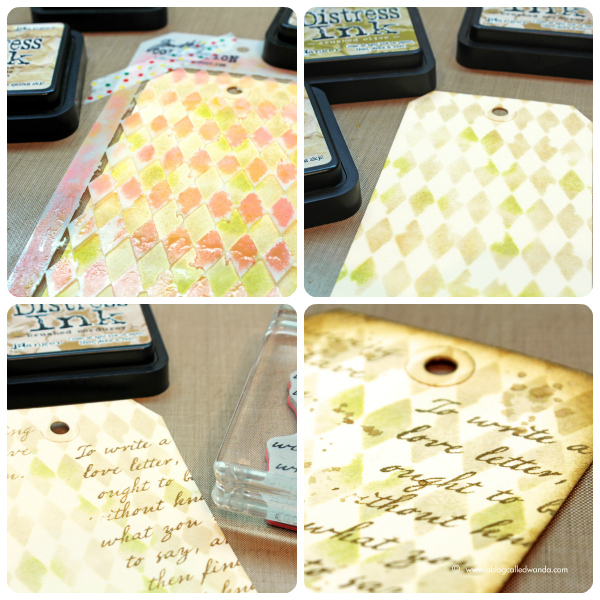 I die cut my Tattered Pinecone Die pieces and my Leaves pieces out of watercolor paper. Then I inked them in pretty Fall colors. For the flower, I saturated the paper with beautiful Wilted Violet ink! I edged the pieces with Brushed Corduroy. After I rolled and assembled my rose, I covered all the pieces with beautiful Rock Candy Distress Glitter. There is nothing in this world that is not made better by Rock Candy Glitter – you can quote me on that! I used some Ranger Glue-n-Seal to secure the glitter. I applied it evenly with a paint brush.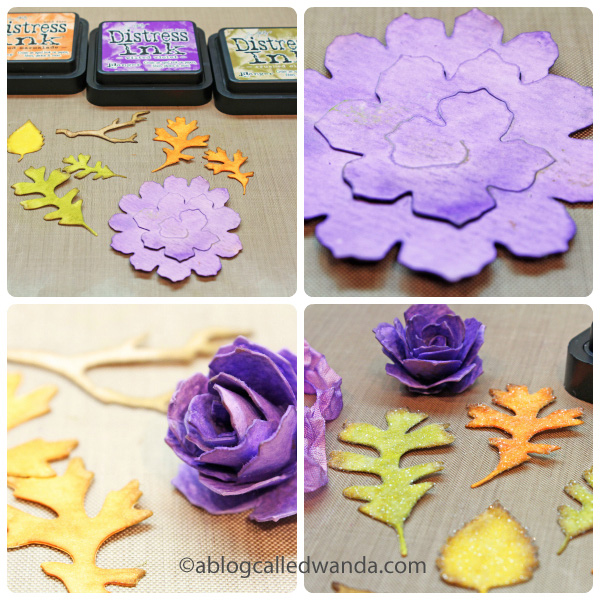 Here is a close up shot of my leaves – all ready for my tag. You can also see in this photo that I hand dyed my own ribbon using the Wilted Violet re-inker ink and some water. So very very pretty. Are you addicted to this color yet?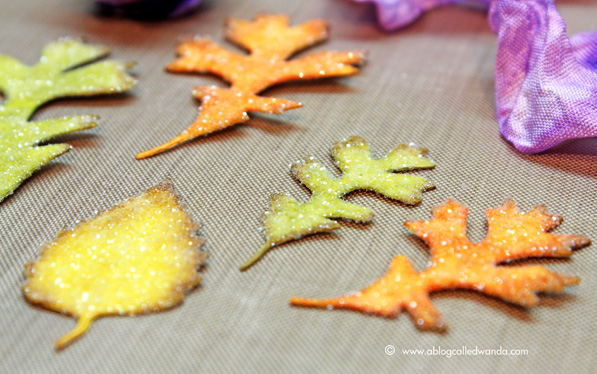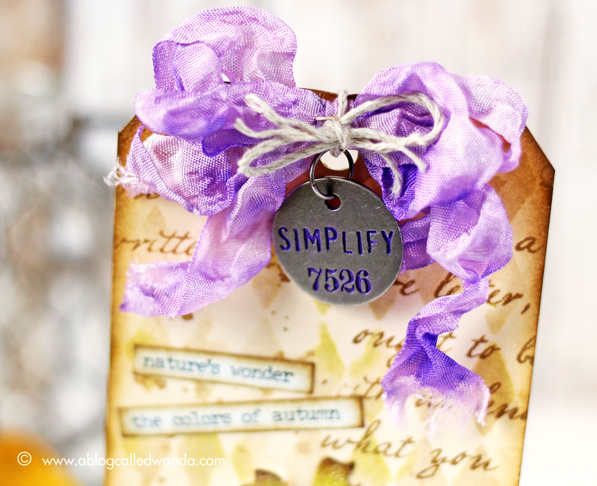 To finish off my tag, I chose some words from the new Occasions word stickers and also a flash card that says "Autumn." I inked the edges of all the pieces so they would blend in. The last step was to assemble everything together and glue it all down with some Glossy Accents.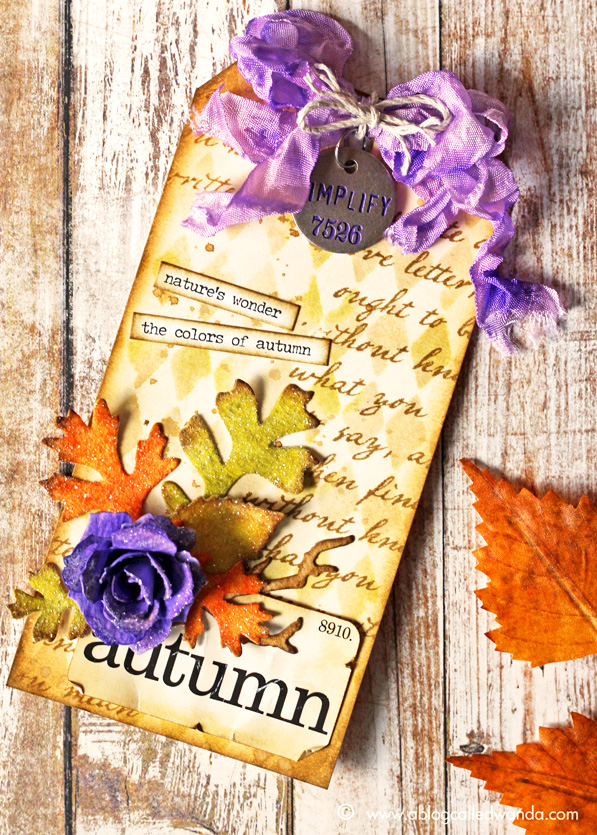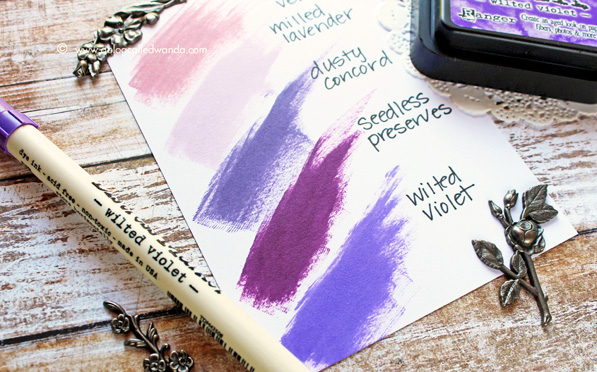 Thank you so much for joining us all year long for this fun feature. The color for October is Carved Pumpkin and my inks are sitting on my desk as we speak. I'll be back soon with another Color POP! In the meantime, happy creating!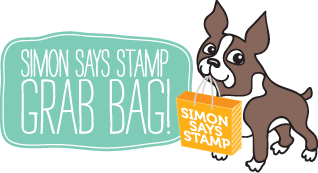 Blog Candy Alert!! Follow our blog via email and comment on this post for a chance to win a special blog candy!