Tim Holtz Distress Ink Color Pop: Mermaid Lagoon!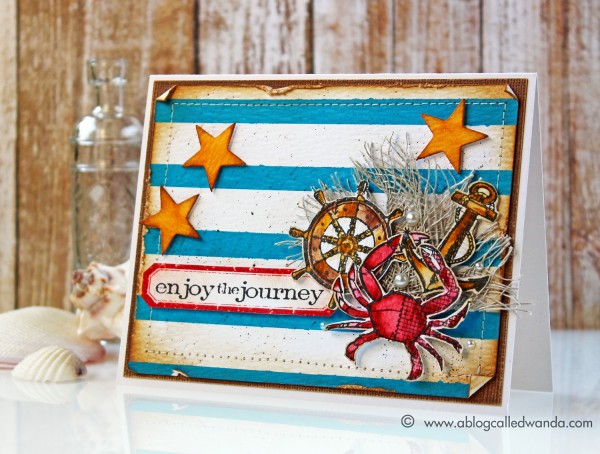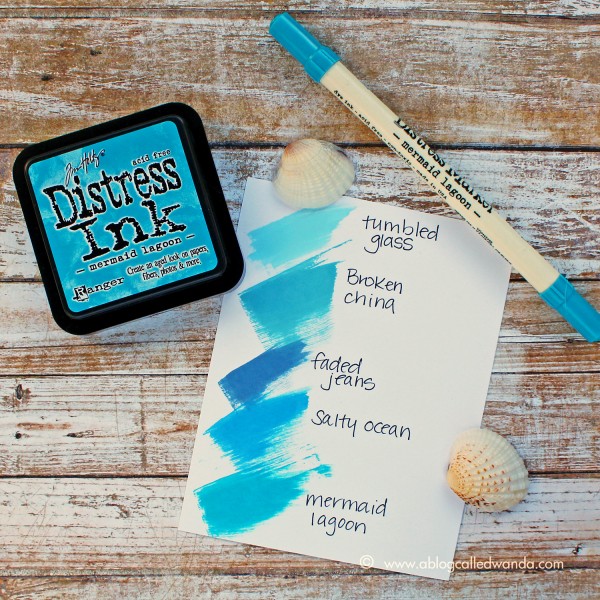 It's Wanda, and I'm here today with the second project in our Color Pop series – featuring the newest Distress Ink Color! I'm excited to share a project using the color for March – Mermaid Lagoon. This is the most gorgeous shade of blue! It's a beautiful deep blue with the slightest hint of teal in it. When I first opened the ink pad and tried it, my immediate thought was "ocean!" Mermaid Lagoon is a gorgeous Pacific Ocean blue…. My thoughts drifted towards a fun retro nautical theme for this project. I hand painted my own bright blue striped background and then used the awesome new Mariner Mini Blueprints stamps to create an ocean vibe. This new color pairs very nicely with Festive Berries and Wild Honey.
I've made another color swatch reference chart for you to see where the new color fits in with your existing Distress Ink colors.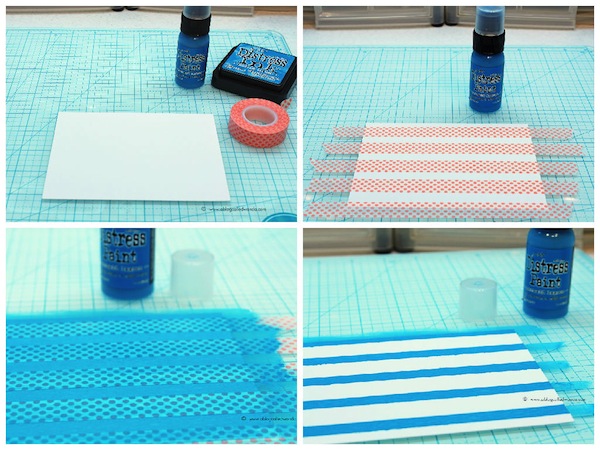 To make the stripes, I used TH Watercolor paper and washi tape! I put down the washi tape and then used the Mermaid Lagoon Paint (with the perfect sponge dauber built in) to easily and quickly make the stripes. The paint is very smooth and easy to work with, and dries quickly. The Distress Paints are a very nice opaque alternative to using an ink pad on your projects. After I made the stripes, I added color splatters with the Distress Markers and Spritzer tool. Then I edged the panel and sewed it to a brown color core layer.
I inked up three of the Mariner Blueprint stamps to make a grouping of nautical elements. I stamped the images onto watercolor paper with Archival Black Ink (this ink holds up to water-coloring). I used my Distress Markers and a water brush to color the images, and then cut them out. I put down some pieces of TH Linen Ribbon for my 'net' and then added some pearls and stars at the end along with my sentiment.
I'm anxiously awaiting the arrival of Fossilized Amber (Editors note: in stores now!) in my craft studio! Have a great day and happy crafting!
SUPPLIES:
Thanks for reading today and thanks so much to the awesome Wanda for this inspiration today!
Blog Candy Alert! Is this color a must have for you? Comment your thoughts on this post for a chance to WIN a reusable Tim Holtz Idea-olgy tote bag! Good luck!