Hi readers! Happy Thursday to you! The day where us Americans celebrate our independence with fireworks, a get-together or two,  and of course PICNICS is just around the corner! This fun Copic tutorial by Sandy Allnock is in honor of those celebrations, but this cool technique could be used for lots more too!
You might remember a while back Kristina Werner made a video for us giving a general intro or tutorial to the Flower Punch Board from We R Memory Keepers that Sandy uses in her video. If you have an extra moment you may want to watch this one too!
Enjoy!
Hello again, crafty friends! I have a little project I made for my Independence Day picnic…and I hope it inspires you to make something crafty for your party, too! I know lots of Simon Says followers live outside the states – but I hope you could adapt this little leather project to work for your own holidays – or just a summer picnic!

I wasn't sure where this project was going when I began. I knew I wanted to make patriotic flowers, and of course airbrush them (lately I've begun to think I'll airbrush anything that doesn't move! Watch out, sleeping dog!)….then I found the great basket as my inspiration. It has more muted, rich colors on it, rather than pure, bright, reds whites and blues, so I started going that way. Then, as I started working with the flower petals, I started "seeing" leather. I know, where did that come from? Who knows, but I'm glad it worked out! Sometimes you just can't question the mojo.
Watch the VIDEO:
You might well be able to achieve a similar effect with distress inks or lots of other products. You might even try some distressed-looking paper and just punch them with the board and add the piercing and rounding technique on the back. Leave a comment below and tell me what products you think you might be able to do something like this with, I'd love to hear what thoughts this stirs up!

Have a wonderful Independence Day celebration!
SUPPLIES: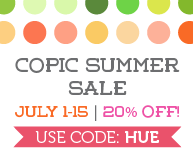 Thanks for reading and thanks to Sandy for the awesome inspiration!
Blog Candy Alert!! Follow our blog via email and comment on this post for a chance to win a special blog candy!