Studio Monday with Nina-Marie: Tall Scene Card Featuring Neat & Tangled
Hi friends, it's Nina-Marie here with you today, sharing a brand new Studio Monday tutorial! Today I will be featuring Neat & Tangled products as I show you how to go outside the box of a standard A2 sized card and create larger scenes!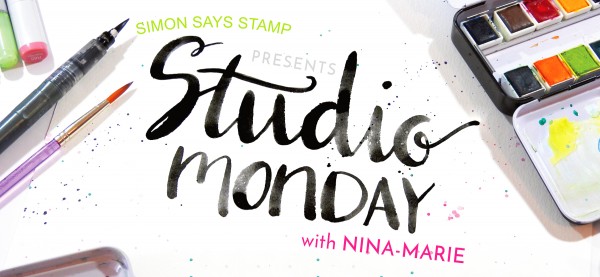 In today's video we'll be using the Big Top birthday stamp and die sets, the Journaling Alpha dies, and the Falling Circles stamp set; a combination of the newest stamp and dies sets from Neat & Tangled's two most-recent releases! The Big Top Birthday sets are going to be the "stars of the show" (no pun intended!), but the additions of the Journaling Alpha and Falling Circle sets are an important "supporting cast", what helps bring this scene to life!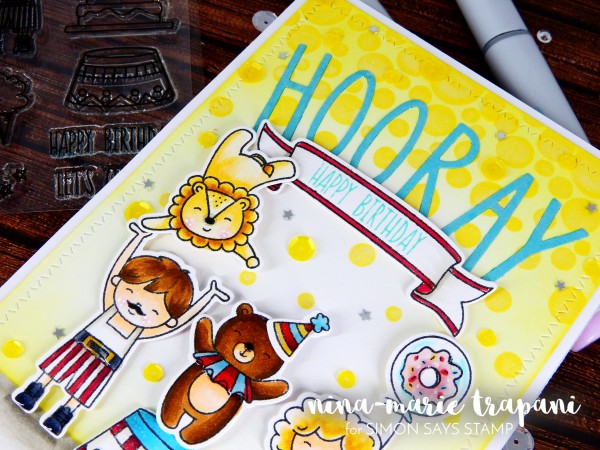 I colored the images on this card with Copic markers and used fairly easy shading on most of the pieces simply because the images are on the smaller side. It also illustrates the point of not needing to have lots of markers in your stash to create stunning, colored images!
For those of you interested in the color combinations I used, I have them listed down below and in the video during the coloring process.
girl: BG01, BG53, BG57, RV00, RV93, YR30, YR23 (dress); C5, C7, R37, R59 (shoes); YR20, YR30, YR31, YR23 (hair); E0000, E00, E21 RV00, RV93 (skin);  BG0000, BG01, RV00, RV23, RV93 (balloon)
boy: W1, W3, W00 (shirt); R37, R59, W1, W00, C5, C7, YR30, YR23 (pants and belt); C5, C7 (shoes); E0000, E00, E21, RV00, RV93 (skin); E35, E57, E47 (hair)
lion: YR20, YR30, YR31, YR23, E35, RV00, RV93
bear: E35, E57, E47, E0000, E00, BG01, BG53, R37, R59
pedestal: BG01, BG53, BG57, R37, R59, W00, W1, W3
banner: R37, W1, W00, W3
party hat: YR30, YR23, R37, R59, BG01, BG53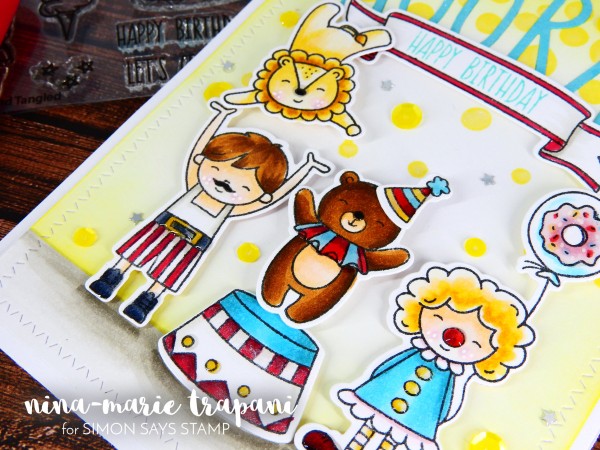 The card, as you can see, is much taller than the standard A2 size (4 1/4″ x 5 1/2″); this is because I not only wanted to do something different, but I also felt that the larger size fit the design of the card that I had in mind. Never feel that you have to create cards a certain size; cards can as small or large as you prefer! I think it's fun to create cards of all shapes and sizes; something a bit unexpected! :)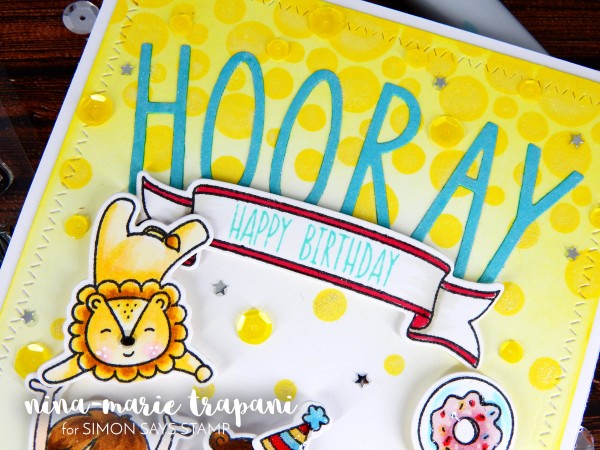 So to see how I put this card together, be sure to watch the video below or on our Youtube channel! If you enjoy, please give the video a big thumbs up and subscribe to our YouTube channel if you haven't already, so that you don't miss any of our weekly inspiration videos!
SUPPLIES: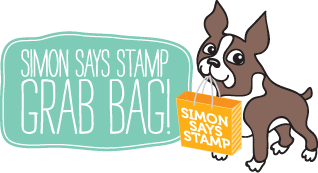 Blog Candy Alert!! Follow our blog via email and comment on this post for a chance to win a special blog candy!