Stop Here for Bursts of STAMPtember® Inspiration Blog Hop!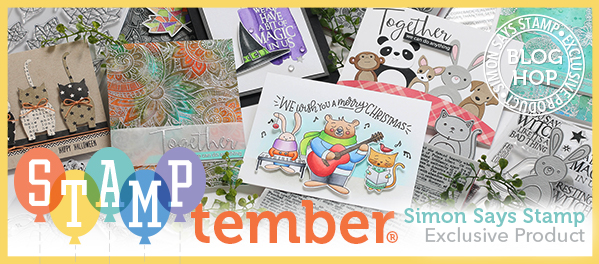 Happy STAMPtember®, friends! Thank you for joining us today for an inspiration-filled blog hop of fun! We are focusing on our newest release of Simon Says Stamp Exclusive products celebrating STAMPtember. Stay tuned all month long for exclusive collaboration releases from many of your favorite stamp companies!
Today, designers from around the world are giving away a $50 gift card to SimonSaysStamp.com to lucky random commenters on their blogs. Be sure to share some positive feedback with these ladies through their comment sections. They pulled out their best creative juices and are sharing with us their beautiful inspiring art :) Seeing what people create is one of my favorite parts of this month! So inspiring, don't you think!?
At 1pm EDT today, we will be hosting a Facebook Live showcasing the new products, inspiration and an over-the-top cool prize box for you to win :) Be sure to join us on our Facebook page here. You won't want to miss it!
Take a closer look at these beautiful cards Shari Carroll created with the new STAMPtember release. You can click here to see all of the new products released today.
Are you ready to see more? Grab a cup of something delicious and get ready to be inspired!
Simon Says Stamp Blog <<<<You are here!
Jennifer McGuire
Kristina Werner
Yana Smakula
Kay Miller
Yoonsun Hur
Kathy Racoosin
Amy Rysavy
Nina-Marie Trapani
Kelly Latevola
Heather Ruwe
Anna Kossakovskaya
Bibi Cameron
Thanks for stopping by today!  We hope to see you on Facebook LIVE at 1pm ET :)
During STAMPtember® we have a surprise for you EVERY SINGLE DAY!  Stay tuned here on the SimonSaysStampBlog.com for daily updates. There are exclusive collaborations this month that are out of this world!!  (Lawn Fawn will be the first!)
Affiliate links are used in this post.  All of the affiliate proceeds for STAMPtember® from this post will be donated to the Red Cross for Hurricane Harvey Relief Fund.  You can click on the link to make a direct donation as well.
Remember, leave a comment below and you could win a $50 gift card to Simon Says Stamp. Winners will be announced next week.  Thanks for joining in the celebration!