Scrapbooking the Kids for Halloween!
May Flaum here, and I'm excited to be sharing two layouts, as well as ideas for scrapbooking Halloween with you today.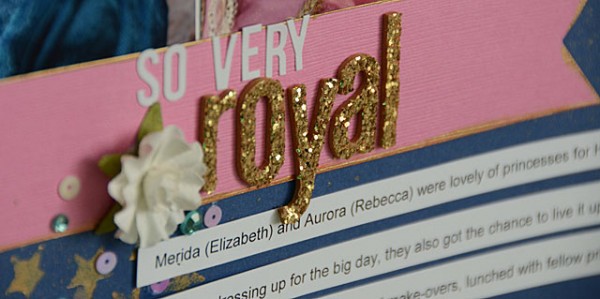 When it comes to documenting Halloween costumes, it can be tricky! Colors can be bright, clashing, and look terrible with traditional Halloween papers too. What's a scrapbooker to do? I suggest throwing the idea of seasonal products out the window, and just focus on what the costume calls for. Is it soft? Does the costume have an urban feel? What colors, textures, and materials might work?
In my case, I had a pair of princesses in need of a royal page and a deep blue cardstock combined with some pink and gold accents was just the thing I needed.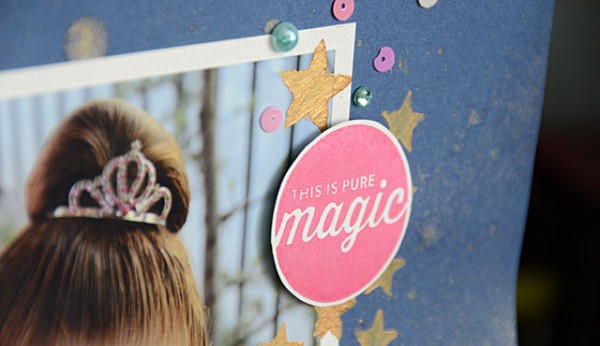 Letting go of what your seasonal pictures should be scrapbooked with, and embracing the photos themselves is by far my top tip – for Halloween, Christmas, or any holiday or event!
I accented my page with some stenciling and sequins for texture, and kept the overall design very simple. I love getting photos that show the whole person and costume, but I also love close-ups to really capture the feel and detail.
Of course sometimes my photos need a holiday touch, and that's when I pull out the themed goodies.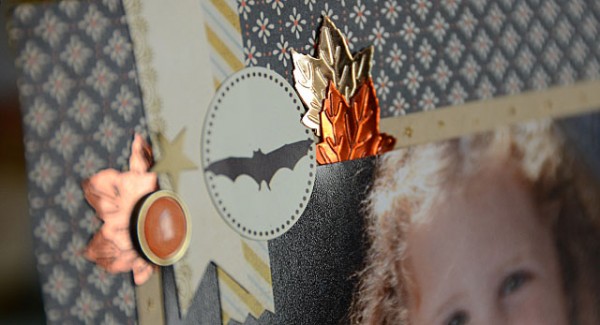 One thing I've found is that I really like to accent photos and take care not to overwhelm them with holiday details. This is one reason why I'm so in love with BasicGrey lines, especially their new Persimmon line. There are loads of neutral papers and embellishments, with just a few great holiday specific products accenting it to give me the touches I want for my fall pages.
When I saw this title sticker, I knew exactly what photos to document with this line. Holiday treats are one of my favorite things to both photograph and scrapbook! From candy favorites on Halloween night (try taking a photo of a child's hands holding their favorites!) to special fall muffins, soup, or any other seasonal treat I love the reminder of what we were into, and what the special treat(s) were on that particular year.
In this case – spooky Mickey Mouse cookies that had to be photographed before they were (very quickly) gobbled up.
I hope you've enjoyed my ideas and layouts for this Halloween! Whether you celebrate the holiday in a big way or just enjoy fall in general, be sure to snap some photos of those great details that will make this year special.