Reason to Smile – WINNERS!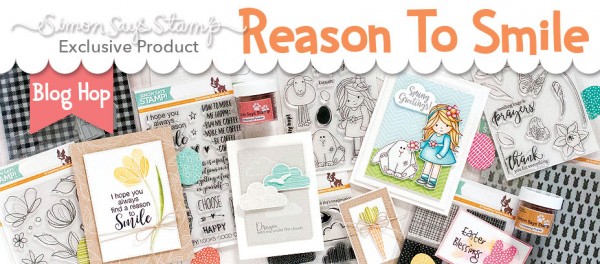 Last Friday we had a super exciting and  wonderful blog hop to celebrate the new Spring "Reason to Smile" release from Simon Says Stamp. If you haven't had a chance to visit the hop, click here to view the first post. I know you will find lots of tips, tricks and inspiration! The "Reason to Smile" Gallery is chock full of awesome inspiration and has been updated – and we hope you will take a look! (Be sure to add your links if you've made something with the new stamps and dies!) To see the entire new release click here! 
BIG Congratulations to all of the blog hop winners! Thank you for hopping along with us and taking the time to leave feedback for the designers in the form of comments along the way :) I know they really really enjoy hearing from you! I think this hop had the most comments ever! How exciting!
Winners list by blog!:
Simon Says Stamp                Julie Brusman
Laura Bassen                        Erica Feltis
Suzy Plantamura                   Dena Schaufele
Sarah Moerman                     Debbie Selby
Yana Smakula                       Rita Fujisawa
Kristina Werner                      Jill Sharp
Kathy Racoosin                     Sierra Winters
Wanda Guess                        Natalie Houston
Jennifer Mcguire                    Joy Meadows
Heather Ruwe                        Pam Young
Debby Hughes                       Loly Borda
Nichol Magouirk                     Cat Craig
Nina Marie Trapani                 Kimberly Storti
Kelly Latevola                        Holley Downs
Heather Hoffman                    Debbi Vasel
Lucy Abrams                          Mari Nyx
Carissa Wiley                         Troy Louise
Shari Carroll                           Michelle Sullivan
CONGRATULATIONS WINNERS!  Please check your inboxes for an email from us asking for your shipping address so we can send you the Simon Prize Pack! If for some reason we couldn't access your email, please email [email protected] letting us know you are one of our Blog Hop winners for the Simon Super Surprise pack and providing your mailing address. Thank you again for hopping along with us!