Studio Monday with Nina-Marie: Quick and Easy Emoji-tional Cards!
Hello everyone, it's Nina-Marie! Today I have a very fun set of cards to share with you featuring products from the Simple Stories Emoji Love collection!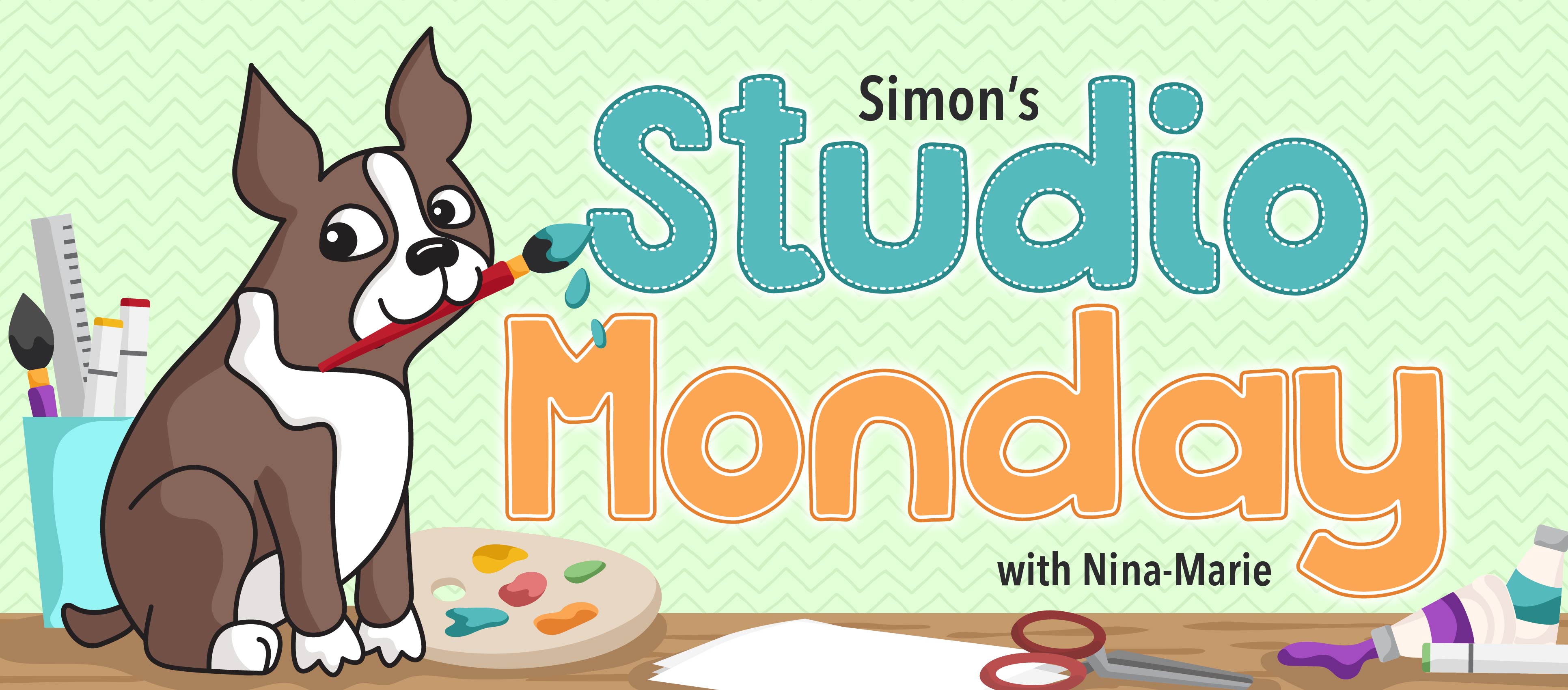 Emojis are so much fun to include in texts, why shouldn't they be just as fun for including on cards?? I've got 6 quick and easy cards to share with you that all featuring an emoji-tion (pun intended)! In these cards, I used the Emoji Love 6×8 paper pad, the Emoji Love Bits and Pieces die cuts and the Emoji Love 4×6 sticker sheet pack.
My first set of cards features using the the large emoji pattern paper sheets and making these the focal point of the cards. I die cut the papers with Simon's Basic Rectangle dies and added sentiments from both the Emoji Love die cut pack and sticker sheets.
One of the tips I featured in the video (see below), is how I use the Emoji Love stickers. Because I like adding dimension, I wanted to be able to pop the stickers up off of my cards. By adhering the stickers to cardstock, I was able to trim them out and add foam tape to the back, resulting in a "die cut" piece!
Here's a look at the pattern paper emoji cards…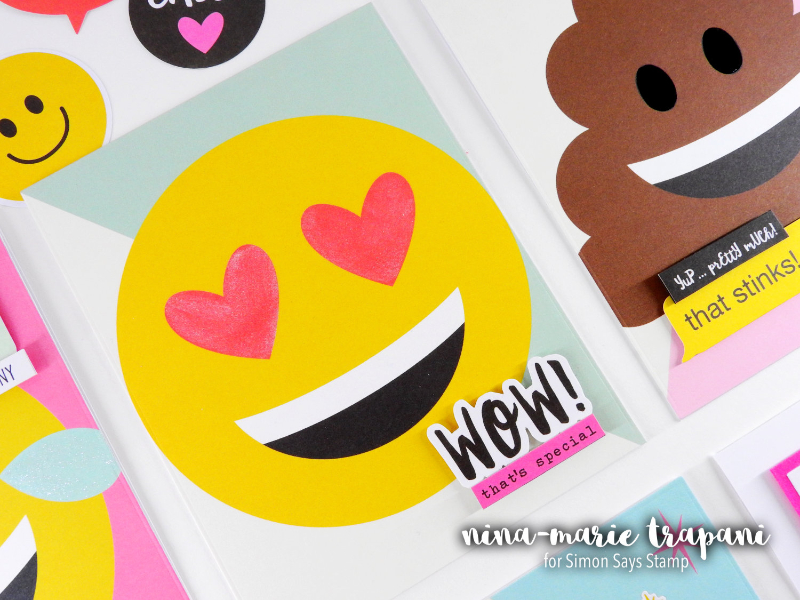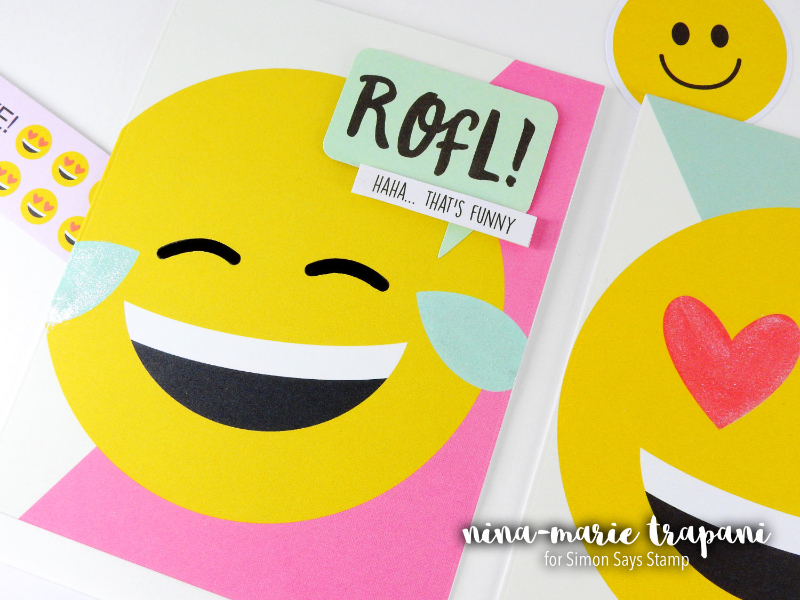 Which one is your favorite? I have to say, the little "stinker" emoji card cracks me up most of all! LOL!
My next set of cards each feature the Emoji Love die cuts. These work wonderfully for making little collages! By pairing a few together, you can say exactly what you need to say using very few words! For example, I used the ring,  the party popper and the "yay" speech bubble to create a congratulations card for an engagement or wedding. Isn't it fun to see what kind of creative things you can say with emojis??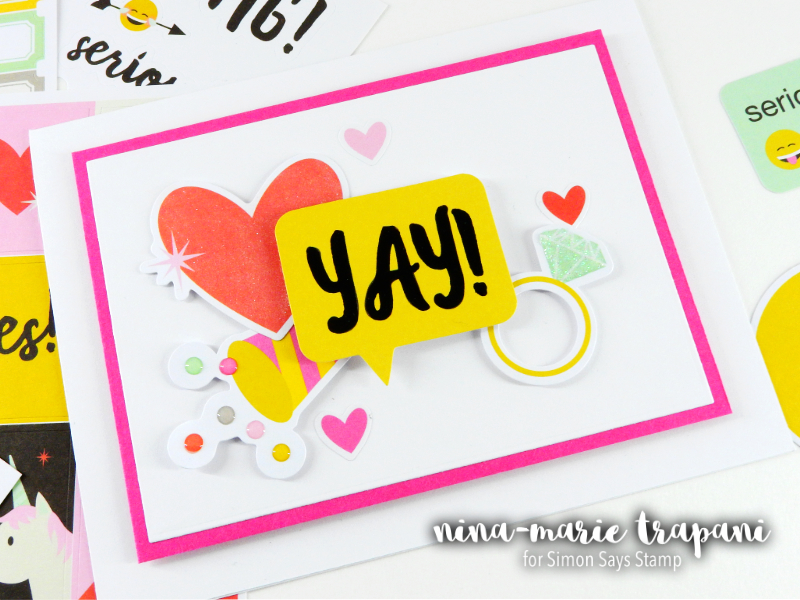 The other card has a more witty theme. I paired the laughing emoji and "oh my gosh" (OMG) die cuts together, along with a sticker sentiment that reads "breaking the internet". Basically, whatever was so funny, it was so hilarious that it broke the internet! It may be silly, but I got a kick out of it and one of my friends did too!
And! For those of you that are planner decorators, this collection is also great for decorating your planners! Here's an example of how I decorated my planner for this month using some of the stickers/banners and stamp roller. There are other great planner products in the Emoji Love collection; you can see them all HERE.
I hope that these cards made you laugh as much as they did me! These cards would be perfect for any age group; kids, teens or adults. I think it is really fun to see what kind of clever pairings you can create using the Emoji Love collection.
SUPPLIES
Blog Candy Alert!! Follow our blog via email and comment on this post for a chance to win grab bags and blog candy! Remember to tag your awesome projects with #simonsaysstamp on social media so we can see what you are creating!