Project Life with Aimee Caddell
Hi bloggers!  It's so fun to see how people all over the world are incorporating their photos with our exclusive stamps & accessories and these layouts by Aussie native Aimee Caddell are of no exception! Follow along as Aimee tells us more about her beautiful layout!
Hi, my name is Aimee Dow and I am very honored to be here on the new blog today, to show you my most recent Project Life spread.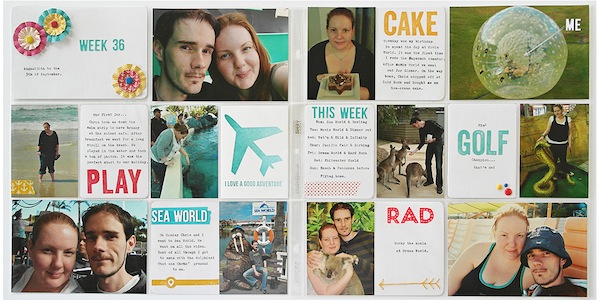 I'm currently working back through previous years. It's nice because it means I can do summer spreads at the same time as all my American counterparts.
As you can see, this week covered hubby's and my vacation to the Gold Coast for my birthday.
The problem I had when putting this spread together was a number of really bright photos. I wanted to highlight them rather than have them lost in pattern paper, so very early on I decided I would use Becky Higgins cardstock cards for my journaling. It makes life so much easier than cutting your own and I don't mind the rounded corners mixed in with the square ones.
I used my vintage typewriter for Journaling and Amy Tangerine Life Alphabet to spell out some of my favorite four letter words.
I like to mix up alphas where possible and the Kelly Purkey sets were an awesome match.
They are particularly amazing when trying to spell out long titles because of their narrow profile.
While I tried very hard to keep the little embellishments to a minimum, there were just a few things I could not leave out. I really wanted to give the title card a bit more dimension, so I came up with these nautical-themed flowers, which are a mix of BasicGrey Knee High Papers and Glitz Uncharted Waters. They are super easy to make – just two punched-out circles, one one-inch and one half-inch with little cuts around the outside perimeter.  I fastened them together with brads, but there's nothing stopping you from using a glue dot and an enamel dot for the center.
This was a difficult choice for me. I fully admit to hoarding Kelly's stacked deck. I REALLY love this ombre letter pressed card. I was going to frame it, but it just looked so perfect in this spread – how could I not use it? Thank god the next kit arrives soon. No doubt it will ease my pain.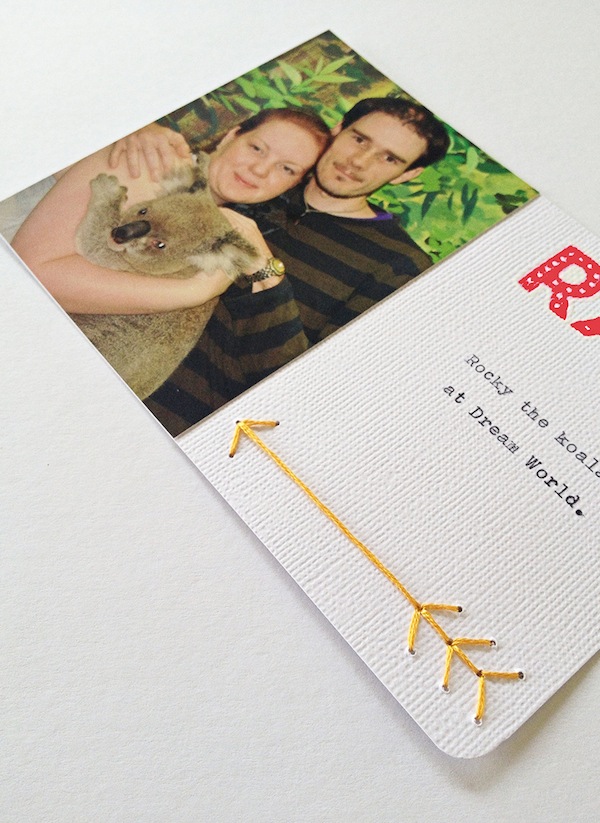 Last but not least is my pretty little stitched arrow from Amy Tangerine's Capture stencils. I love these because it's an embellishment that never runs out!  I had some mustard thread lying around, but you can use whatever color you want. Cool, right?

For more Project Life tips and tricks, feel free to stop by my blog.
Thanks so much to Aimee for being a guest on our blog today!
Supplies:

Blog Candy Alert! Follow our blog & comment on this post for a chance to win a special surprise blog candy! Winners will be announced soon! Good luck!