Prima Watercolor Confections + Rainbow Cards + Kindness Day!
Hello crafty friends! Its Nina-Marie here with you today, wishing you a VERY happy Random Acts of Kindness Day! I love the theme for this "fun holiday". We could all use a bit more kindness spread among each other!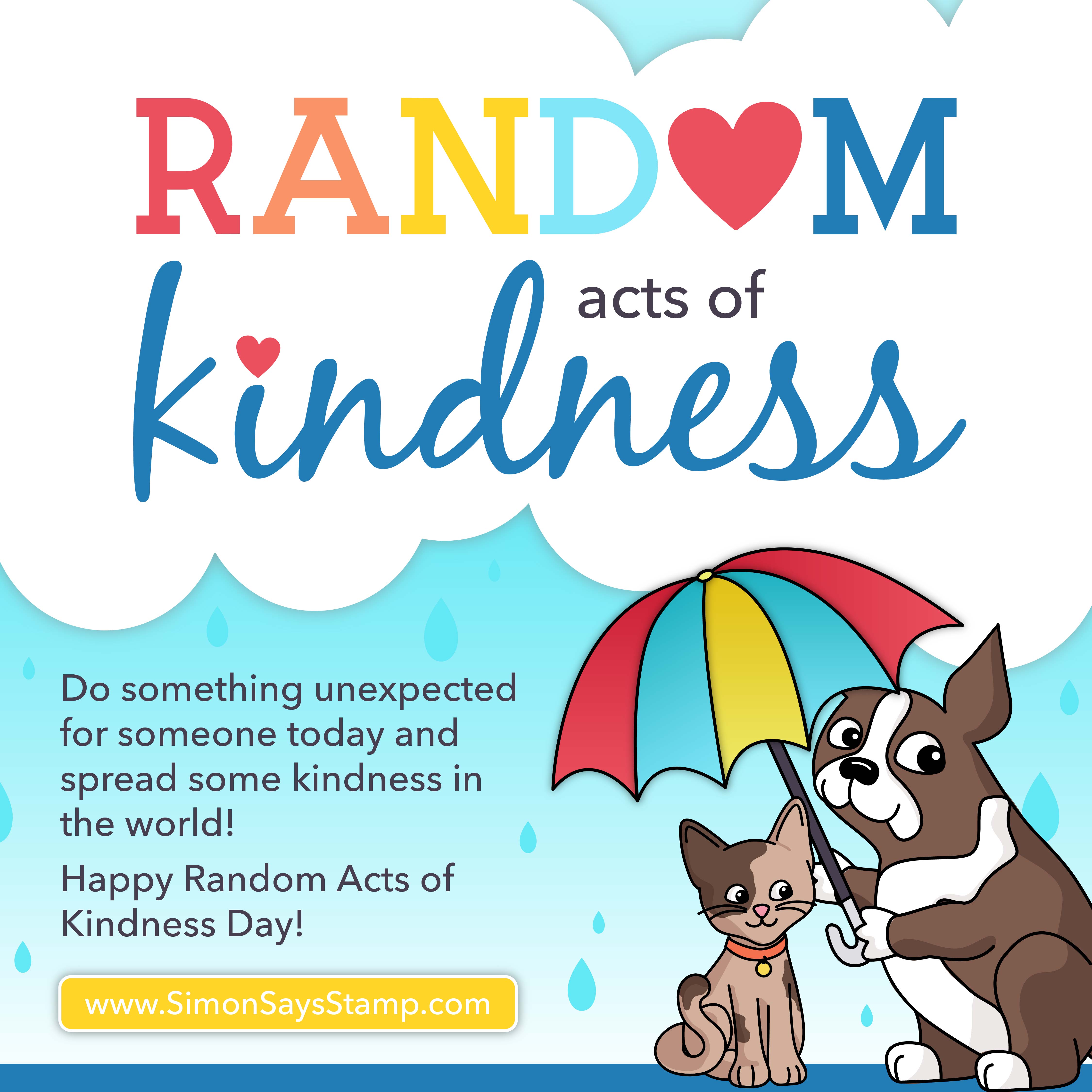 Today I wanted to share a video featuring how to make some bright and happy cards that are sure to brighten anyone's day! I also am encouraging you to make a card for someone today in honor of Random Acts of Kindness day! Fill the card with something that let's the recipient know you were thinking of them! Some ideas for including in or with your card:
A simple, heartfelt note written inside
Baked goods or other delicious treats
A gift card (maybe to their favorite coffee shop, digital music/app store, restaurant, or even one of our Simon Gift Cards for a crafty friend!)
A small gift
A handmade bookmark, jewelry, or home decor piece
There are lots of things that you could give as an unexpected gesture to someone… you never know how much a small act of kindness might impact someone's day! To borrow a phrase from the card below: you could rock their world! :)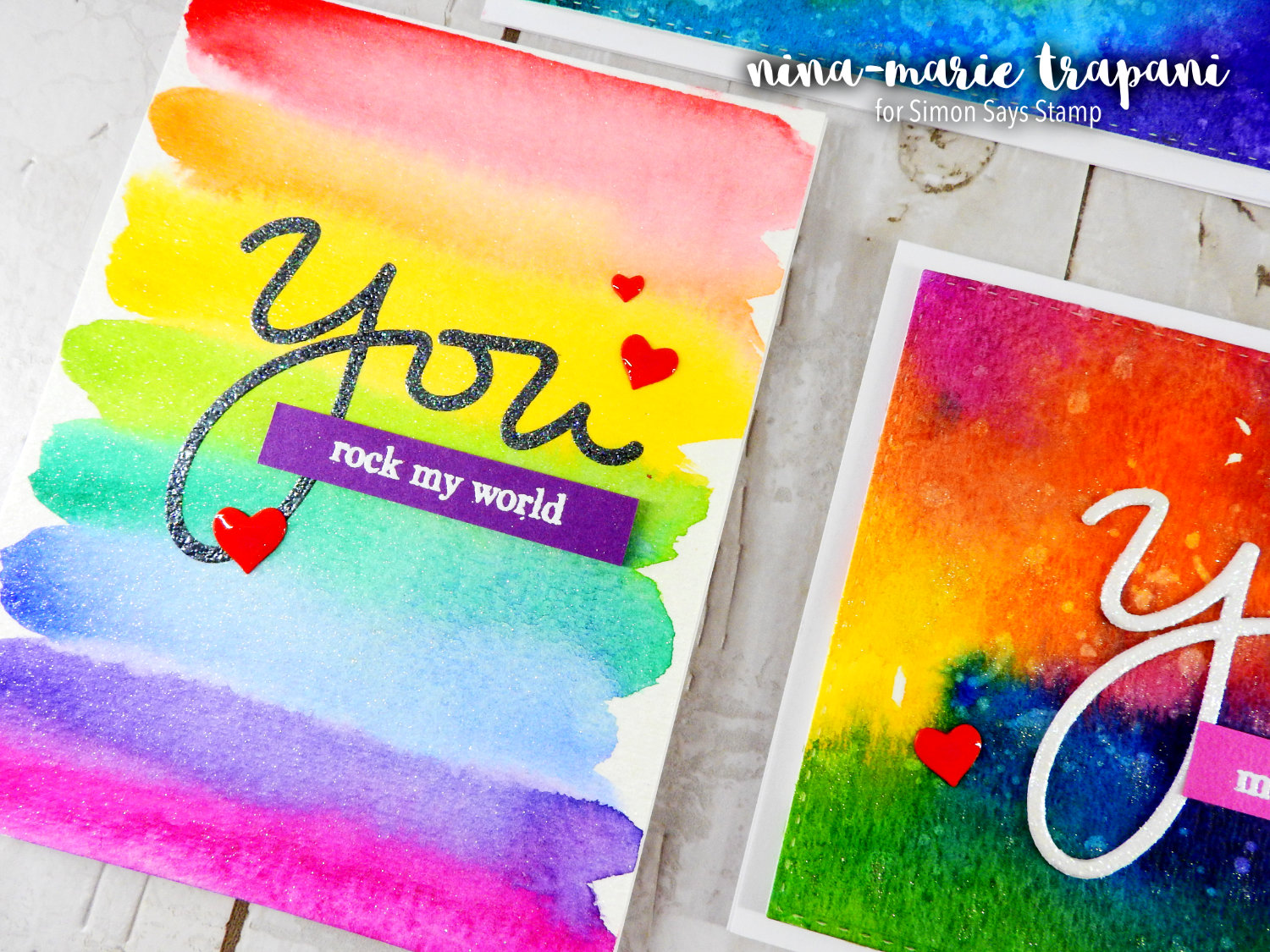 So how about some details on all these happy rainbows I've got here??
I LOVE to watercolor – depending on my mood, I sometimes love watercolor more than Copics (which is amazing for me to say because I adore my Copics). Watercolor was the very first medium I used in cardmaking back when I first started in 2007; it wasn't until later on that I got Copics. So watercolor does -and always will- hold a special place in my heart.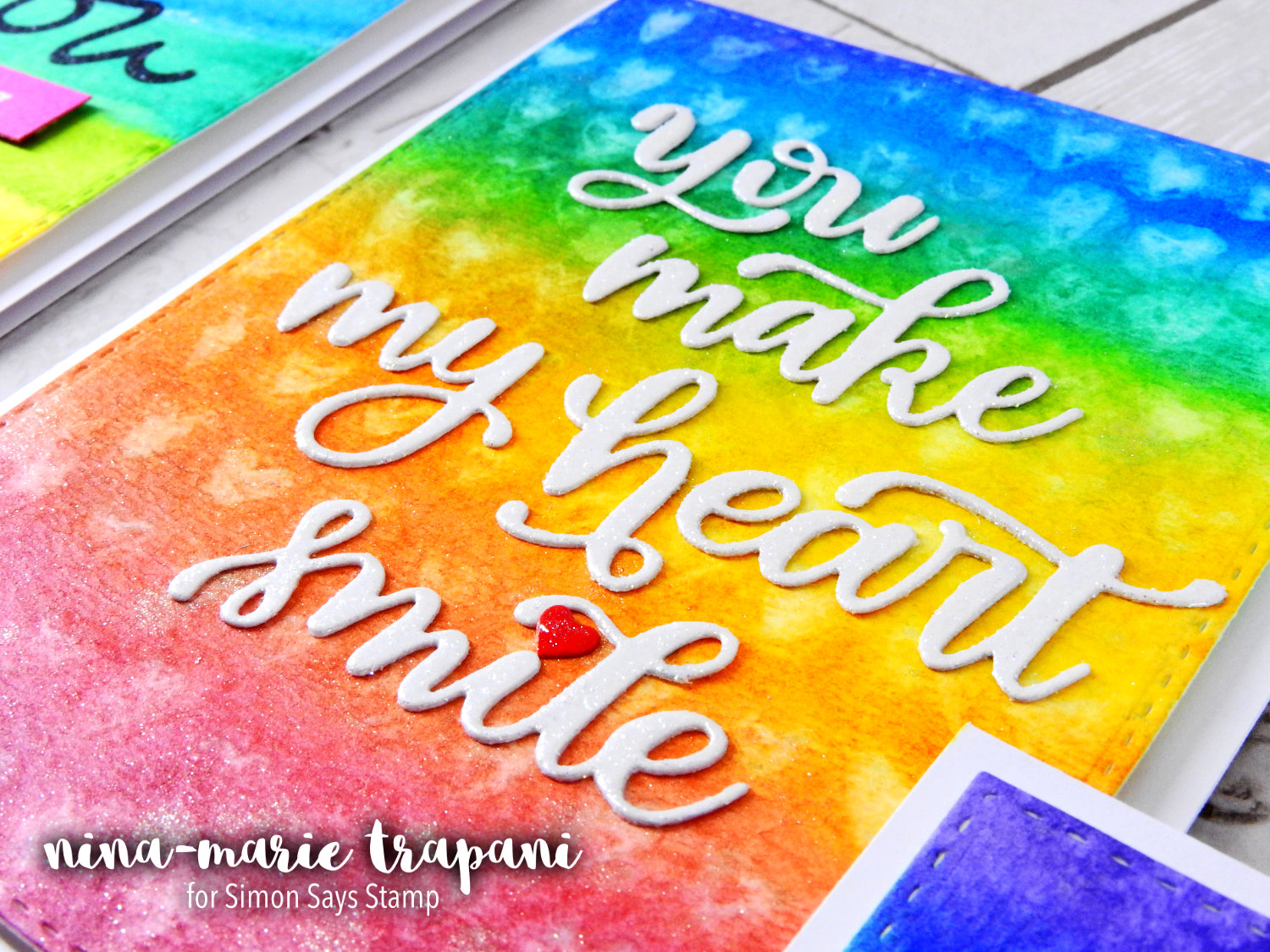 In today's cards, I used Prima's Watercolor Confections palettes. But be sure to remember that you can use any watercolor medium you have or prefer most. If you watch the video below, you will see my palette looks different than the actual sets of Prima Watercolor Confections. This is because I combined all of my half pans from each collection I have to save space and have all the colors in rainbow order. Yes, I'm crazy that way! :) I have three of Prima's Confections palettes: the Classics, Tropicals and Decadent Pies. There are also the Shimmering Lights and Pastel Dreams palettes which I do not have yet.
I also stepped up the watecoloring a bit by creating a shimmer water mix BEFORE doing any painting. In the bowl of water that I had on my desk, I mixed Perfect Pearls to make a shimmery water. By simply using the glittery water to pick up and paint with, I was able to make my backgrounds shimmery. All without having to spray the paper with a shimmer mist and risk that the water based medium might blend my watercolors together!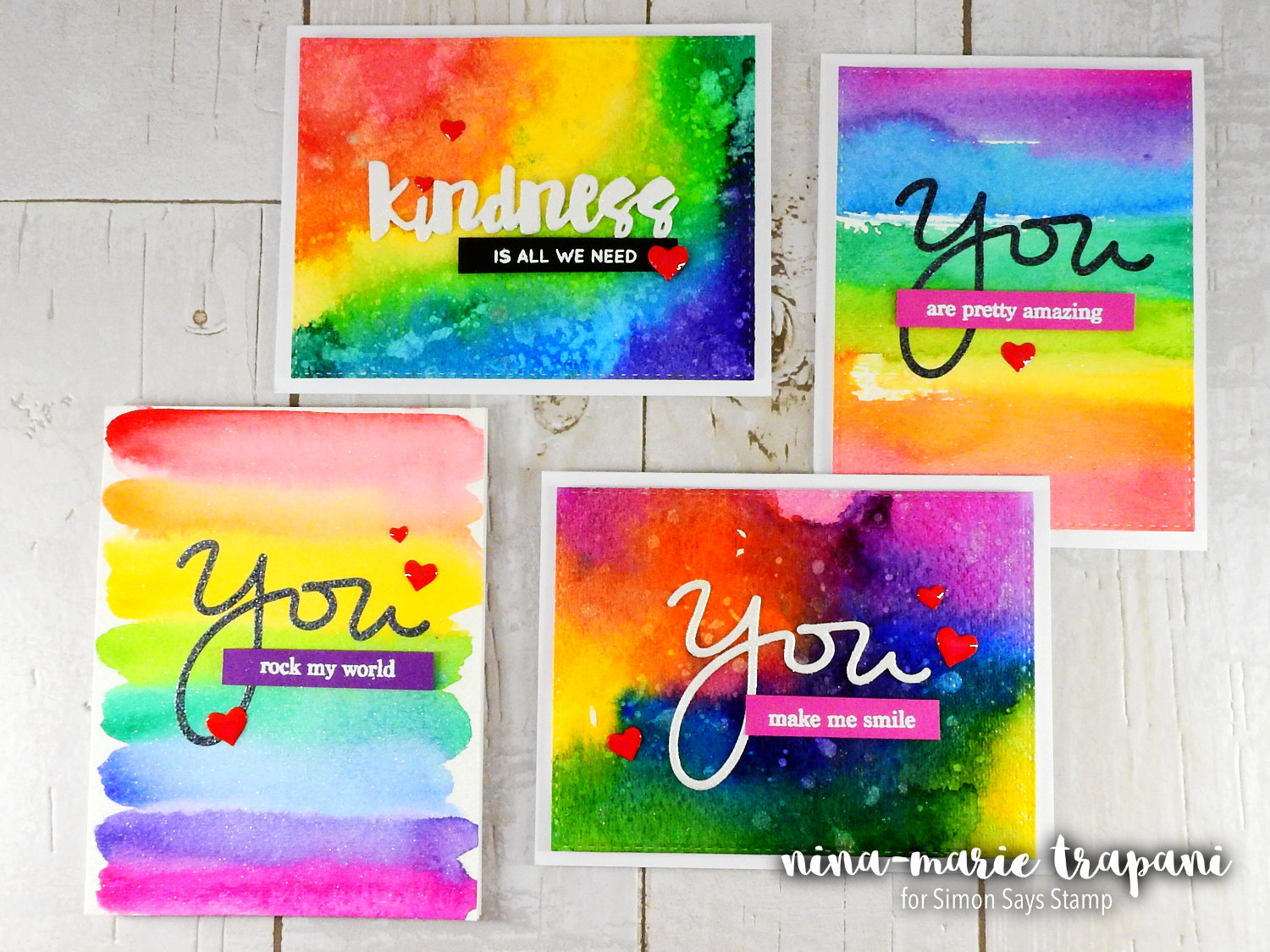 Now, I will admit that I had WAY too much fun creating these cards… so much fun in fact that I made 10 cards in a single afternoon! I played with quite a few Simon stamps and dies, creating fun layouts and combinations with my backgrounds! The Simon products I used in these cards include: Kristina's Love stamps, You Matter (both stamps and die), Heart of Flowers die, Holiday Shapes die, Heart Smile die, Painted Kindness die and the Stitched Rectangle dies.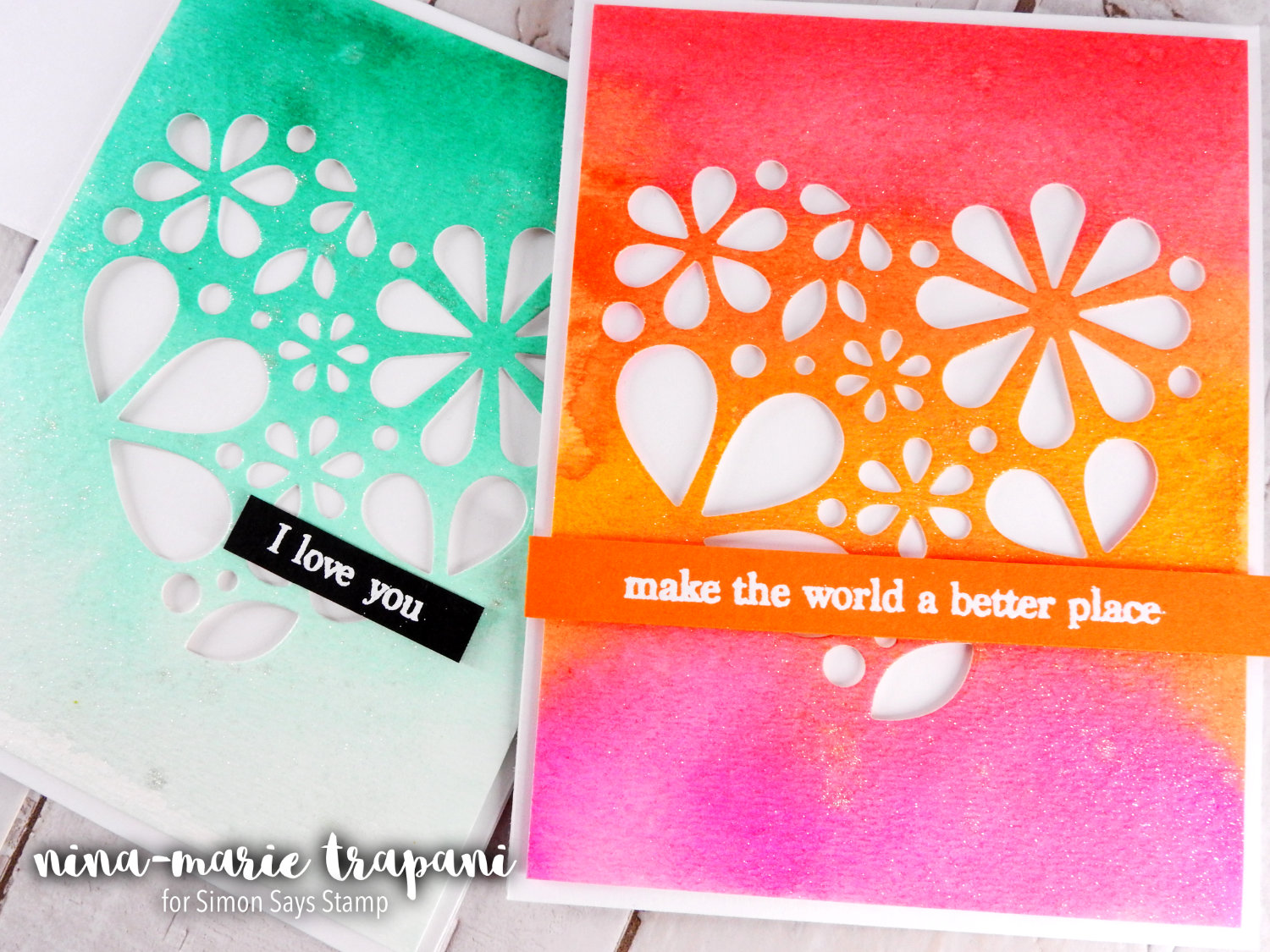 I hope you will be checking out the video to see how these cards came together. I am so glad you stopped by to spend some time with me! Be sure to remember to spread some random acts of kindness today!
SUPPLIES

Blog Candy Alert!! Follow our blog via email and comment on this post for a chance to win grab bags and blog candy! Remember to tag your awesome projects with #simonsaysstamp on social media so we can see what you are creating!