Out of This World Blog Hop WINNERS!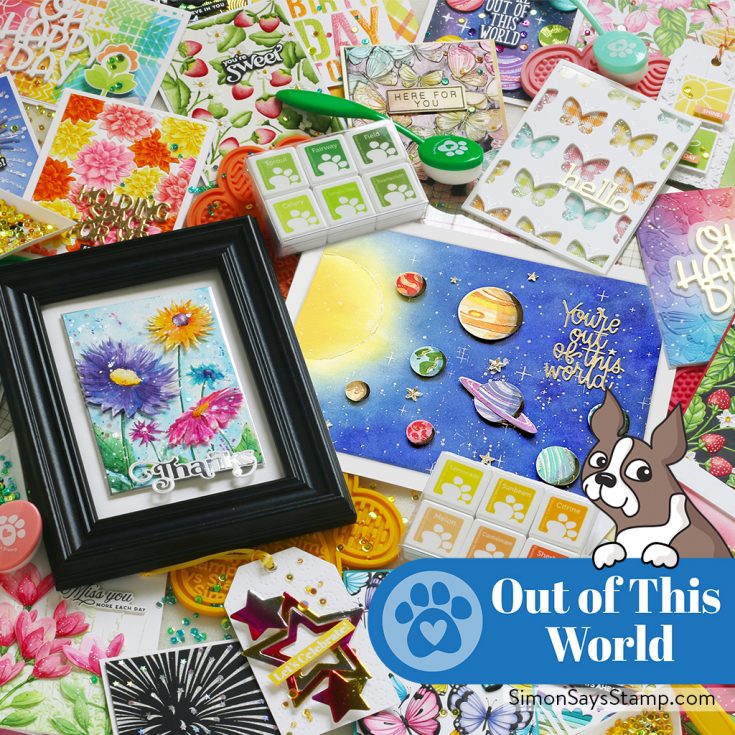 Hello, friends!
Our brand new Simon release is absolutely Out of This World! Look to the sky with You Are My Universe stamps and dies, Nested Stars dies, Celebration Fireworks stamps and dies, and Twinkling Stars cling stamp; celebrate birthdays with our Birthday Shenanigans stamps and Layering Birthday stamps, dies, and stencil suite; and improve the precision of your stamping with our Pawsitively Perfect Placement Guides!
Also, get excited about TEN new embossing folders and two more new 6-packs of Pawsitively Saturated ink cubes: Green Meadows and Yellow Sunsets!
To celebrate this phenomenal release, we hosted two amazing blog hops! The hops featured many talented designers and each one created wonderful projects to inspire you. If you missed either of the hops, you can find the direct links here: DAY ONE and DAY TWO.
A BIG thank you to all of YOU who joined us for the hops! We enjoy hearing from each of you, and your words of encouragement and appreciation to each of the designers mean so much to us here at Simon and to them. It's our tradition to give away gift certificates to random commenters on each blog stop, and today we are revealing all of the winners! So without further ado, I present to you our winners!
from Simon Says Stamp's blog: Kathryn!
from Caly Person's blog: Connie Hostak!
from Cathy Zielske's blog: Vivian Chiu!
from Jennifer McGuire's blog: Colleen Howell!
from Debby Hughes's blog: Kim M Jacobs!
from Barbara Tarayao's blog: Von Marie!
from Amy Rysavy's blog: Karen Baughman!
from Keisha Charles's blog: Mirella Rogan!
from Anna-Karin Evaldsson's blog: Bonnie!
from Heather Ruwe's blog: Dawn Tooley!
from Cheiron Brandon's blog: Karen Carlson!
from Emily Midgett's blog: Lauryne Cunningham!
from Miriam Prantner's blog: Stacey Kowbel!
from Kulbir Kirkland's blog: Mary Holshouser!
from Natasha Vacca's blog: Lynn Chan!
from Jessica Vasher's blog: Deena Pavinato!
from Simon Says Stamp's blog: Maureen Reiss!
from Nina-Marie Trapani's blog: Rebecca Taylor!
from Nichol Spohr's blog: Laura Casselman!
from Laura Bassen's blog: Samantha Pfrimmer!
from Suzy Plantamura's blog: Bunny Hoyle!
from Bibi Cameron's blog: Selena Bennett!
from Lisa Addesa's blog: Michelle Hackett!
from Mindy Eggen's blog: Deborah Hellman!
from Yana Smakula's blog: Share Zar!
from Alberto Gava's blog: Cindy Ickes!
from Dilay Nacar's blog: Anne Sturgeon!
from Barb Engler's blog: Kathy Raker!
from Kim Hamilton's blog: Maria Dlwgosh!
from Maura Hibbitts's blog: Jane Cummiskey!
If you see your name listed above, CONGRATULATIONS! Please email R[email protected] and let him know that you are one of our Out of This World Blog Hop winners! You'll receive a $25 Gift Card.
Thanks again for hopping along with us! We hope you enjoy our fantastic Out of This World release and that it gives you creative enjoyment for months to come!
You'll love browsing our Out of This World gallery on our blog for loads of additional inspiration, and you can add your projects to these galleries as well!
Winning ROCKS, and so do you!