NEW RELEASE: Teacher's Pet for Back to School
Isn't it bittersweet to think about school coming back into session?  I'll be relishing these last few weeks of summer vacation every day.  The days of lax bedtimes and letting the kids have sleepy lazy mornings are soon to be gone.
At the same time, I am so excited to have the kids back in a routine.  My son is anxious to see his school friends again and is trying to choose an after school activity.. he thinks that choosing just one is SO hard that he should be allowed to choose 2.  (haha…always trying to push the envelope, that boy ;))  Soon he will learn who is going to be his first grade teacher and which kids will be in his class. I remember always being super anxious to see WHO was going to be in my class in grade school and if I was going to have the "nice" teacher.   Next week, we will begin school supply shopping and I look forward to checking out the cool folders, binders, notebooks, colored pens, and the latest hot organization supplies.  What are your favorite memories of "back to school"?
This year, I'm really excited to share a new product release: Teacher's Pet!  The KIDS ROCK set is so fun for lunch box notes.  TEACHERS RULE is the perfect combo to help you create notes of gratitude throughout the school year.  ABC ART is useful all year round for your crafty projects!  The full release is available HERE.  When designing the products for this release, we wanted something  for students, for teachers, and for crafty moms and friends.  What do you think?

Check out this card (and video!) created by Stephanie Klauck, sharing some of the new products from the release including the new Alphabet Background Stamp and the Lunchbox Notes stamp set!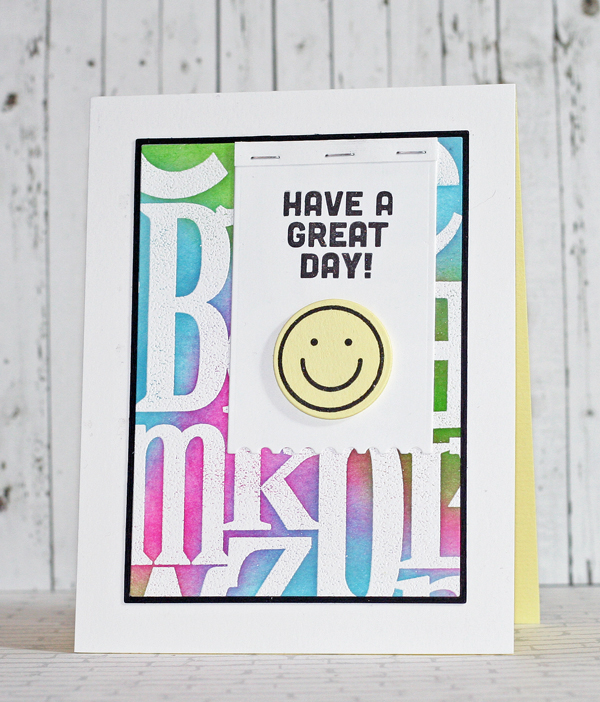 Stephanie had this to say:
I really love how great the Alphabet Background cling stamp looks when it's heat embossed and highlighted with bright colors! It fits so well with the school theme but it's versatile enough to use all year round for all types of cards!

I love doing something unexpected on my cards like I did with this one, by adhering the white card front onto a Lemon Chiffon card base. Just a fun way to tie in the happy face and provide a splash of color on the inside of the card!
To see how she created the card, you can watch the video below:
Are you ready to get creative with our newest release?!? We have a fun treat on the blog next week to offer inspiration with loads of tips and tricks with super talented designers! Did we mention there will be GIVEAWAYS??!
Simon Says Stamp Summer School officially kicks off on Monday August 4, 2014! Don't be late for class!! ;)