DieCember® Blog Hop WINNERS!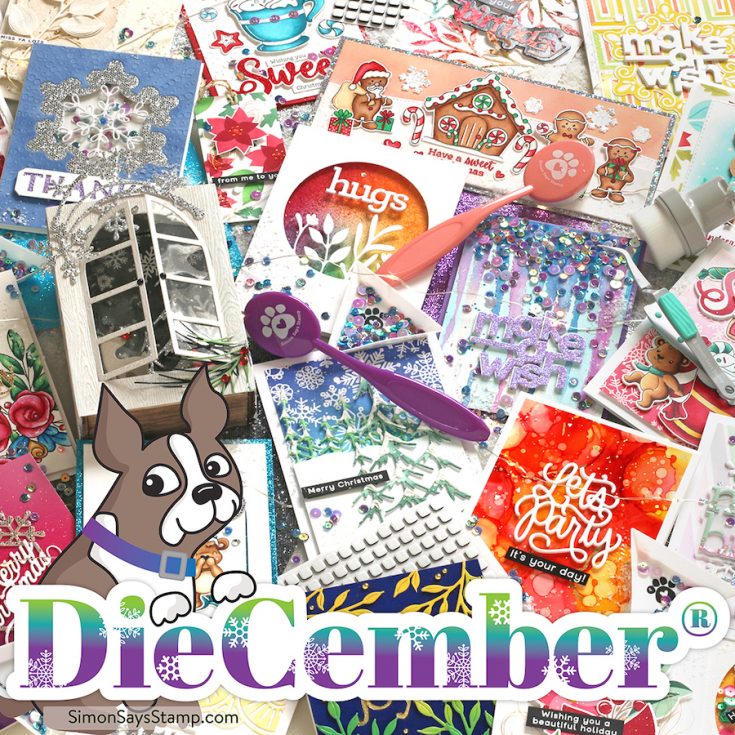 Hello, friends!
Our Simon Says Stamp exclusive DieCember® product lineup features a vast array of dies from flowers to cover plates to useful and fun sentiments and so much more! Stretch your dies with a variety of techniques like partial die cutting, dry embossing, inlaying—the sky's the limit! In addition, we have some awesome stencils, stamps, and an embossing folder as well as some amazing cardstocks and a new Simon brand tool! No matter your style, you're sure to find several must-haves that need to be in your creative space. We can't wait to see what you create with all of these awesome new products!
To celebrate this phenomenal release, we hosted two amazing blog hops! The hops featured many talented designers and each one created wonderful projects to inspire you. If you missed either of the hops, you can find the direct links here: DAY ONE and DAY TWO.
A BIG thank you to all of YOU who joined us for the hops! We enjoy hearing from each of you, and your words of encouragement and appreciation to each of the designers mean so much to us here at Simon and to them. It's our tradition to give away gift certificates to random commenters on each blog stop, and today we are revealing all of the winners! So without further ado, I present to you our winners!
from Simon Says Stamp's blog: Alexandra Y!
from Nina-Marie Trapani's blog: Laurie Black!
from Caly Person's blog: Mirella ROGAN!
from Nichol Spohr's blog: Laura Budke!
from Cathy Zielske's blog: Tammie J.!
from Jennifer McGuire's blog: NANDINI KARMARKAR!
from Amy Rysavy's blog: Zlatka Kabaivanova!
from Suzy Plantamura's blog: LEMPICKI ANTOINETTE!
from Keisha Charles's blog: Jeanne Beam!
from Barbara Tarayao's blog: Stacey Kowbel!
from Bibi Cameron's blog: Gayle I.!
from Lisa Addesa's blog: Mel H!
from Vicky Papaioannou's blog: Beth Merrill!
from Barb Engler's blog: msdixie!
from Heather Ruwe's blog: Savannagh Kacey!
from Simon Says Stamp's blog: Cheryl Alcaraz!
from Laura Bassen's blog: Michelle Bethel!
from Debby Hughes's blog: Lori Spitzer!
from Alberto Gava's blog: Ann Hale!
from Miriam Prantner's blog: Lauren Cunningham!
from Anna-Karin Evaldsson's blog: Shari Czerwinski!
from Amanda Korotkova's blog: Nicole Parmentier!
from Mindy Eggen's blog: Connie Griffin!
from Emma Williams's blog: Jo Malicoat!
from Cheiron Brandon's blog: Maureen Morton!
from Heather Hoffman's blog: Denise Bryant!
from Emily Midgett's blog: Sharon Gullikson!
from Lea Lawson's blog: Lynn Conlon!
from Sandi MacIver's blog: Cindy K!
from Kim Hamilton's blog: Maureen Reiss!
If you see your name listed above, CONGRATULATIONS! Please email R[email protected] and let him know that you are one of our DieCember® Blog Hop winners! You'll receive a $25 Gift Card.
Thanks again for hopping along with us! We hope you enjoy our fantastic DieCember® release and that it gives you creative enjoyment for months to come!
You'll love browsing our DieCember® gallery on our blog for loads of additional inspiration, and you can add your projects to these galleries as well!
Winning ROCKS, and so do you!