New Product Alert! Tim Holtz Stencils In Stock Now!
It's gonna be a great week…I can feel it in my bones!
Just a quick update on a product MANY of you are asking about:  Tim Holtz new stencils are IN STOCK NOW!
It was when I actually held the "Stars" stencil in my hand a few weeks ago in a CHA Educational workshop that I realized that I absolutely must have these stencils.  All of them.  They are the best of the best of quality and made just up the road in the good ole' USA.  You can ink through them, mist through them, stamp designs using the stencil as a mask, layer them, draw through them….that very Tim Holtz expression "The possibilities are endless" is so very true.  The stencils are a ton of fun and a really affordable and creative way to add miles to your craft stash!  Try one …. 'er….two …and I think you'll see exactly what I mean!  Below is an example where I used the picket fence stain to create a subtle star background on a Christmas themed card.  Easy peazy! AND FUN!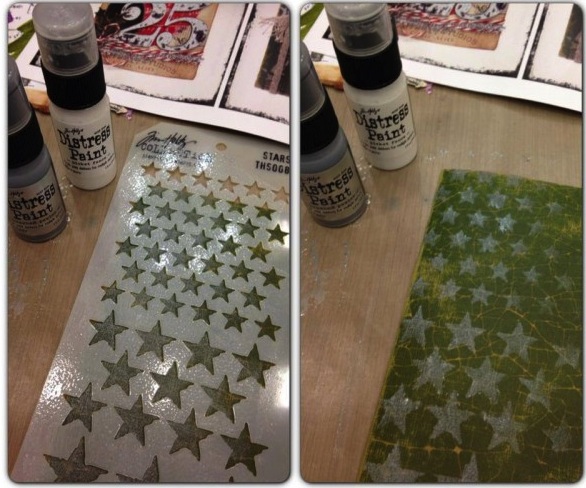 From Tim's blog www.TimHoltz.com
hey everyone, i'm thrilled to announce my latest collaboration with stampers anonymous – introducing layering stencils.  there is no doubt the use of stencils in art and mixed media are definitely the latest must have tools.  i wanted to design stencils that were a little more imperfect as a way to add texture and imagery along with my stamps.  so what better way to achieve that than to work with stampers anonymous to bring some of my most popular stamp designs to life as stencils.  i have to say that i couldn't be happier with the final outcome, and trust me, when you see the grungy detail of these 13 designs of layering stencils you will be happy too…
These tag shaped stencils can be used to layer with inks, stains, paints, and more!
Each stencil measures approximately 4.125" x 8.5"
Do you have a favorite!?  Mine is the stars…but I really like that dot fade too.  Thinking about using my favorite squeezed lemonade distress ink with the "measured" design as well.  Don't you think the burlap stencil REALLY looks like burlap?
Be sure to comment below to tell us about your favorite, and how you'd like to use it, and one lucky winner will receive a $15 gift card to our store.  Winner will be drawn Tuesday.  You could pick up a few stencils with that gift!
Have an awesome week!  It's been lovely starting out the week with GREAT NEWS!  :)