To The Moon And Back Again Blog Hop WINNERS!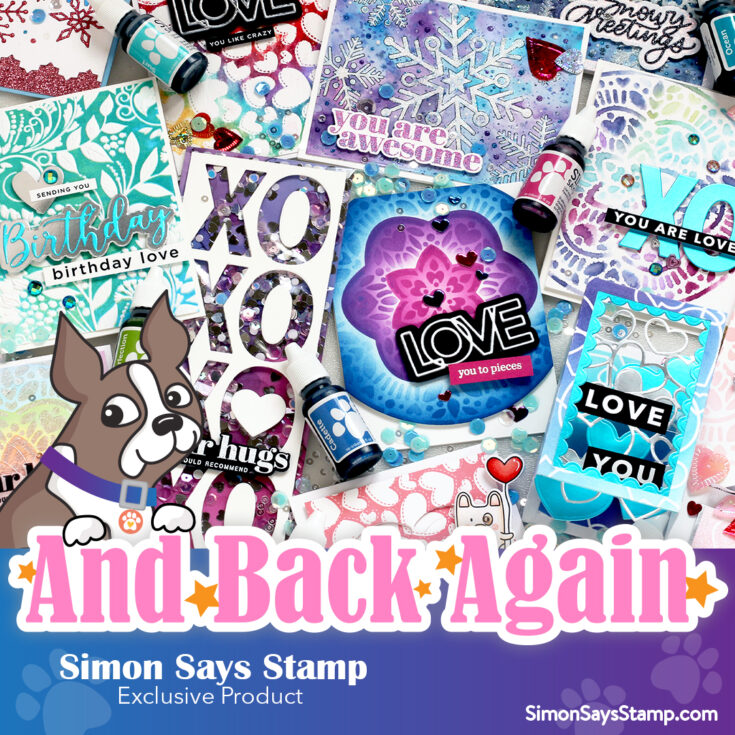 Hello, friends! Our Simon Says Stamp exclusive To the Moon (originally released December 16th) and the And Back Again product lineups are full of lots of products to share the love! Included you'll find an array of hearts and Valentine-themed stamps, dies, and stencils, dies for dimensional projects, clever sentiment dies, and a sun and moon themed products. No matter your style, you're sure to find an item or two (or way more!) that need to be in your craft arsenal. There are some wonderful new products from CZ Design, and a brand new set of Suzy's watercolor cards, too! We are so excited for you to play with all of these awesome new products!
To celebrate these phenomenal releases, we hosted two amazing blog hops! The hops featured many talented designers and each one created wonderful projects to inspire you. If you missed either of the hops, you can find the direct links here: DAY ONE and DAY TWO.
A BIG thank you to all of YOU who joined us for the hops! We enjoy hearing from each of you, and your words of encouragement and appreciation to each of the designers mean so much to us here at Simon and to them. It's our tradition to give away gift certificates to random commenters on each blog stop, and today we are revealing all of the winners! So without further ado, I present to you our winners!
from Simon Says Stamp's blog: Michelle H!
from Nina-Marie Trapani's blog: Janie Word!
from Caly Person's blog: Sheila K Rodriguez!
from Nichol Spohr's blog: Mirella Rogan!
from Jennifer McGuire's blog: Reiko F!
from Cathy Zielske's blog: Julie Rig!
from Suzy Plantamura's blog: Holly M!
from Sidnie Des Jardins's blog: Sandra Baggarly!
from Lisa Addesa's blog: Suzanne Guardiola!
from Keisha Charles's blog: Miesje Flach!
from Anna-Karin Evaldsson's blog: Alexandra Y!
from Bibi Cameron's blog: Jill Rauenhorst!
from Yana Smakula's blog: Marlee!
from Mindy Eggen's blog: Lucy E.!
from Barb Engler's blog: azjoyace!
from Simon Says Stamp's blog: Katherine Kloschinsky!
from Laura Bassen's blog: Savannagh Kacey!
from Debby Hughes's blog: Amy Ulen!
from Amanda Korotkova's blog: Kelly Kuharik!
from Amy Rysavy's blog: Julie Haedtke!
from Vicky Papaioannou's blog: Anne Sturgeon!
from Heather Ruwe's blog: Angie D Cammack!
from Kulbir Kirkland's blog: Lila McCabe!
from Miriam Prantner's blog: Winnie!
from Yoonsun Hur's blog: Sara Barker!
from Heather Hoffman's blog: Elisa Murphy Art!
from Lea Lawson's blog: Kimberly Asman!
from Sandi MacIver's blog: Rebekka!
from Tina Smith's blog: Alma Dirpaul!
from Dilay Nacar's blog: Talitha!
from Emily Midgett's blog: Becca Yahrling!
from Jennifer Kotas's blog: Mary Holshouser!
If you see your name listed above, CONGRATULATIONS! Please email [email protected] and let him know that you are one of our To the Moon And Back Again Blog Hop winners! You'll receive a $25 Gift Card. ???
Thanks again for hopping along with us! We hope you enjoy our fantastic To the Moon and And Back Again releases and that they give you creative enjoyment for months to come!
Winning ROCKS, and so do you!