Monthly Mail Art with Kristina Werner – July 2018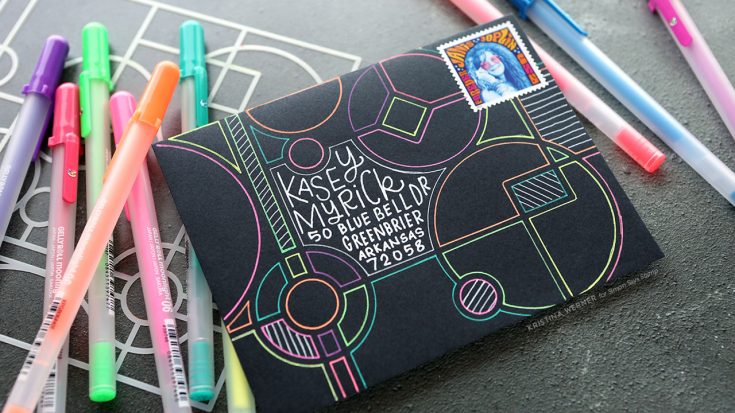 Hello, all! Kristina here with another Monthly Mail Art! This month's envelope is super simple and easy–just a few supplies!
I used a black envelope (any dark surface will do), the Line Dance stencil, and different colors of Gelly Roll pens.
First I taped the stencil to the envelope to keep it in place while I worked. I traced the stencil design with alternating colors of gel pen, making sure to avoid neighboring sections using the same color. I planned to use the center-left section as the area for the mailing address, so I outlined that section with a fine white Gelly Roll pen. I also added thin white stripes to some of the smaller sections.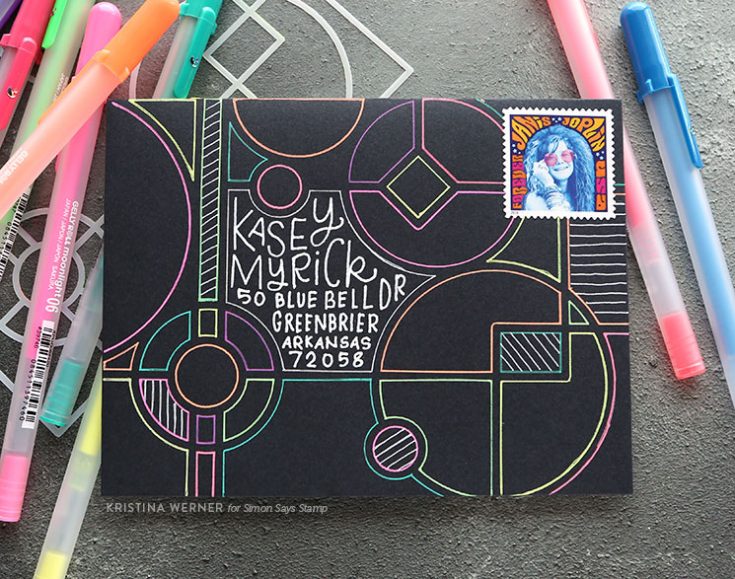 After removing the stencil, I penciled in the mailing address and then went over it with a bold white Gelly Roll pen. Super easy and quick!
NOTE: Mailing address used with permission. Thanks, Kasey!
Thanks for stopping by!
Supplies
Simon Says Stamp Envelopes BLACK ssse13

Simon Says Stencils LINE DANCE…

3M Scotch SAFE RELEASE MASKING…

Sakura MOONLIGHT GELLY ROLL 10 Set…

Sakura MOONLIGHT GELLY ROLL 5 Set…

Sakura BOLD POINT Moonlight 16 Gelly…

Sakura CLASSIC WHITE Fine Line 05…

Sakura CLASSIC WHITE Bold Line 10…

Sakura ARCH EVOLUTIONAL FOAM ERASER…

Dahle Self-Healing Cutting 18×12 Mat…