Mommy Lhey is getting us organized!
Hi readers! TGIF! What a week! Whew! Please join me in welcoming first time guest Lhey Bella Ralston of Mommy Lhey Designs! She's allowed us to peek into her fabulous planners to get a sense of her style and take a few notes from a planner PRO! Check them out and enjoy!
Hey everyone, Lhey here from Mommy Lhey Designs. I am excited to share with all of you my Planner Layout. For this week, I opted for a more subtle color combination. No other embellishment but plain stamping alone. (I used; Pattern My Hexa, Bunny Script, Caffeine Doze, and Planner Girl!)I often find it easier to manage when I stick to stamping. I love the color combination that I used here, it's almost perfect for winter. What do you think? How do you decorate your planner pages?
Supplies:
I also wanted to share with all of you how I use my Heidi Swapp's Gold Foil Stripes Memory Planner. I personally do not use it as a PLANNER/AGENDA. I use it for Memory Keeping just like a smaller Project Life. Balancing my life as a small business owner, Mom and a wife can sometimes be difficult to keep up with my crafty projects. I love using this method because I don't have to write a long journal about my day. It's short and sweet. I just add pictures, and stamping to decorate my whole week layout.  It's working  well for me and I love that at the end of the month, I can see how our week went and go back through the memories made. Thanks for reading!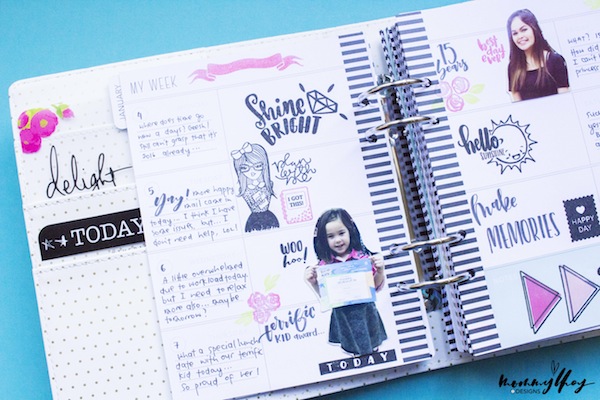 Supplies:
Thanks for reading today and thanks to
Lhey
for sharing her fun planning techniques!