Make it Interactive: Funny Llama Birthday Card! Funny Friday with Art Impressions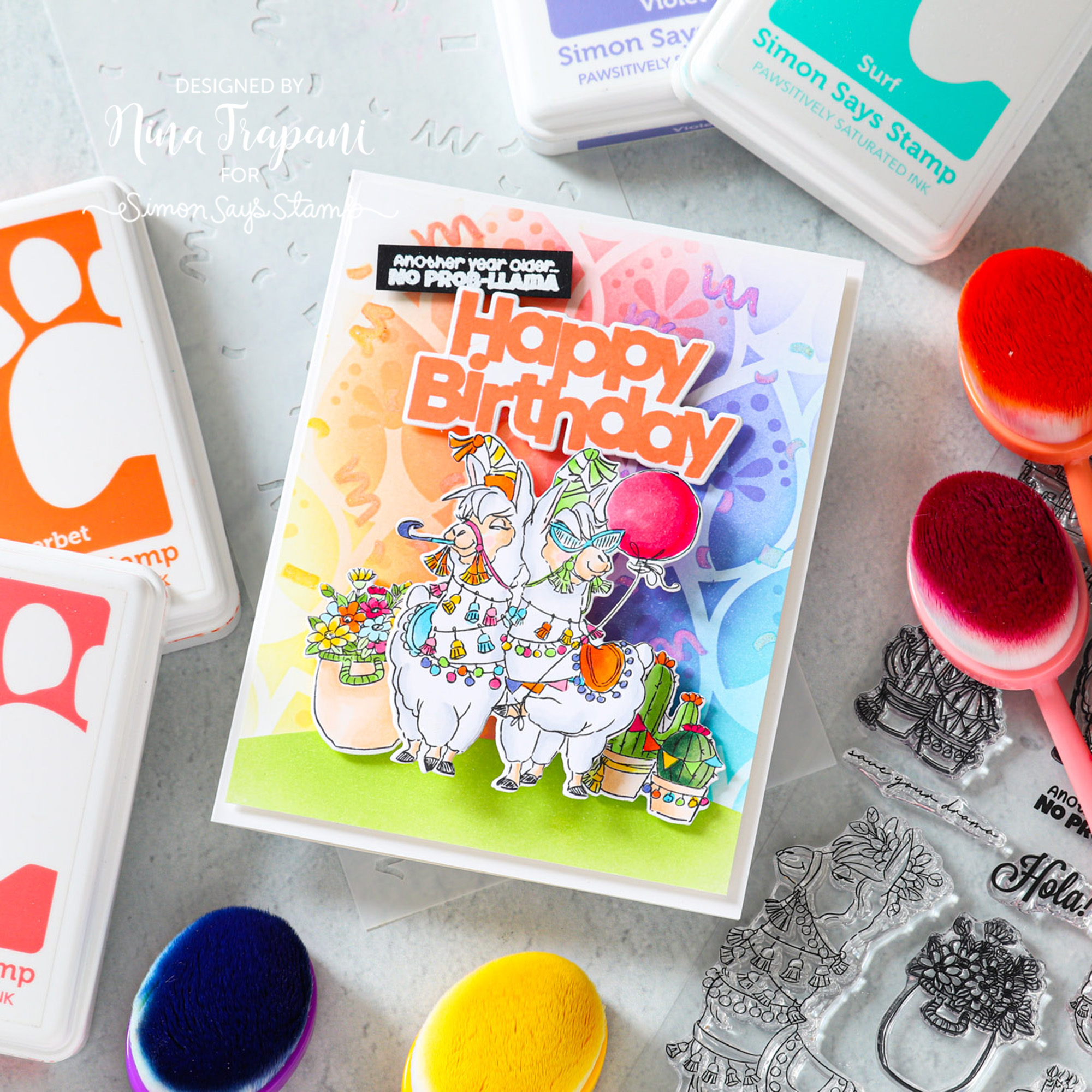 Hey there friends, it's Nina-Marie Trapani here with another installment of our Funny Friday series with Art Impressions! I can always use a birthday card—when I saw the Llama stamp and die set, I thought they would be perfect!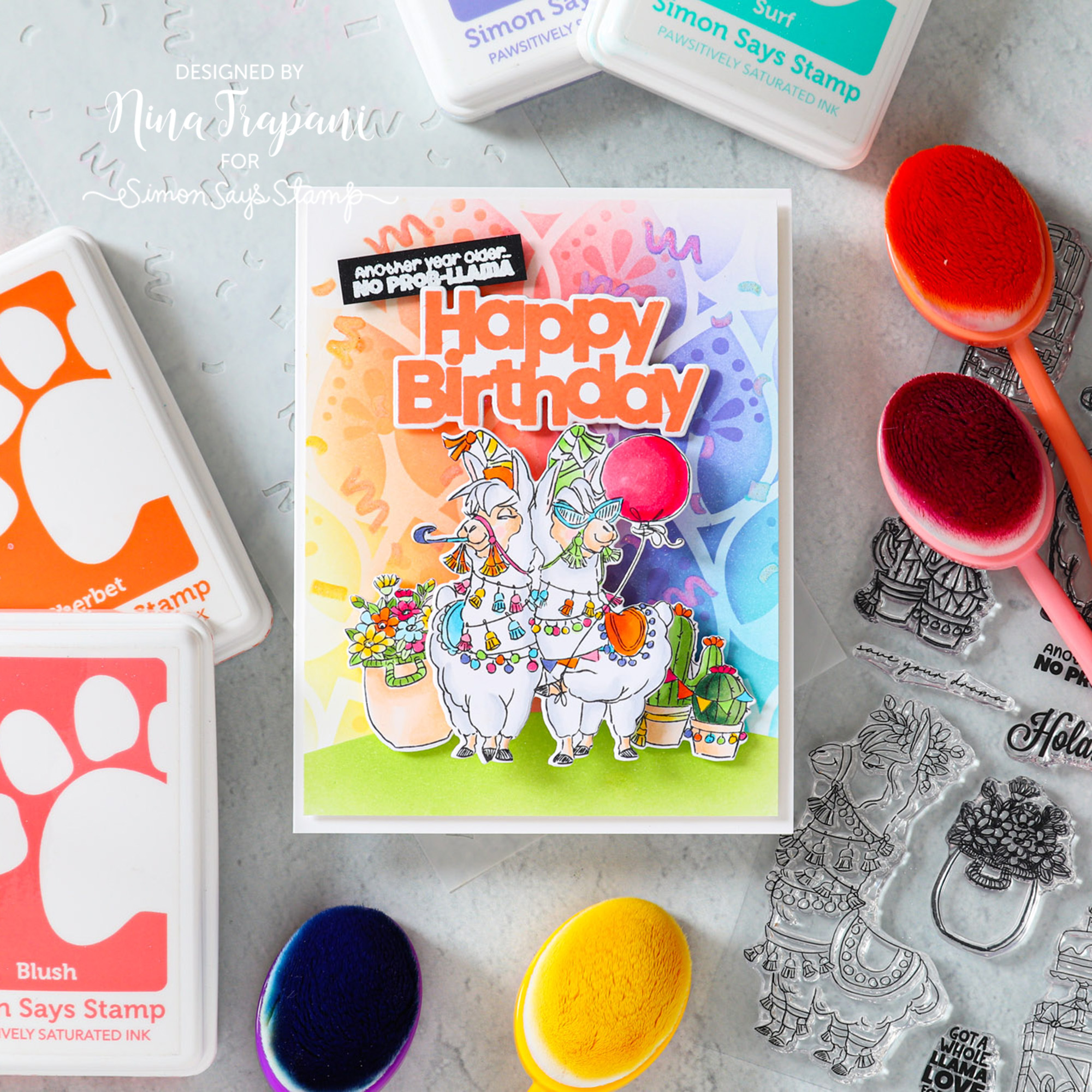 I also incorporated some fun Simon Says Stamp products into this card, including the Mod Layering Leaves and Slimline Confetti stencils, plus the Big and Bold greetings stamp and die set.
Want to learn how I made this card? Watch the video below for all the details!
SUPPLIES
Art Impressions LLAMA Clear Stamps…

Simon Says Stamp Stencil Set MOD…

Simon Says Stamp Stencil SLIMLINE…

Simon Says Stamp Pawsitively…

Simon Says Stamp Pawsitively…

Simon Says Stamp Pawsitively…

Simon Says Stamp Pawsitively…

Simon Says Stamp Pawsitively…

Simon Says Stamp Pawsitively…

Simon Says Stamp Pawsitively…

Brutus Monroe FALLEN SNOW Glitter…

Simon Says Stamp Stamp And Stencil…

Simon Says Stamp WHITE CARDSTOCK 120#…

Simon Says Stamp Cardstock 100# BLACK…

Simon Says Stamp WHITE A2 TOP FOLD…

Hammermill WHITE 100 LB SMOOTH…

Simon Says Stamp Blending Brush SET…

Simon Says Stamp DETAIL ROUND…

Simon Says Stamp MAGNETIC GLASS MAT…

Simon Says Stamp VERY VERY LOW TACK…

Simon Says Stamp Pawsitively Perfect…

Action Wobble MINI SPRINGS Bulk Pack…

Therm O Web Gina K Designs MASKING…

Copic Sketch MARKER Y11 PALE YELLOW

Copic Sketch Marker Y18 LIGHTNING…

Copic Sketch Marker YR16 APRICOT…

Copic Sketch Marker RV23 PURE PINK

Copic Sketch Marker RV25 DOG ROSE…

Copic Sketch Marker RV29 CRIMSON Red…

Copic Sketch MARKER YG13 CHARTREUSE…

Copic Sketch Marker YG11 MIGNONETTE…

Copic Sketch Marker YG17 GRASS GREEN…

Copic Sketch MARKER G24 WILLOW Green

Copic Sketch Marker G29 PINE TREE GREEN

Copic Sketch Marker BG01 AQUA BLUE

Copic Sketch Marker BG02 NEW BLUE

Copic Sketch Marker BG05 HOLIDAY BLUE

Copic Sketch Marker BV17 DEEP REDDISH…

Copic Sketch MARKER C0 COOL GRAY NO. 0

Copic Sketch MARKER C2 COOL GRAY NO. 2

Copic Sketch Marker R30 PALE…

Copic Sketch Marker E50 EGG SHELL…

Copic Sketch Marker E53 RAW SILK Cream