Helpful Hints When Buying & Redeeming Gift Cards at Simon Says Stamp!
When you purchase a gift card from us, we do not physically ship a card through the mail.  Our gift card is actually an e-card (electronic). The egift card is emailed to the recipient's email address. Once you order the gift card, it needs to be be processed by Simon before it is sent via email. We do our very best to have this process completed within 1 business day.
If you choose to purchase the egift card ahead of time, and you do not want it to be delivered to the recipient's email address just yet, then you can enter your own email address into the recipient box and have it sent to yourself. Then, when you are ready to pass it along, just forward it by email to the giftee.
Another option is to have it sent to your email address so that you can print it. You can then print a copy of it from your computer and put it in a card or gift card box to give as a gift. This is what the email will look like that you receive from us regarding information about the gift card.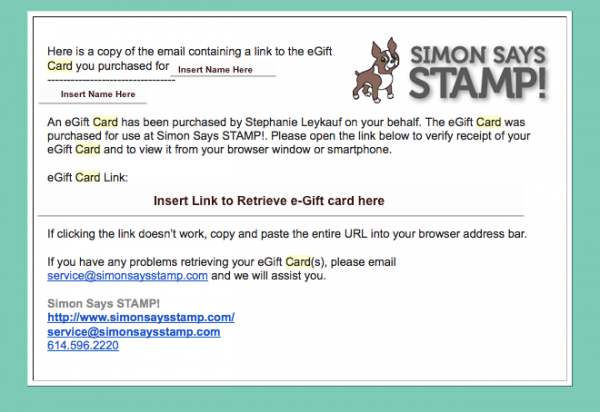 When you are ready to redeem the egift card, during the checkout process, there will be a drop down box on the payment page. In the drop down box you can select your payment method. If you are redeeming your gift card, select the gift card option. Then enter the gift card number in the gift card number box. If a balance is still owed to complete your order after the gift card is redeemed, you will then be prompted to choose another method of payment to finish your purchase. If there is no balance owed after the gift card is redeemed then you will be prompted to review and submit your order.
We hope this helps you!  Simon Says Stamp Gift cards are an all time favorite among our friends and family during the holiday season! If you plan on purchasing a gift card from Simon for anyone on your list, TODAY is a great day to do it!  :)