Happy World Card Making Day from Simon Says Stamp!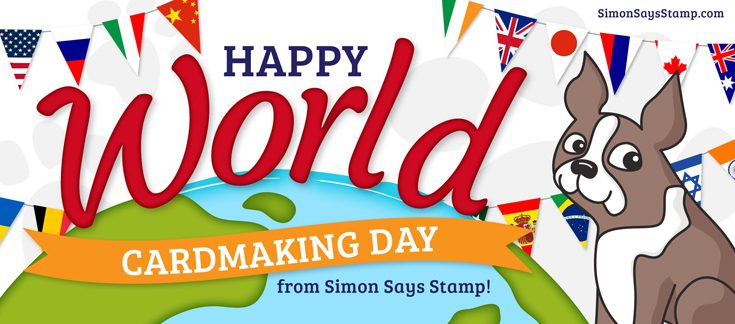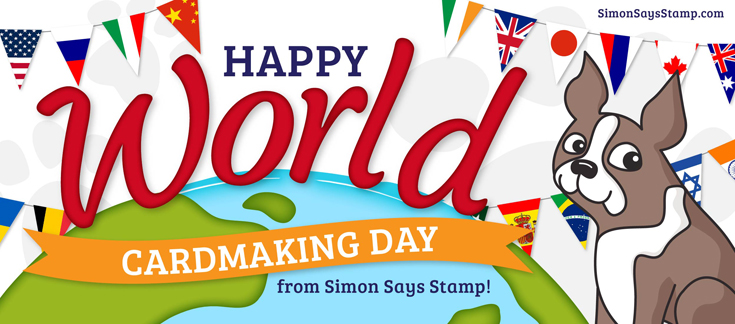 Happy World Card Making Day from Simon Says Stamp! It's a holiday created just for all of us, and we're excited to share inspiration with you!
World Card Making Day was created in 2006, and the original purpose was to kick-start the holiday card making season. Chances are you make lots of cards for Christmas, but we all know that those beautiful cards don't come together in one night. So grab your scissors and adhesives and cardstock and stamps and make some cards today! Your family can fend for themselves, right? You deserve to celebrate.
Two of the best things about card making are inspiration and creative connections, and today we're bringing you both with a parade of nations! We're thrilled to have nineteen designers from around the world representing nineteen different countries from six of the seven continents (we couldn't find anyone from Antarctica)! Each designer has created a holiday card using products available in the Simon Says Stamp store.
While each designer doesn't necessarily currently live in the country she represents, they've all called that country home at one point or another. You can learn more about their stories by visiting the links to each blog, and you can learn more about how they created their cards there, too!
Let's take a journey around the globe and be inspired. And stick with us, because there are prizes to be won, because every good holiday deserves gifts!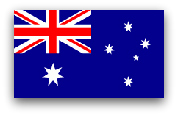 Representing Australia – Gayatri Murali 
Even though Gayatri is from Australia, we get at least a taste of Antarctica with this sweet scene created with the Simon Says Stamp An Arctic Christmas set. I love how she only colored portions of the scene to focus on the adorable penguins decorating the tree.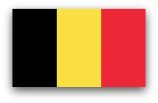 Representing Belgium – Laura Sterckx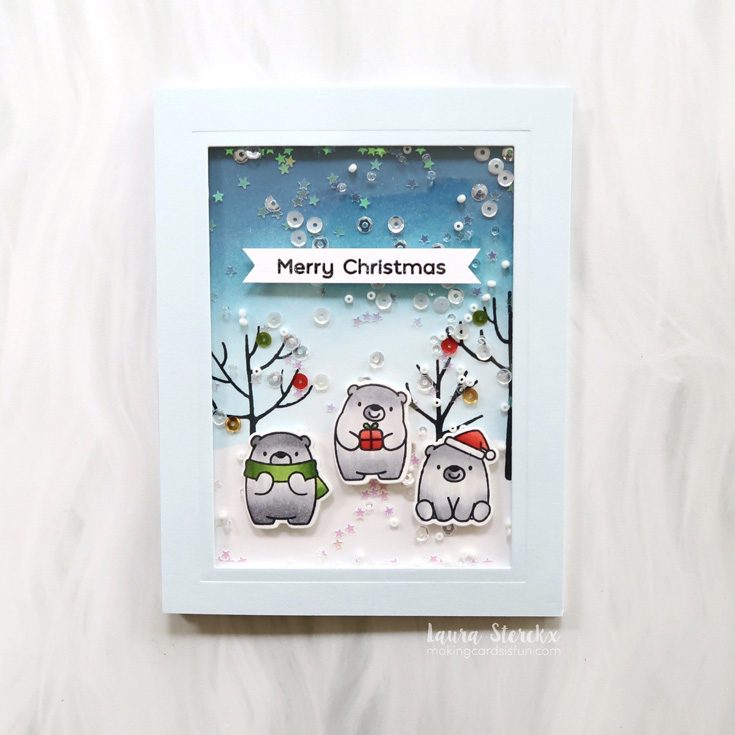 Laura's adorable shaker card is snowing sequins, and what could be cuter than that? She used the Bitty Bears stamp set from My Favorite Things to create this super sweet scene.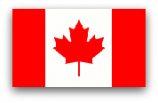 Representing Canada – Sarah Moerman 
Sarah's beautiful heat embossed background was created with the Kaleidoscope Background stamp from Simon Says Stamp and simple, yet effective coloring with festive reds and greens. The Merry & Bright and Funky Snowflake dies create impact without taking away from that glorious background.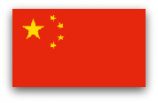 Representing China – Scarlet Liu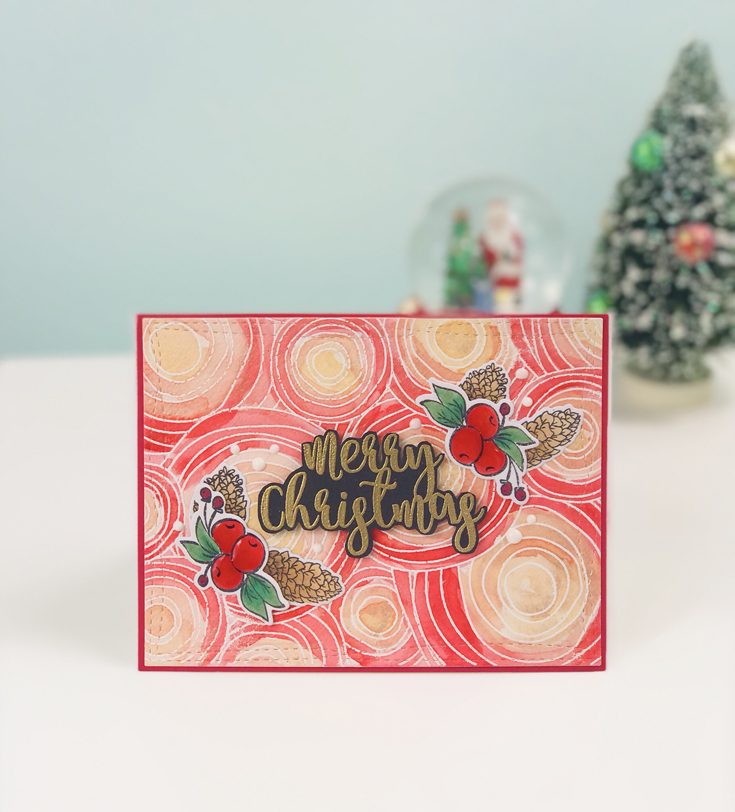 Scarlet's Circle Doodle background from Simon Says Stamp gives a funky and psychedelic edge to her otherwise traditional Christmas card. The sentiment and images come from the pretty Christmas Essentials stamp set from Simon, too.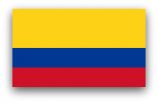 Representing Colombia – Bibi Cameron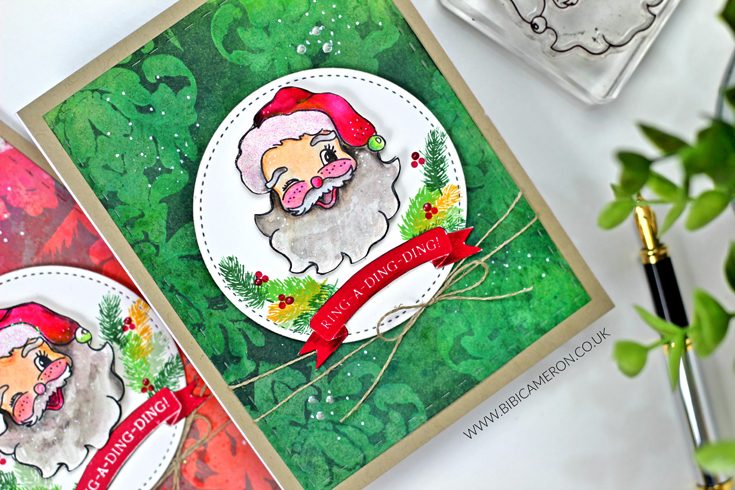 Bibi's sweet and vintage cards with an adorable winking Santa Claus came together with the help of the Swell Christmas stamp set and Damask stencil from Simon Says Stamp. She made four cards in four different colors. Hey, once you come up with a great design, why not make several like Bibi did?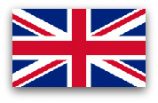 Representing England – Jo Nevill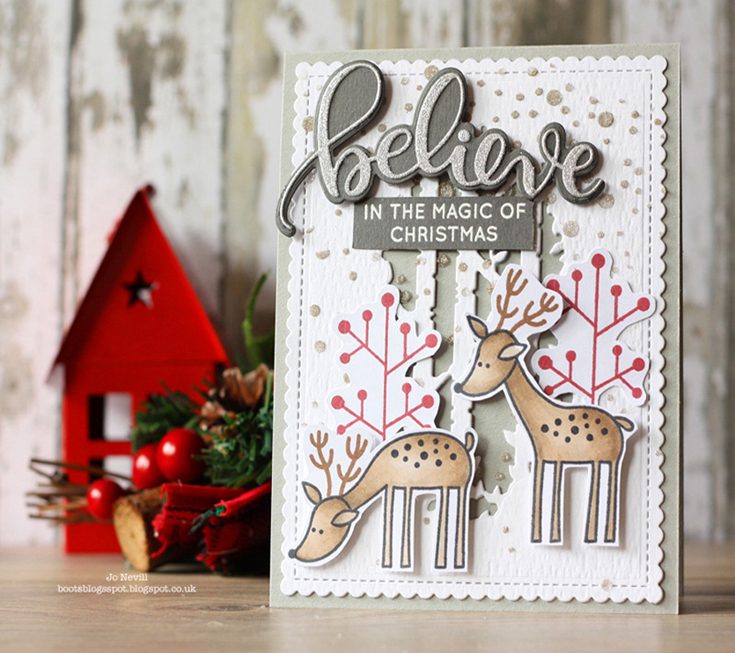 Jo has created a simply enchanting scene with the help of the Deer Friends set from My Favorite Things. The soft color palette gives a sense of calm and the pretty layers she created with the Believe and Birch Tree Window dies from Simon are delightful. The scalloped border from this My Favorite Things Blueprints die is the perfect finishing touch.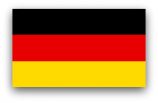 Representing Germany – Maria Fischer 
Maria gives us a Happy Holidays (Frohes Fest) greeting German-style with this festive card! The Bold Alphabet dies from Altenew and the Brush Grunge Alphabet stamp set from Honey Bee are great for spelling out just about anything!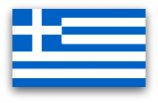 Representing Greece – Vicky Papaioannou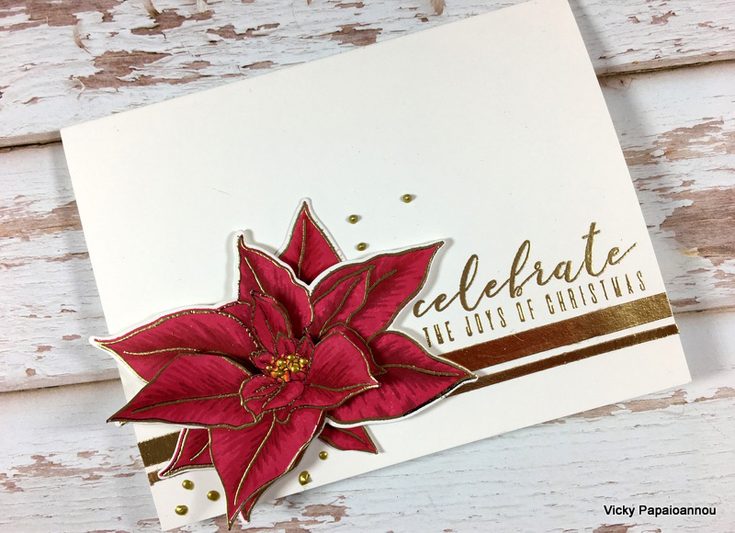 Vicky's elegant card came together with the help of the very lovely Build a Flower Poinsettia set from Altenew.  All of those pretty gold accents are perfect for holiday cards!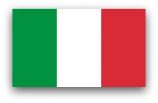 Representing Italy – Barbara Schiassi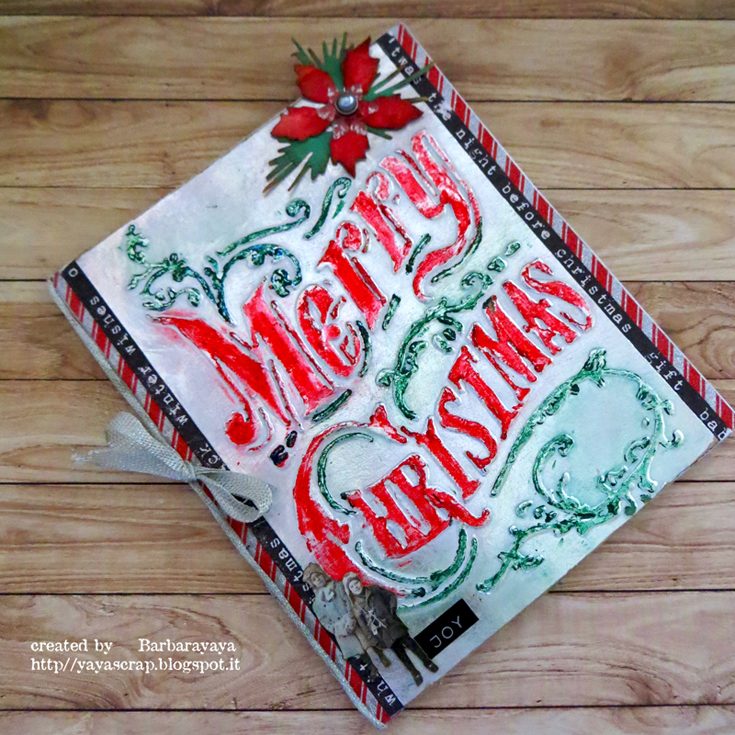 Barbara created a rich and vintage design with the help of the Christmas Scroll Embossing Folder by Tim Holtz for Sizzix. She furthers the classic Christmas vibe with Christmas Paper Dolls Paperie ephemera from the Tim Holtz Ideo-ology collection. And how cool is it that her card matches the colors of the Italian flag?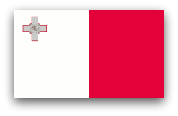 Representing Malta – Lorraine Aquilina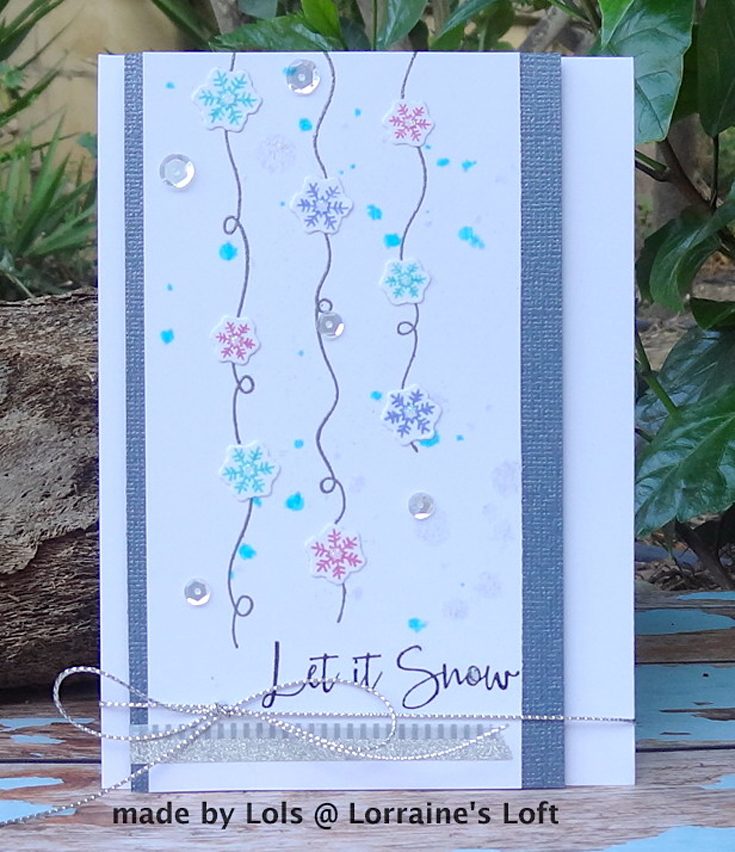 Lorraine's delicate and pretty wintry design uses the On A String stamp set and dies from Simon Says Stamp. Fun fact: according to my research, snow is almost unheard of in Malta, so perhaps this card is wishful thinking on Lorraine's part!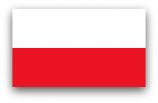 Representing Poland – Marzena Ziuziakowska 
Macarena's strong and masculine design incorporating the Tim Holtz STAMPtember® Exclusive stamp set is fit to send to the men in your life to wish them a very Merry Christmas! Deer, wood, twine — it's a nature lovers dream!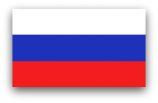 Representing Russia – Svetlana Pavlova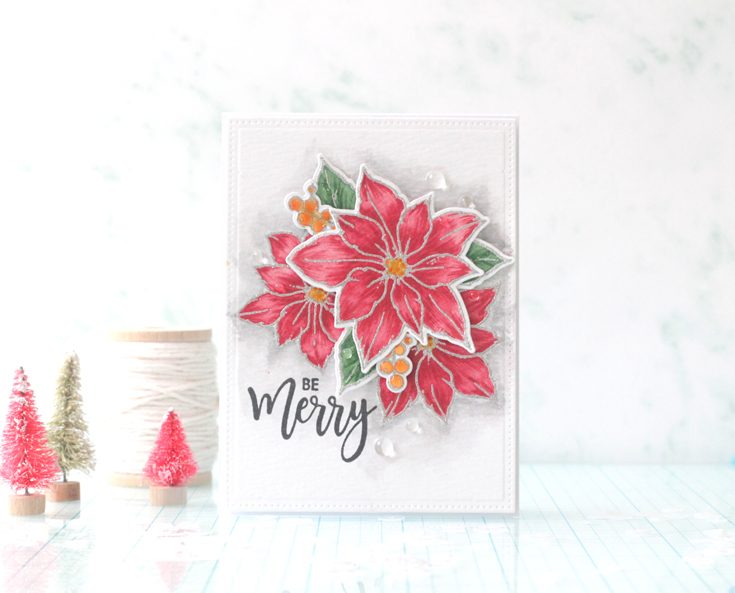 Nothing brightens the holidays more than a pretty poinsettia, and Svetlana's gorgeous creation is a feast for the eyes. The Studio Katia Merry Poinsettia stamps and dies make for such a lovely design on fresh white.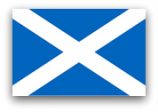 Representing Scotland – Debby Hughes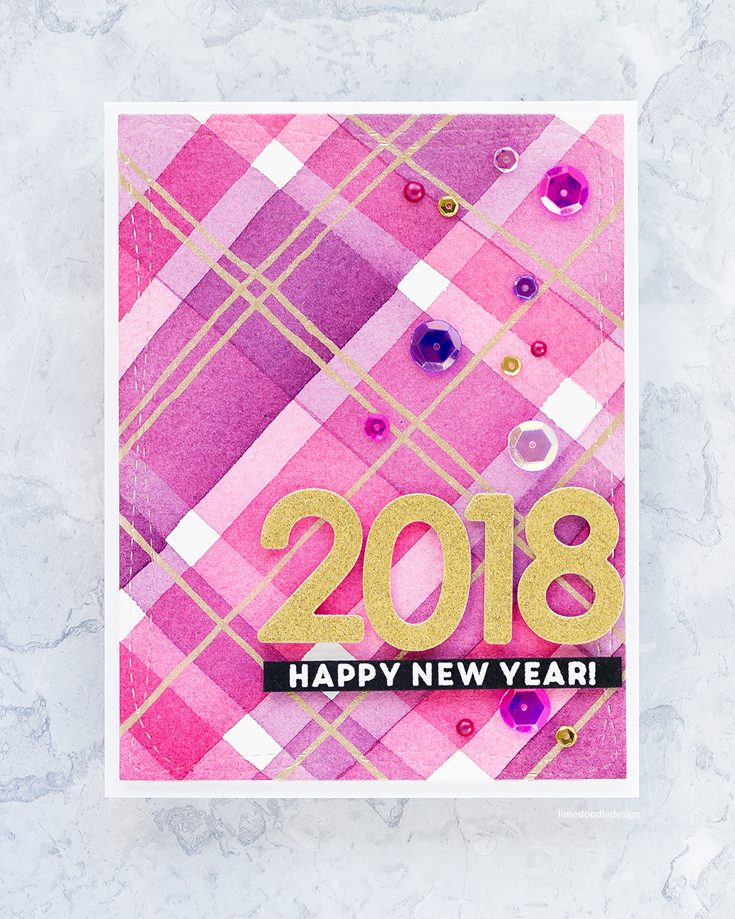 Debby pulled out all the Scottish stops with a festive new year card dressed in pretty pink plaid. 2018 simply sparkles with the help of the Big Numbers dies from Simon Says Stamp! Debby says that celebrating the New  Year is BIG in Scotland with lots of fun traditions! Debby created her plaid with quick watercolor stripes, but you could use a patterned paper to mimic this look.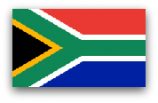 Representing South Africa – Anna-Karin Evaldsson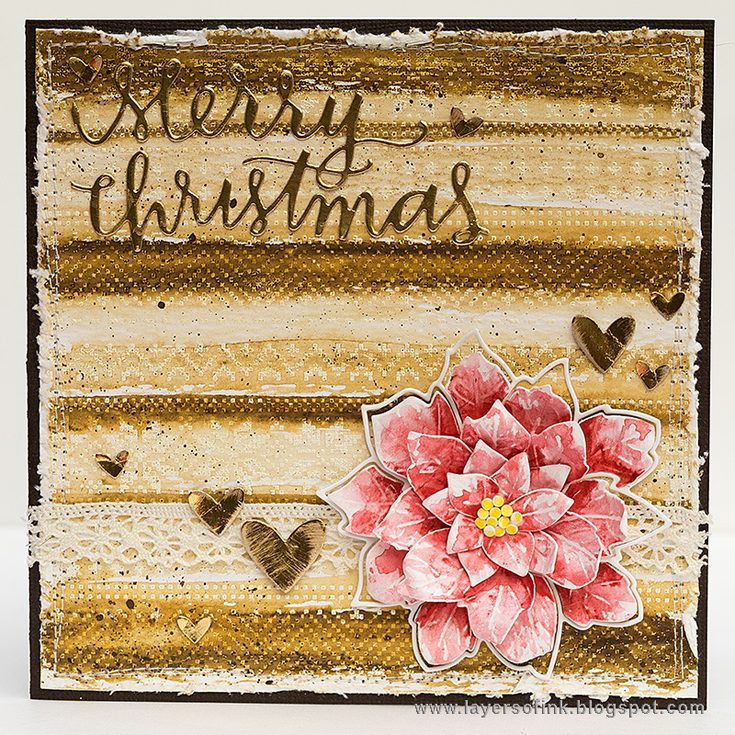 The textures of South Africa some alive with stitching and lace on Anna-Karin's holiday card. She created the background with Simon Says Stamp's Christmas Sweater Background stamp and used the Holiday Poinsettia with Embossed Leaves die from Simon to create her focal point. The sentiment comes from the middle of the Merry Christmas Ornament die from Simon. Clever!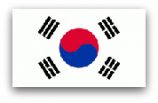 Representing South Korea – Marge Yoon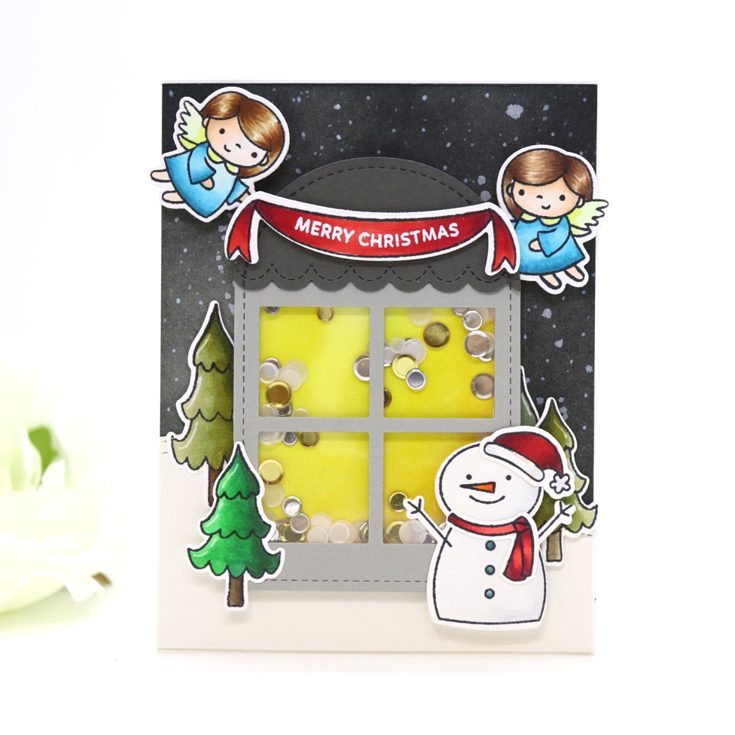 Marge's adorable scene is courtesy of several cutie pie holiday stamps from Pretty Pink Posh – Angel Friends, Holiday Pals, Happy Snowman, and Reindeer Friends. It's fun to use different images from different sets to create a whole new look! The window die from Pretty Pink Posh is perfect for a festive shaker card.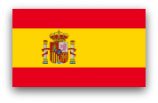 Representing Spain – Amanda Korotkova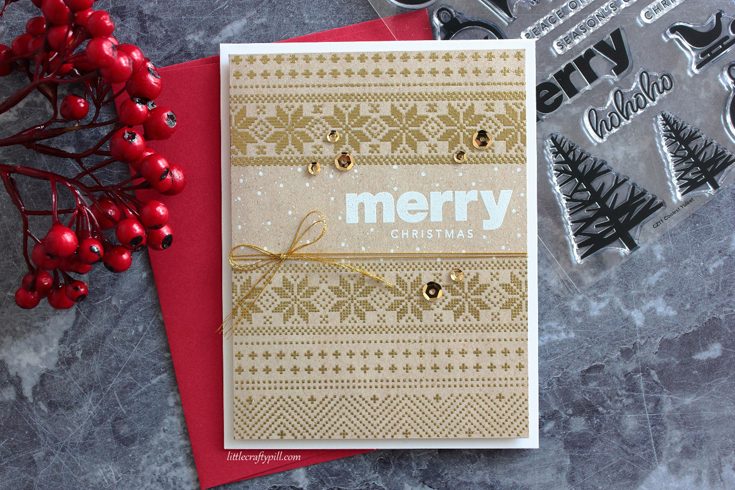 Simplicity is the name of the game for Amanda's card, and it's simply LOVELY. The Simon Says Stamp Christmas Sweater Background on kraft gives her design a cozy feel. You can see that she masked a portion of the background to house the sentiment from the Coolest Yulest stamp set from CZ Design for Simon Says Stamp. A twine bow and golden sequins add texture and sophistication to her design.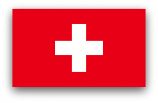 Representing Switzerland – Isha Gupta 
The Silent Snowflake Frame die from Memory Box creates big impact in no time on this elegant card design from Isha. It's a perfect fit for the gorgeous script of the Simon Says Stamp Merry Christmas stamp. I love how the sentiment shimmers in all its golden heat embossed glory!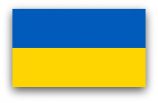 Representing Ukraine  – Svitlana Shayevich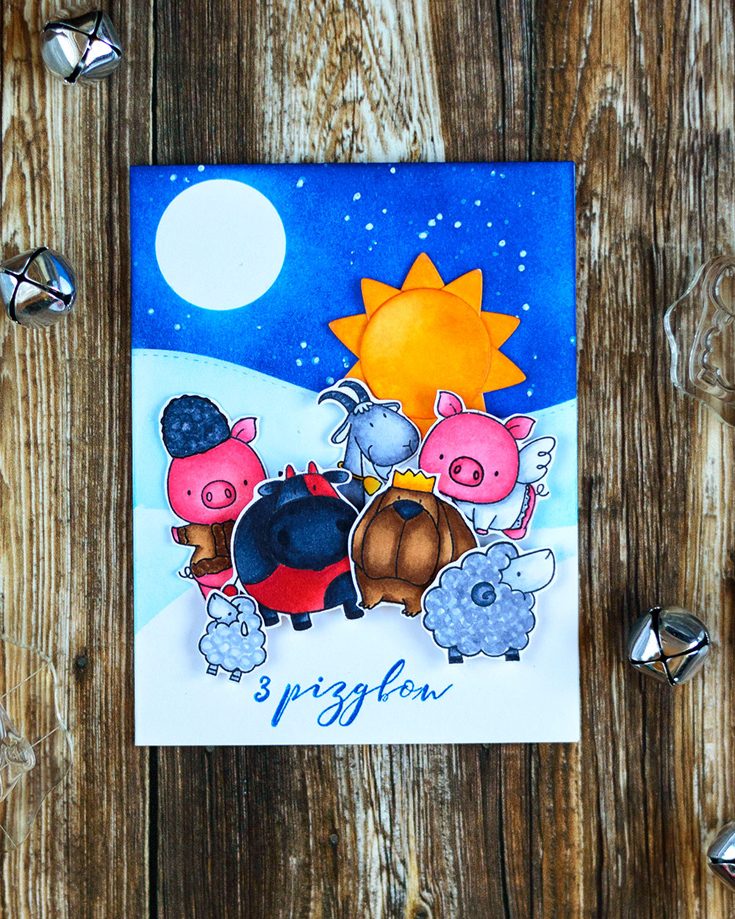 Svitlana's cute little holiday scene has special Ukranian significance. The sentiment reads "Merry Christmas" in the Ukrainian language, and the scene represents a "Street Vertep" which is a traditional nativity play performed during the holidays. It's performed by people who dress up as different characters such as: angels, demons, King Herod, goats, shepherds, sheep, etc. Svitlana has dressed her animals from various stamp sets from My Favorite Things as the characters in this Ukranian nativity play. She used the You Make My Tail Wag, Hog Heaven, The Whole Herd, and Ewe Are the Best stamp sets. So. Stinking. Cute.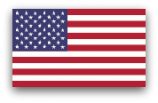 Representing the United States of America – Barb Engler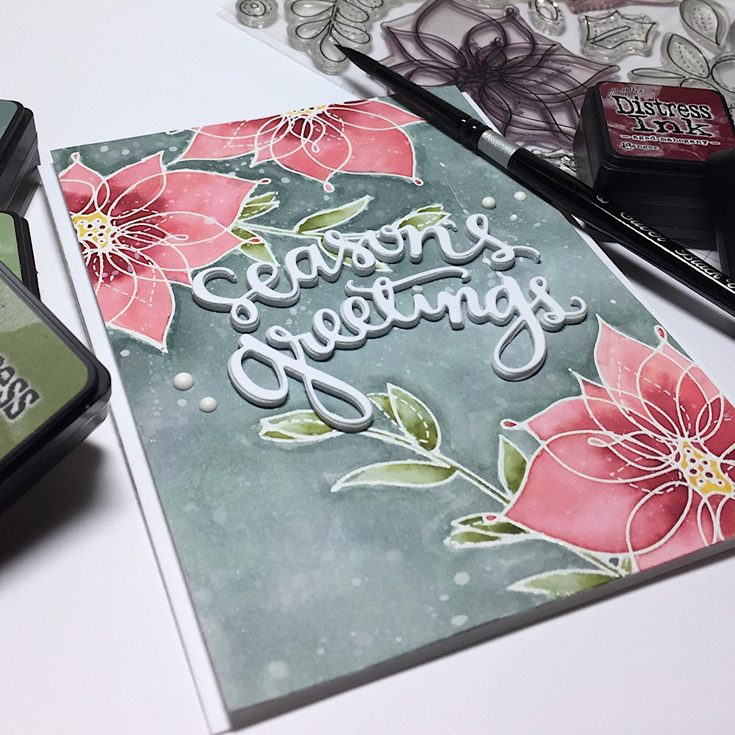 Barb's holiday masterpiece (I mean, who wouldn't love to get this card in the mail?) is anchored by three magnificent poinsettias from the Simon Says Stamp Winter Flowers stamp set. The gorgeous script sentiment was created by die cutting Season's Greetings (from Simon, too!) several times and stacking it for depth. What a pretty result!
Oh my goodness, wasn't that a fun trip around the world? Lots of amazing inspiration to get you going with all of those cards that you're making today. You should probably get back to that, huh?
But wait…!
What would World Card Making Day be without prizes?
Show us what you're making today for World Card Making Day! Upload your cards at the InLinkz below by 11:59 pm on Saturday, October 14th, and we will choose 10 random winners to receive a $50 gift card from Simon Says Stamp and one random winner to receive a one year subscription to Scrapbook & Cards Today magazine!
Merry Christmas, Joyeux Noël, Buon Natale, Feliz Navidad, щасливого Різдва, Wesołych Świąt, 메리 크리스마스, Vrolijk Kerstfeest, καλά Χριστούγεννα, Fröhliche Weihnachten, 聖誕節快樂, and Geseënde Kersfees to you all!
Have an awesome World Card Making Day, and we can't wait to see what you're making!