Good Vibes Blog Hop WINNERS!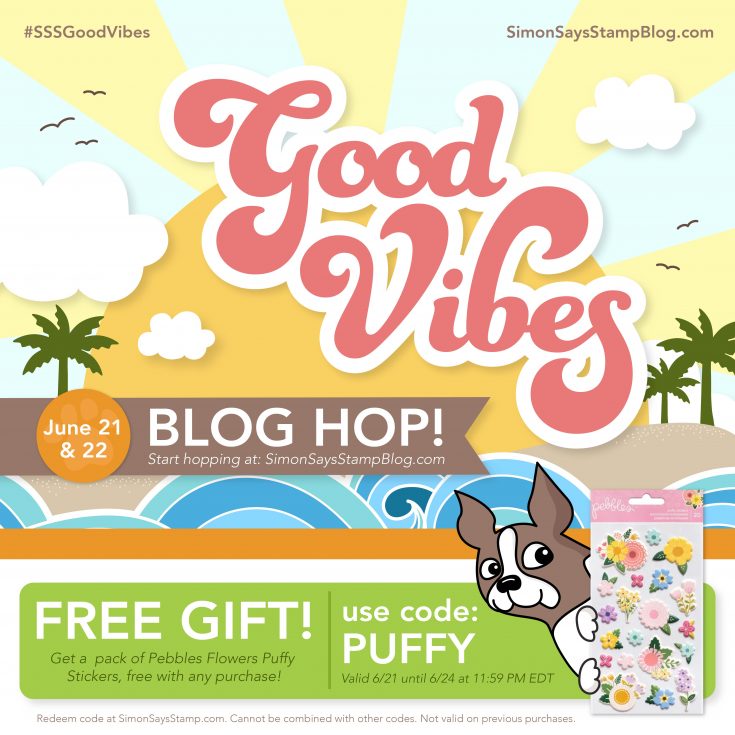 Hello friends! Have you seen our exclusive Simon Says Stamp Good Vibes release? Our Simon Says Stamp exclusive Good Vibes product lineup is filled with summertime fun! There are tropical flowers, beautiful birds, and a mermaid cat (OMG!), brand new background stamps, and products perfect for creating good vibes the whole year through in the form of all kinds of fun stamps, dies, stencils, sequins, and some rad new grid stamp blocks! There is also a super groovy new collection of Suzy's Watercolor Prints and some hip and hilarious new stuff from CZ Design! We're so excited for you to be inspired by this amazing release!
To celebrate this phenomenal release, we hosted a two-day blog hop! The hop featured many talented designers and each one created wonderful projects to inspire you. If you missed the hop, you can find the hop links here: DAY ONE and DAY TWO.
A BIG thank you to all of YOU who joined us for the hop! We enjoy hearing from each of you, and your words of encouragement and appreciation to each of the designers mean so much to us here at Simon and to them. It's our tradition to give away gift certificates to random commenters on each blog stop, and today we are revealing all of the winners! So without further ado, I present to you our winners!
from Simon Says Stamp's blog: Rebecca RamirezBarnes
from Jennifer McGuire's blog: Nicki Linden
from Kristina Werner's blog: Golda
from Cathy Zielske's blog: Peggy Fulbright
from Nichol Spohr's blog: FD911354
from Nina-Marie Trapani's blog: Kit A
from Jessica Frost-Ballas's blog: Gale Thompson
from Amanda Korotkova's: Susie Sonnier
from Suzy Plantamura's blog: Debbie Rumpza
from Kathy Racoosin's blog: Jennifer Scull
from Anna Kossakovskaya's blog: Charlotte E (Lady Joyful)
from Bibi Cameron's blog: Pamboe
from Elena Salo's blog: Jenni Byron
from Heather Hoffman's blog: Trina Pham
from Gayatri Murali's blog: Connie Hinkle
from Simon Says Stamp's blog: Rita Montgomery
from Debby Hughes's blog: Melissa SunshineHoneyBee
from Laura Bassen's blog: Marcia Scantlin
from Yana Smakula's blog: Hamutal Shafrir
from Yoonsun Hur's blog: Denise Gutshall
from Amy Rysavy's blog: Anna Rodgers
from Jean Manis's blog: isabel Z
from Vicky Papaioannou's blog: Archana
from Jenn Shurkus's blog: Angie Hall
from Barb Engler's blog: jeanchaneyaz
from Lisa Addesa's blog: Jennifer Rasnick
from Lea Lawson's blog: ljcasselman
from Stephanie Low's blog: Sabrina Radican
from Olga Direktorenko's blog: lagene
from Heather Ruwe's blog: Carissa Jo
If you see your name listed above, CONGRATULATIONS! Please email [email protected] and let her know that you are one of our Good Vibes Blog Hop winners! You'll receive a $25 Gift Card. ???
Thanks again for hopping along with us! We hope you enjoy our Good Vibes release and that it gives you creative enjoyment for months to come!