Glow in the Dark Halloween Card Featuring Art Impressions!
Hey everyone, it's Nina-Marie Trapani here with you. We're so excited for Halloween in just 11 days! If you're looking for some last-minute inspiration that is not only easy but SPOOKY COOL to make, look no further than this project. Featuring the darling Slimline Halloween set from Art Impressions, I made this cute 5×7 card that GLOWS in the dark!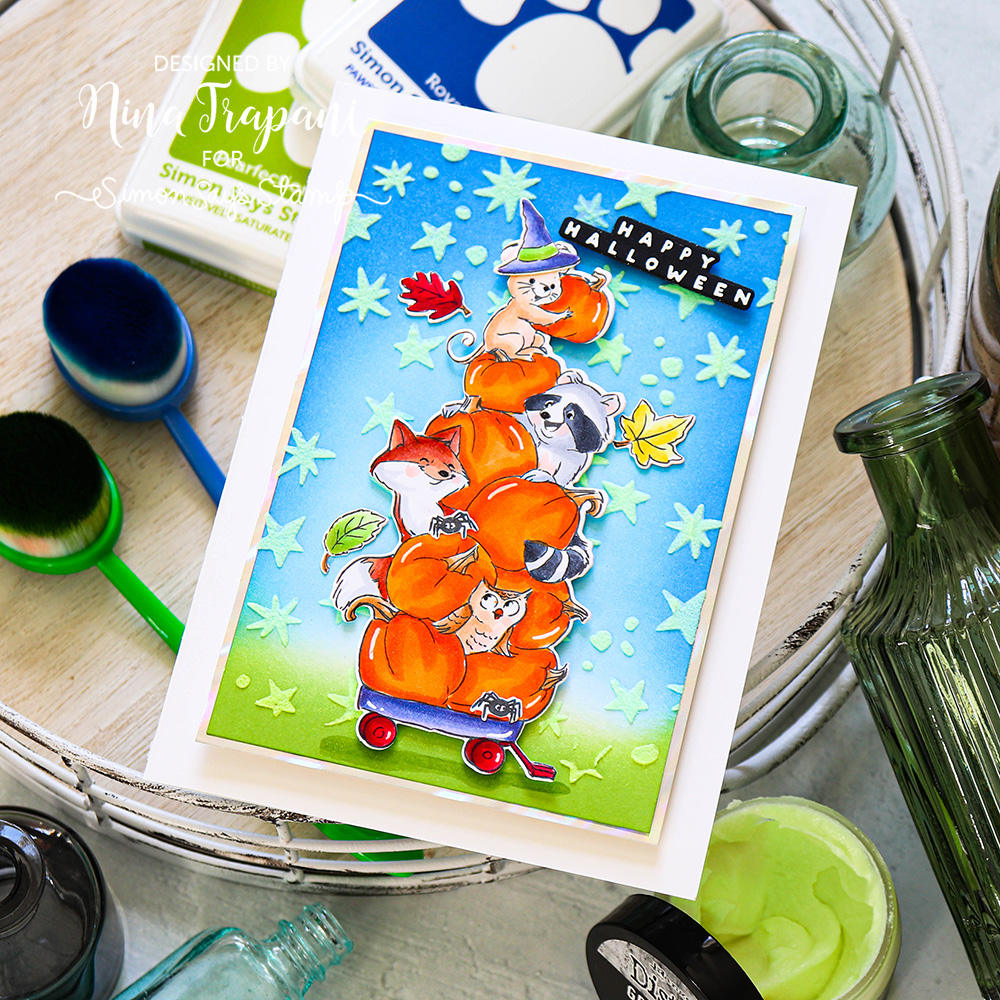 The glow feature is made possible by Tim Holtz Grit Glow Paste—such a cool paste! I also used the Spellbound stencil from Tim Holtz's Stampers Anonymous Halloween collection and our Simon Says Stamp Pawsitively Saturated Inks to help create the background.
Want to see for yourself how easy this is to create? Watch the video below for all the details!
SUPPLIES
Art Impressions HALLOWEEN SLIMLINE…

Tim Holtz Layering Stencil Spellbound…

Tim Holtz Distress Halloween Grit…

Simon Says Stamps and Dies Trick Or…

Simon Says Clear Stamps Trick Or…

Simon Says Stamp Pawsitively…

Simon Says Stamp Pawsitively…

Simon Says Stamp Pawsitively…

Simon Says Stamp Blending Brush SET…

Simon Says Stamp PET PAWSITIVELY…

Tim Holtz DISTRESS PALETTE KNIFE 2…

Simon Says Stamp Premium Ink Pad…

Simon Says Stamp Embossing Ink Pad…

Simon Says Stamp Cardstock ASSORTED…

Simon Says Stamp Cardstock 100lb…

Hammermill WHITE 100 LB SMOOTH…

Simon Says Stamp WHITE CARDSTOCK 120#…

Copic Sketch MARKER YR14 CARAMEL

Copic Sketch Marker YR18 SANGUINE…

Copic Sketch Marker YR04 CHROME ORANGE

Copic Sketch Marker YR07 CADMIUM…

Copic Sketch MARKER E30 BISQUE Skin…

Copic Sketch Marker E31 BRICK BEIGE…

Copic Sketch MARKER E34 TOAST

Copic Sketch Marker E35 CHAMOIS Light…

Copic Sketch Marker E37 SEPIA Brown

Copic Sketch Marker E19 REDWOOD Red…

Copic Sketch Marker E17 REDDISH BRASS…

Copic Sketch Marker E15 DARK SUNTAN…

Copic Sketch MARKER C8 COOL GRAY NO. 8

Copic Sketch MARKER C6 COOL GRAY NO. 6

Copic Sketch MARKER C4 COOL GRAY NO. 4

Copic Sketch MARKER C2 COOL GRAY NO. 2

Copic Sketch MARKER C0 COOL GRAY NO. 0

Copic Sketch MARKER BV02 PRUNE

Copic Sketch Marker BV04 BLUEBERRY…

Copic Sketch Marker BV08 BLUE VIOLET…

Copic Sketch Marker R24 PRAWN Red

Copic Sketch Marker R29 LIPSTICK RED…

Copic Sketch Marker R56 CURRANT Pink

Copic Sketch MARKER Y11 PALE YELLOW

Copic Sketch MARKER Y15 CADMIUM YELLOW

Copic Sketch Marker YG11 MIGNONETTE…

Copic Sketch MARKER YG13 CHARTREUSE…

Copic Sketch Marker YG17 GRASS GREEN…

Simon Says Stamp VERY VERY LOW TACK…

Simon Says Stamp MAGNETIC GLASS MAT…

Simon Says Stamp Place And Pierce…

Simon Says Stamp XL PRECISION CRAFT…

Simon Says Stamp Pawsitively Perfect…

Uni-Ball Pen Signo Gel WHITE UM-153

Simon Says Stamp Pawsitively Everyday…

Simon Says Stamp Brush Powder Tool…

Simon Says Stamp EMBOSSING POWDER…

Popular Wagner Precision Heat Tool HT400