Hi readers! TGIF! We're back with another creative uses post with the always fabulous Debby Hughes!
Read on and enjoy!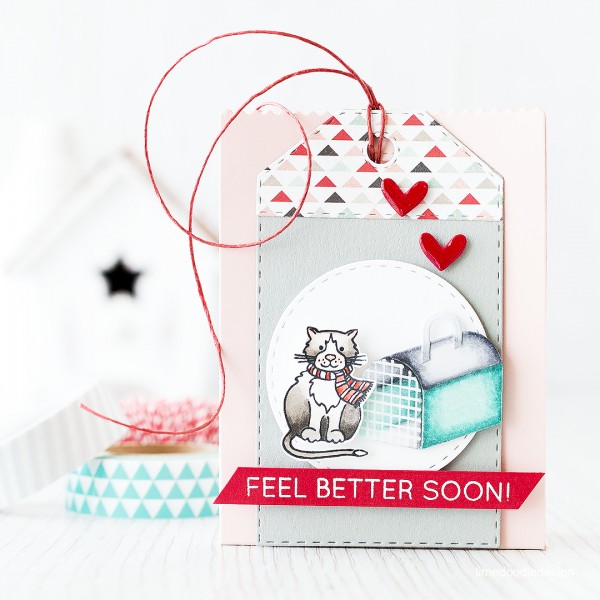 Hello, Debby here taking a look at stretching our supplies just that little bit further. When I get new supplies I like to take a moment to look at them almost with my eyes not focused, that way, for some reason, ideas seem to pop into my head. I think it works particularly well with dies. When you look at just the shape of a die rather than what it is intended for then other uses can spring to mind. When I looked at the Send My Love dies I thought the post box looked like a pet carrier.
After looking at some in my local pet store, I cut the die from white card and colored with Copics – grey for the top and base and a happy teal for the sides. I also cut a U from the Big U set and used the U upside down as a handle. I then took a white gel pen and ruler and drew in the grill for the front of the pet carrier. The kitty from the Peace Love Joy set was the perfect size and it is always good to keep using those Holiday stamps into the New Year. I thought his winter scarf made him look like he was wrapped up suffering from a cold. After all, I don't know if you find the same, but there are so many bugs flying around causing all sorts of sniffles and snuffles.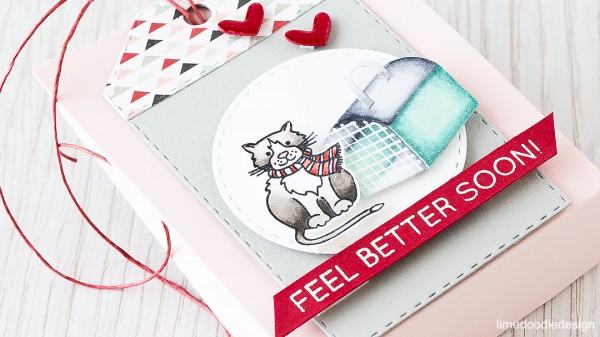 The sentiment from More Sketchy Banner Greetings fitted in with the theme of someone or a loved pet being under the weather. I stamped the greeting in Versamark and white heat embossed on Schoolhouse Red card. To gather all the elements together I cut a stitched tag from Smoke card with a patterned paper top, added a white Stitched Circle and then foam mounted the cat, carrier and sentiment. I also added a couple of Schoolhouse Red hearts cut with the Stacked Heart die and coated with Glossy Accents. This die cut lots of hearts and the same time so I've plenty for use in the future.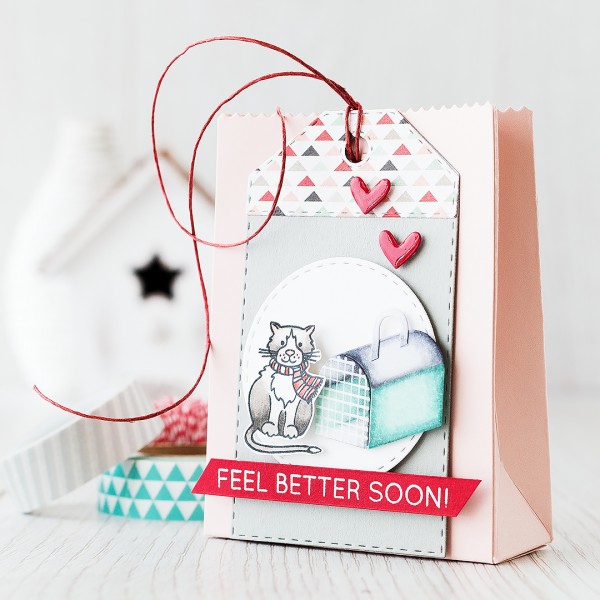 Finally I cut a Gift Bag from Cotton Candy card and tied the tag and the bag together with twine. I can fill this bag with treats and hopefully make someone feel that little bit better.
Supplies:
Thanks for reading today, and thanks to the always creative genius that is Debby!