From Spring to Fall & Holiday Plushies
Hi friends! Welcome back Debby Hughes for this month's Creative Uses post! Would you believe that Debby created all of these adorable critters with just one die base?! She did!! Read (& watch) on to find out more! Enjoy!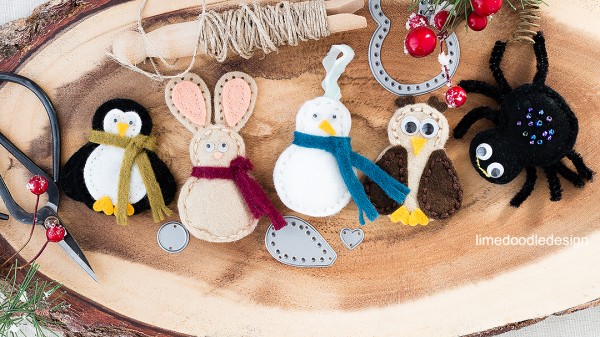 Hello, it's Debby here today with a look at stretching your spring plush dies throughout the whole year. I used the Plush Big Ear Bunny die which has a wonderfully versatile body element to create an endless supply of critters simply by changing up felt colors and the use of the set dies.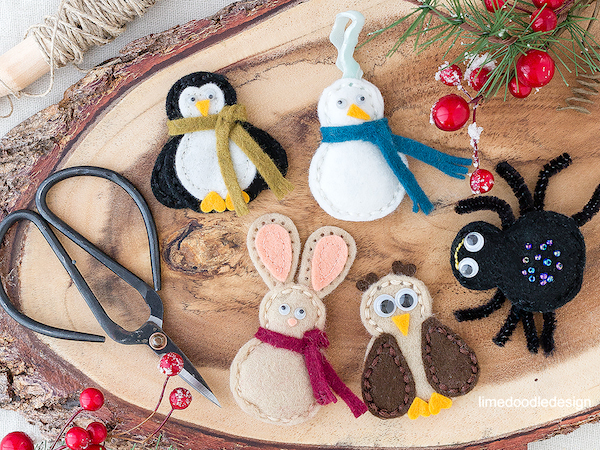 Initially I cut pieces as the die set is intended for – a big eared bunny, but by adding a scarf he's all set for the winter. I made my bunny a sweet light brown but on hindsight a winter white bunny may have been more appropriate! Two white bodies do make the perfect start to a snowman however and all that was needed was a simple triangle carrot nose and a couple of wiggle eyes. A black body and pipe-cleaner legs and you have a simple spider for Halloween. I used some purple seed beads from the Shaker Shack selection to embellish the body of the spider.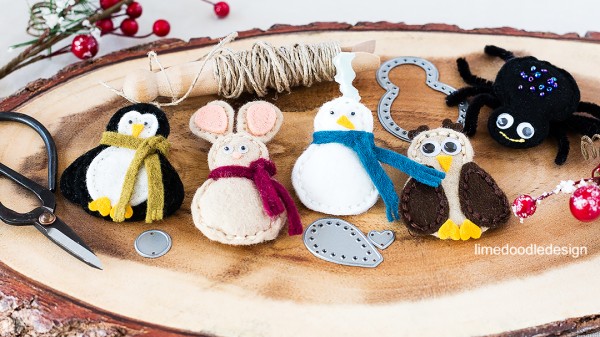 Slightly more complex but still easy to sew up are a penguin and owl. I used the ear die from the bunny set to cut wings. For the penguin I tucked black wings between the front and back of the body and for the owl I sewed brown ones in place on top of the front of the owl. Winter scarves abound and are easy to make from a long strip of felt tied around the neck and then two snips in to each end to give a fringe effect.
The possibilities for this die set really are endless – a reindeer body with pipe-cleaner antlers perhaps or a reindeer face with red Rudolf nose, or how about a turkey with a fan of tail feathers cut using the ear die? I hope you take a second look at your dies and see how you can use them all year round :D
SUPPLIES:
Thanks for reading today, and thanks to
Debby
for being our special guest!