Friendly Frolic Blog Hop WINNERS!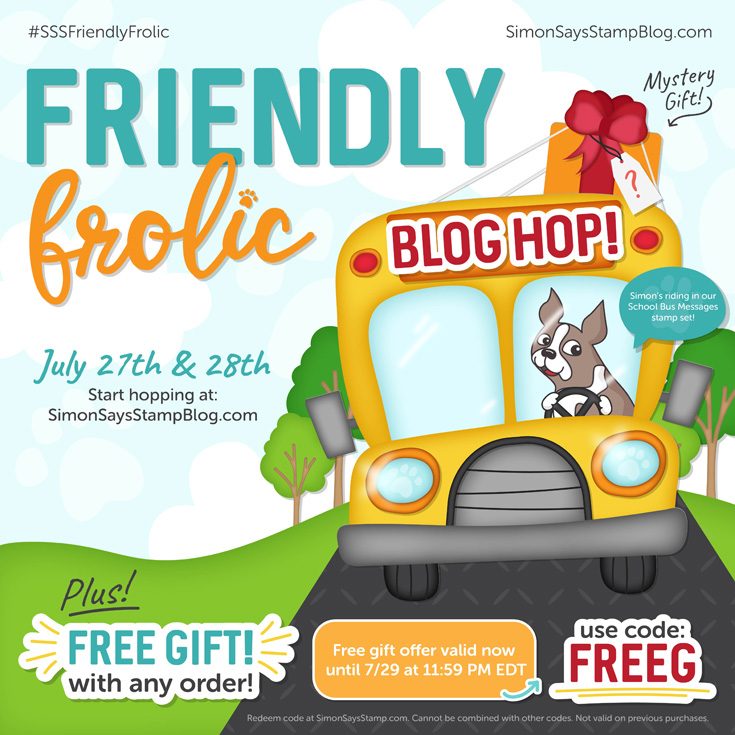 Hello friends! Have you seen our Simon exclusive Friendly Frolic release? Our Simon Says Stamp exclusive Friendly Frolic product lineup is filled with so much fun! There are fabulous flowers, fantastical feathers, and lovely leaves, as well as a nod to back to school, fantastic sentiments, and coordinating dies for some of your favorite stamps from previous releases! If you love our Picture Book dies, get ready because there are thirteen new cuties as well as some versatile and uber useful new stuff from CZ Design! We're so excited for you to be inspired by this amazing release!
To celebrate this phenomenal release, we hosted a two-day blog hop! The hop featured many talented designers and each one created wonderful projects to inspire you. If you missed the hop, you can find the hop links here: DAY ONE and DAY TWO.
A BIG thank you to all of YOU who joined us for the hop! We enjoy hearing from each of you, and your words of encouragement and appreciation to each of the designers mean so much to us here at Simon and to them. It's our tradition to give away gift certificates to random commenters on each blog stop, and today we are revealing all of the winners! So without further ado, I present to you our winners!
from Cathy Zielske's blog: Vandana Rastogi
from Amanda Korotkova's blog: Michele K. Henderson
from Nina-Marie Trapani's blog: Laura L Buehler
from Jessica Frost-Ballas's blog: Stacy Kowbel
from Nichol Spohr's blog: Maureen Morton
from Suzy Plantamura's blog: Sharon Gullikson
from Heather Hoffman's blog: Andrea Hastilow
from Elena Salo's blog: Tammy Lever
from Ankita Gupta's blog: Cindyellen Robinson
from Karin Åkesdotter's blog: Henriëtte
from Stephanie Low's blog: Lori P.
from Simon Says Stamp's blog: Judyt28
from Laura Bassen's blog: Stef Perry
from Yana Smakula's blog: Cynthia Koop
from Debby Hughes's blog: Gail Plaskiewicz
from Yoonsun Hur's blog: knurse22
from Amy Rysavy's blog: Kristin Osifat
from Jean Manis's blog: Becky Green
from Heather Ruwe's blog: Caitlin Rebecca
from Vicky Papaioannou's blog: Di Brown
from Lisa Addesa's blog: Annie Solomon
from Lea Lawson's blog: Kathy Barrett
from Cheiron Brandon's blog: Sheri Kempke
from Marge Yoon's blog: Quillish
If you see your name listed above, CONGRATULATIONS! Please email [email protected] and let her know that you are one of our Friendly Frolic Blog Hop winners! You'll receive a $25 Gift Card. ???
Thanks again for hopping along with us! We hope you enjoy our Friendly Frolic release and that it gives you creative enjoyment for months to come!