Fresh Bloom ? Blog Hop WINNERS!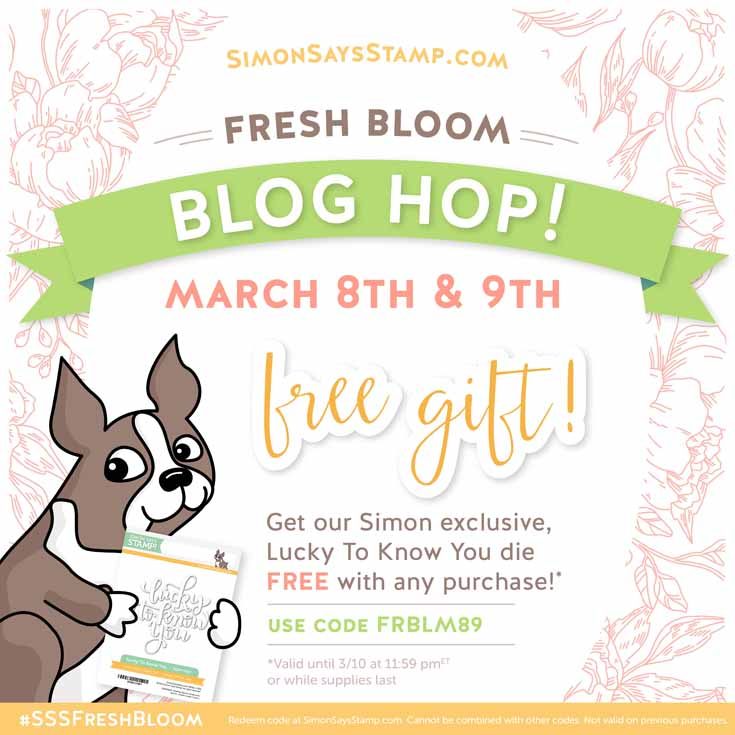 Hello friends! Have you seen our Simon exclusive Fresh Bloom release? Our Simon Says Stamp exclusive Fresh Bloom product lineup is filled with lots of ways to celebrate spring! There are flowers galore, Easter products you'll love, and beautiful ways to share handmade kindness! You'll also find some cool new designs from CZ Design, and there's a fresh new set of watercolor cards from Suzy Plantamura. We are so excited for you to play with all of these awesome new products!
To celebrate this phenomenal release, we hosted a two-day blog hop! The hops featured many talented designers and each one created wonderful projects to inspire you. If you missed the hops, you can find the direct links here: DAY ONE and DAY TWO.
A BIG thank you to all of YOU who joined us for the hops! We enjoy hearing from each of you, and your words of encouragement and appreciation to each of the designers mean so much to us here at Simon and to them. It's our tradition to give away gift certificates to random commenters on each blog stop, and today we are revealing all of the winners! So without further ado, I present to you our winners!
from Simon Says Stamp's blog: Sheila Bacon!
from Jennifer McGuires's blog: Tracy Timm!
from Kristina Werner's blog: Retta Lutte!
from Cathy Zielske's blog: Lauryne Cunningham!
from Nina-Marie Trapani's blog: Angie Cammack!
from Nichol Spohr's blog: Jeannie Boudet!
from Jessica Frost-Ballas's blog: dpglasser!
from Suzy Plantamura's blog: kre8tivekate!
from Lisa Addesa's blog: hippymom83!
from Amy Rysavy's blog: Shari Czerwinski!
from Lea Lawson's blog: Cheryl Rigney! 
from Simon Says Stamp's blog: Jennifer Petersen!
from Laura Bassen's blog: Becky Green!
from Debby Hughes's blog: KELLY HUNSAKER!
from Amanda Korotkova's blog: Darlene Gabriel!
from Heather Ruwe's blog: Jenrescuemama!
from Gayatri Murali's blog: Mary Jo Stewart!
from Heather Hoffman's blog: Lynne Dillard!
from Bibi Cameron's blog: Linda Towill!
from Anna Kossakovskaya's blog: Surekha Galagoda!
from Barb Engler's blog: Brenda in IN!
from Kristina Pokazenieva's blog: BeverlyBL!
from Yoonsun Hur's blog: Eva N!
If you see your name listed above, CONGRATULATIONS! Please email [email protected] and let him know that you are one of our Fresh Bloom ? Blog Hop winners! You'll receive a $25 Gift Card. ???
Thanks again for hopping along with us! We hope you enjoy our Fresh Bloom release and that it gives you creative enjoyment for months to come!
Winning ROCKS, and so do you!