Exclusive Simon Says Stamp Spring Plush New Product Release!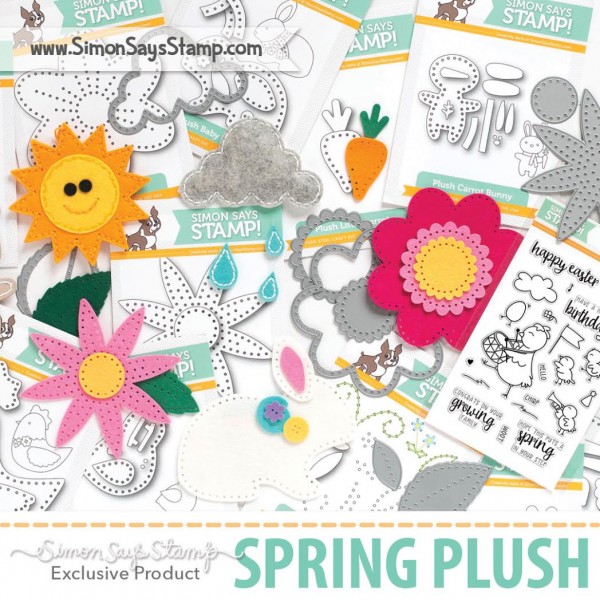 Hi friends! Welcome to the reveal of our latest exclusive collection, Spring Plush!  The release is focused around Spring! From wafer thin dies that cut the most fun cuties to a stamp set that celebrates Spring and happy chicks, we also have loads of felt colors to fill in the between <3  The stamp set is an exclusive collaboration with one of our favorite brands, Neat and Tangled.  You can see many more great products from Neat and Tangled in our store.
The wonderfully perfect part of these Plush dies is that they push out the dots for you.  You can use the dots to connect your sewing stitches, connect several layers and stuff with cotton, or to add interest to your cut outs.  The dies work beautifully with not just plush, but also vellum, thin foams, paper and more!  It's going to be fun to see the "more" you all come up with!  Speaking of "more", you might notice that our felt comes in 9 inch x 12 inch sheets.  These are much larger sheets than the felt strips you will find from most suppliers….and it die cuts so crisp and nice!
Tomorrow we will be loading up on the inspiration.  We will be hosting a blog hop with over a dozen designers who have embellished these new products in the most beautiful and creative ways.  Stay tuned at noon EST today because I will also be live Periscoping this release with some of the handmade pieces I've made with this release (with the help of my kiddos)!  We are cutting back on sugar in my household and I think my kids will treasure their plush cuties much longer than the candy.  We are only cutting back…not cutting OUT the candy, so I'll be using some of the pieces to creatively store jellybeans too.  We will be hosting an Easter egg hunt for my niece and nephews, so they'll have treasures to take home too. Hopefully you find creating with these plush cuties as much fun as I have found them to be!
We have the coordinating pieces like needles, thread, the most awesome felt glue and more – that work great with plush in our new store category: Felt & Felting.  This special super duper mega assortment pack of plush should last you a very very long time!
Remember, tomorrow is a blog hop you won't want to miss!  Thanks for stopping by.  It's because of YOU that we get to bring these great products to market and we appreciate the opportunity to connect with you.  Please comment below and share your crafty Spring traditions or aspirations with us.  I bet others will be inspired by your ideas too!

BONUS!
Be sure to check out our Youtube channel to check out this ADORABLE card tutorial using the NEW Spring Plush collection by the awesome Nina Marie Trapani!
Here's a sneak peek…. {watch the video}