Doodling with Debby: Stencil with Watercolor
Hi friends! Happy Monday! Please join me in welcoming back the always inspiring Debby Hughes as a special guest on our blog today! Read on and be sure to watch the video for more info and enjoy!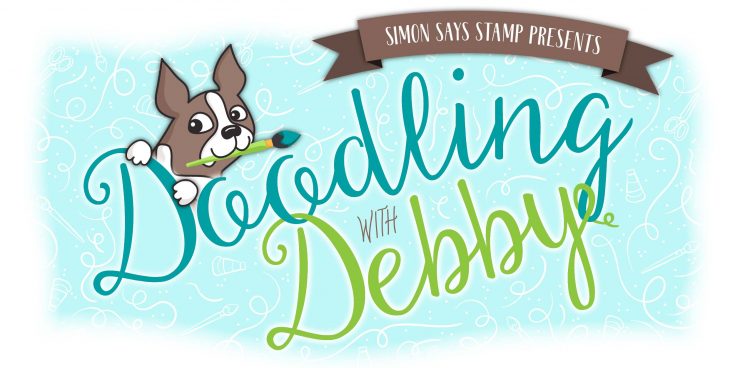 Hi, it's Debby here, and for my Doodling With Debby video feature this month I'm looking at a way you can use a stencil with watercolor. My love of watercoloring is still running strong, and my mind often turns to how I can use this beautiful media with my supplies. I love the design of the Bouquet Of Roses stencil and knew it would look stunning ink blended, but my paints were calling, and so I set about combining the two.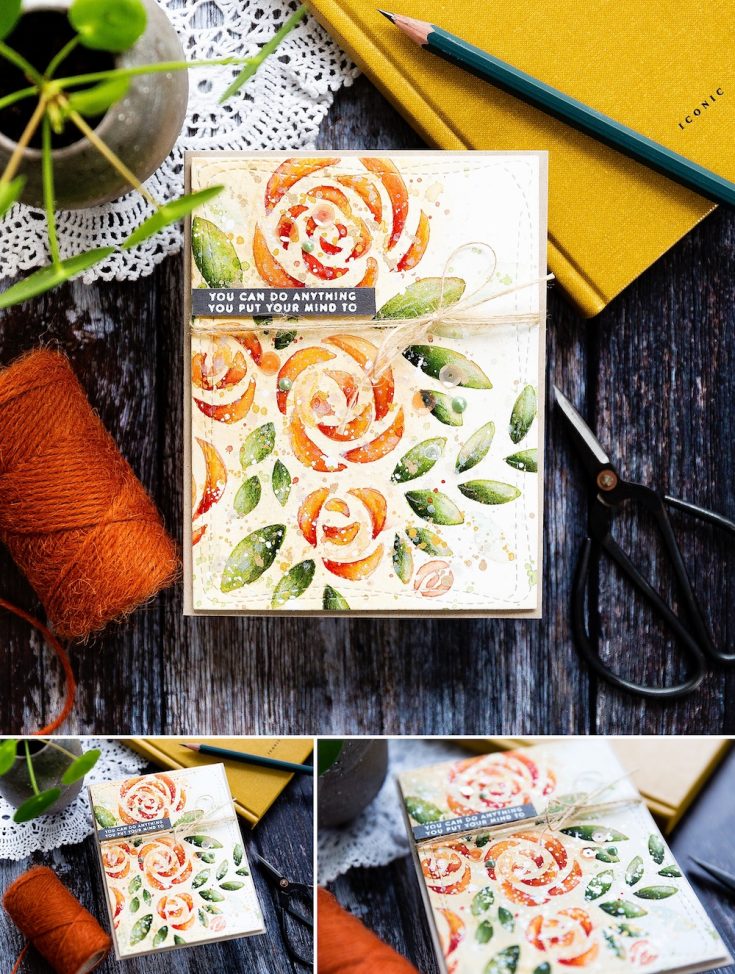 Before using the stencil though I decided to create a soft, warm background on which I could add the stencil design. I took a piece of Cold Pressed watercolor card and taped it to a board to help prevent warping. I started by using a brush to cover the card with plain, clearwater and then brought in a dilute wash of warm colors. There are several advantages to creating a background wash such as this; firstly, it means that you have color in the background of design, and you don't need to go in after working with the stencil and paint around all the areas. Secondly, with watercolors being translucent this warm wash will affect every color painted on top of it giving a warm, beautiful glow to the whole piece. I don't know if you've heard of the term 'golden hour' in relation to the lovely warm light just after dawn and just before sunset which photographers love. Well, a wash such as this is like adding a golden hour to a painting!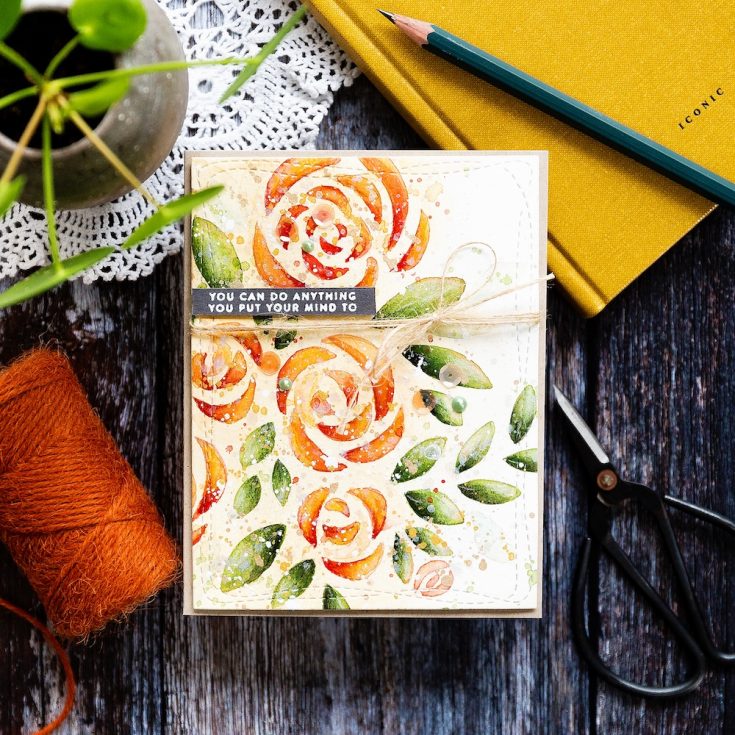 I sprayed the back of the Bouquet Of Roses stencil with a repositionable adhesive which keeps the stencil in place. This spray has been life-changing for me when using stencils; no more worrying about stencils shifting halfway through what I was doing! I tested various ways of using a stencil with watercolors and my favored method for a relatively simple design such as this stencil was to draw the design in with a pencil lightly. I did try painting directly through the stencil with watercolors, and this can work. However, I like to use a cold pressed watercolor card, and the texture of the card means that even with spray adhesive on the back of the stencil, it isn't reliable, and you can get paint seeping under the stencil and ruining the design. If you wanted to try this method, I would recommend using a smoother hot-pressed watercolor card instead. Another technique you could use is to ink blend through the stencil with a light, water reactive ink such as Antique linen distress Ink which would lay down the design of the stencil and then you could paint over the top, and the water-reactive ink would combine with the watercolor as you painted. However, with a warm yellow wash already down I didn't want to add ink with a similar tone and for it to dominate the color scheme. So that's how I plumped on this method – lightly drawing the design in with a pencil, erasing the pencil lines until they were only just visible and then using these as a guide to paint on top. You do want to make sure the pencil lines are as light as possible because the watercolors will trap the pencil underneath and you won't be able to erase the lines after the fact.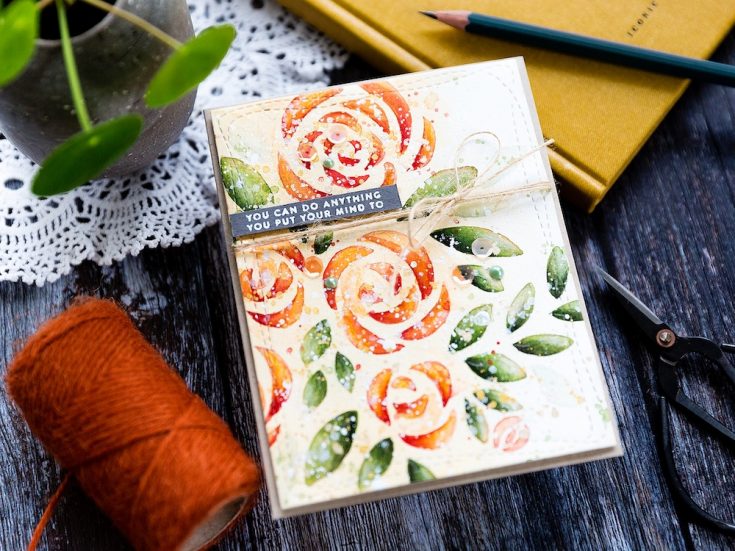 With the stencil design penciled in, it was just a case of filling in the shapes. My aim with each form was to get lots of lovely variation in color and ensuring there were areas of deeper shadow and lighter highlight areas too. I painted each shape and then dotted deeper shades into the areas I thought there would be shadows such as the base of a leaf, letting the wet paints blend. As I painted I used a more dilute paint in areas to create lighter, highlight areas, but sometimes these were lost when all the colors mixed and so to retain areas of highlight I used a brush which was just damp with clean water to lift some of the paint away.
I moved around the stencil completing the first layer of color over all the areas and keeping a paper towel in hand to mop up mistakes and to remove excess water when I wanted a damp brush for lifting color to retain highlights. With the base layer down, I then moved onto adding deeper tones and building up that texture that adding layers add. When doing this, I included a second brush. This brush is just damp with clean water, and I used it to softens the edges of the new deeper layers. With two brushes on the go, it saves paint as I can keep using the first brush to add color and the second to soften the edges while they are still wet and workable without having to rinse precious paint off my first brush to do the same. I also used dilute versions of the colors on my palette to give the impression of more petals and leaves. Using dilute paint will mean these dry lighter in color and will provide the feeling of being in the background, and the difference between the lighter and darker shades adds contrast and interest. Not only have you got lighter and darker colors on each petal and leaf but lighter petals and leaves too and the combination creates a more pleasing overall design.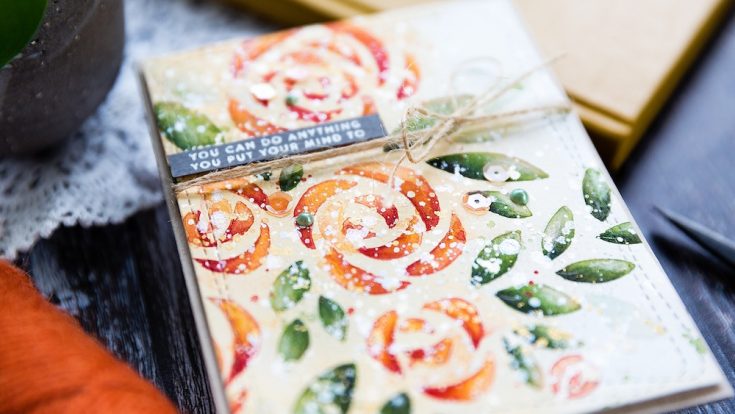 I added dilute splatter in the colors I'd used, aiming to keep the green splatter mainly over the leaves and the yellows and corals over the flowers. I have been asked why I like to add splatter so much, and I think it is because it adds that extra layer while also softening the lines and giving more of a loose look which I love. One other thing I love to do, and that is to use colored pencils to add more depth and a few details. The key here is to make sure your pencils are sharp, and you use a light hand. Finally, I added a splatter of white gouache and then my favorite perfect pearls solution for sparkle. The white did feel a bit stark against the warm colors of the piece, and so I also splattered with Iridescent Gold. This card indeed turned out to be very splattery – is that a real word? But it fits this piece perfectly!
I die cut the panel with a Wonky Rectangle die using washi tape to keep it in place while I ran it through my die cutting machine, and then I wrapped May Arts twine around the panel several times. I love this twine for adding that rustic feel to a card, and once I'd tied it in a bow, I was ready to add the sentiment.
I picked a greeting from the Tiny Words Encouragement set and stamped it in clear embossing ink on Slate card which I'dtreated with an antistatic powder bag. The powder from this bag will help to prevent the embossing powder I sprinkle on top from randomly sticking everywhere. I sprinkled with white embossing powder from Simon Says Stamp and then heat set before trimming to a banner. I then added foam adhesive to the back of the greeting and placed it on the background using a T square ruler to make sure I had it on straight.
I then added the watercolored piece to a card base cut and scored from 100lb Desert Storm card which continues the warm rustic feel of this card. I arranged a few You're Peachy sequins and then added Nuvo Dragon Scales droplets – I love the iridescent sheen. Finally, I kept the sequins in place with Gina K Connect Glue.
Thanks for joining me today, and I'll see you next time for Doodling With Debby.
SUPPLIES:
Simon Says Stamp Stencil BOUQUET OF…

Simon Says Clear Stamps TINY WORDS…

Simon Says Stamp WONKY RECTANGLES…

Daniel Smith QUINACRIDONE GOLD 5ML…

Daniel Smith QUINACRIDONE CORAL 5ML…

Daniel Smith SAP GREEN 5ML Extra Fine…

Daniel Smith UNDERSEA GREEN 5ML Extra…

Daniel Smith LUNAR BLACK 5ML Extra…

Daniel Smith IRIDESCENT GOLD 15ML…

Winsor Newton PERMANENT WHITE 14ml…

Faber-Castell POLYCHROMOS COLORED…

Simon Says Stamp Embossing Ink Pad…

Simon Says Stamp EMBOSSING POWDER…

Arches COLD PRESSED WATERCOLOR PAD…

Simon Says Stamp Card Stock 100#…

Neenah Environment 100 LB SMOOTH…

Simon Says Stamp Sequins YOU'RE…

Tonic DRAGON SCALES Nuvo Dream Drops…

Ranger PERFECT PEARL Powder PPP17714

May Arts NATURAL Twine String Burlap

Therm O Web PIXIE SPRAY iCraft…

Gina K Designs CONNECT GLUE Adhesive…

3M Scotch DOUBLE-SIDED FOAM TAPE…

MINI MISTI PRECISION STAMPER Stamping…

Tim Holtz Tonic GLASS MEDIA MAT 1914e

C-Thru T SQUARE RULER Westcott JR12

EK Success CRAFT TWEEZERS Precision…

Precision Heat Embossing Tool Gun…

Tombow Mono SAND AND RUBBER ERASER 57304
Thanks so much for stopping by and thanks to Debby for being our guest!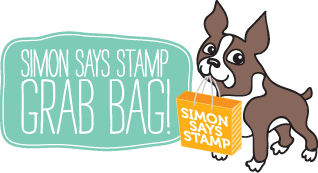 Blog Candy Alert!! Follow our blog via email and comment on this post for a chance to win special blog candy!