Hi readers! Happy Tuesday to you! Have you decorated for the holidays yet?  We're delighted to welcome Amanda Coleman back to our blog as a guest to show us a fun table topper we can make with Doodlebug products! Check it out!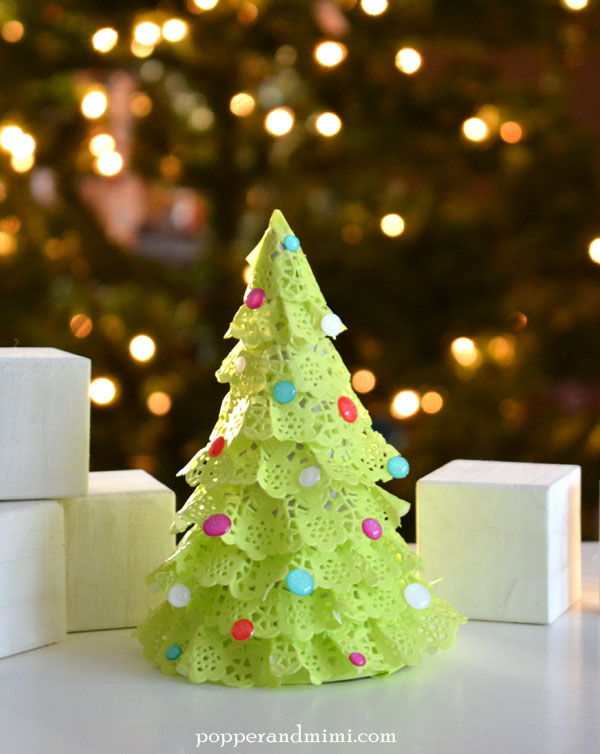 I love making Christmas trees to add to my holiday décor.  I am always looking for new colors and textures to add to my Christmas tree collection.  This week my Doodlebug doilies caught my eye and I thought they would make fun and cheery Christmas trees.

?I trimmed and layered doilies around a chipboard cone and decorated the tree with sparkly Doodlebug Sprinkles dots.  This would be an easy an inexpensive craft to organize for a holiday craft party.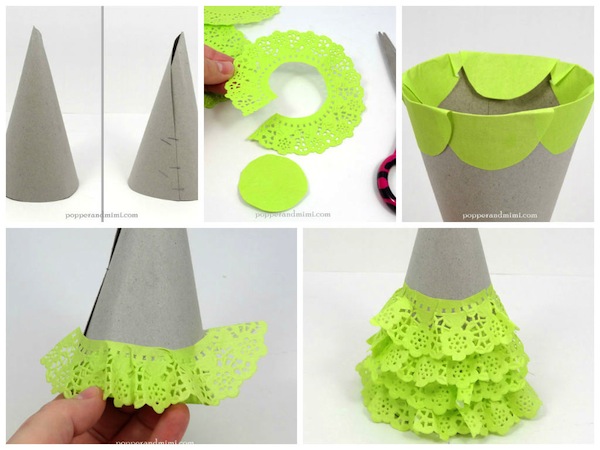 ?To make a Christmas tree base, die cut a piece of chipboard and fold into a cone.  I used a cone cut file from the Silhouette store and die cut the cone using my Cameo.  I have found that the best way to keep cones together is to use staples.  It isn't pretty, but the staples and awkward seam will be covered up by doilies.

Cut the center out of several doilies, saving the leftover circles for later.  Doilies are really thin, so you can cut several at the same time.

?Use the leftover doily pieces to cover the base of your cone.  Again, it doesn't need to look pretty as it will be covered up by lacy doilies.

Apply adhesive to the inner edge of the trimmed doily and adhere to the cone, starting at the bottom.  Scrunch and fold the doily as you go, making sure to wrap it around the cone in a straight line.

?Continue adding layers of doilies until you get to the top of the cone.  It takes about 10 doilies to cover a 6″ cone.  ?Decorate your tree with sparkly and shiny dots, sequins or anything else fun you can find.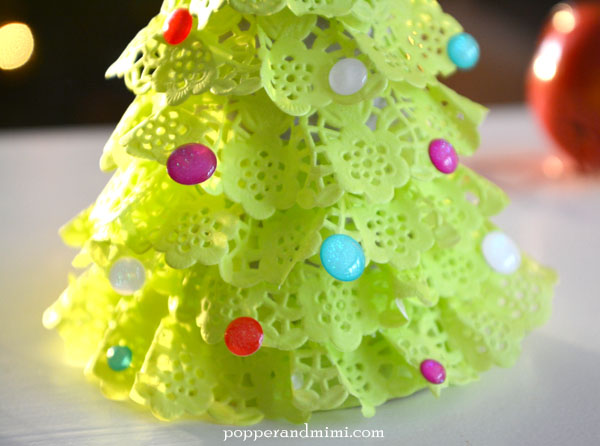 SUPPLIES:
Thanks for reading today and thanks to Amanda for this fun decoration idea!
Blog Candy Alert!! Follow our blog via email and comment on this post for a chance to win a special blog candy!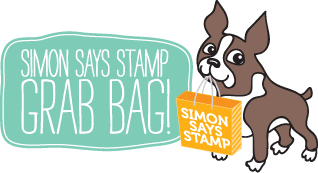 Congrats! Blog Candy Winner!