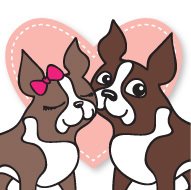 Hi readers! You may or may not be familiar with Simon's gal pal, Simone. If you are, don't fear! Their love is still strong and they're still together! However, we got to thinking, Simon really needs a "BFF" (Best Friend Forever). We thought it might be fun to involve you (our customers) in finding Simon's BFF.
Simon's BFF could be a cat, bird, turtle, or maybe another dog! If you'd like YOUR pet to be Simon's BFF, please post your pet's picture to your Instagram account and use the hashtag #SimonBFF to be considered. This contest will close on July 31st, and the winner will be unveiled on STAMPtember® 1st in an EXCLUSIVE stamp set with Simon! See above for an example, and a fellow BFF competitor! ;)
How cool is that? All are welcome to enter! Now get tagging!!
Shop Simon stamps, dies, and stencils available now…
Good luck!