Vintage + Holiday = a very happy me! How about you? I've always loved the look of mercury glass and thought the effect would look great with the Tim Holtz Mini Mason jars. I've seen a few tutorials on Pinterest and thought I'd give it a try. The trick to this technique is to use Krylon Looking glass spray paint on the inside of the jars followed by a vinegar mixture spray.
I've created three styles, one being natural with Linen Ribbon and Craft pinecones, then a bedazzled one using dangles of Holiday Idea-ology, and finally a jar using Poinsettia flowers die cut from Clearly for Art film.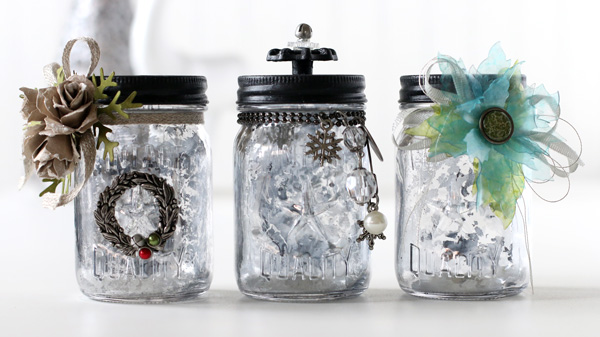 I went with non traditional colors for my poinsettia using Pool and Aqua alcohol inks. I die cut the flower out from Clearly For Art film, colored them then heated with my craft tool to bend and shape.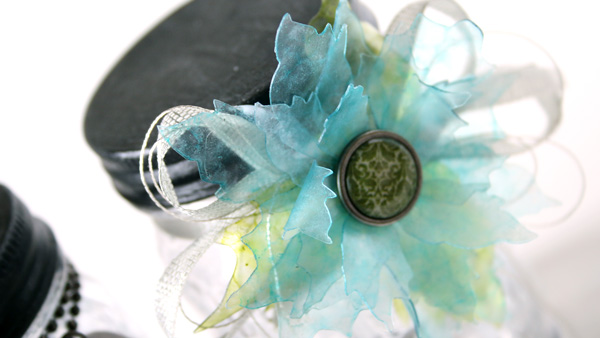 This next one was super fun to create dangly pieces to hang from the ball chain. I used jump rings to add tokens and snowflake charms. I had my husband Tom drill a hole in the lid so I could add a faucet knob!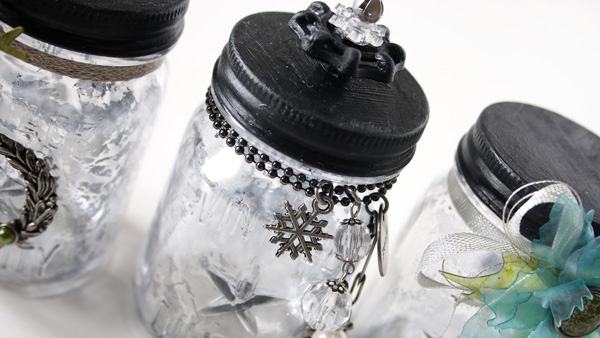 This last jar has a little more natural feel to it using Desert Storm card stock with the Tattered Pinecone die. I also glued on a metal wreath to the jar and added a jingle bell and a few gems.
I'll be putting small battery votive candles in these to display in my home. As a note, once you use paints and products on the inside of the jars, they are no longer food safe. Also, be sure to use spray paints in a well ventilated area (I went outside). This Krylov Looking Glass paint is especially smelly while spraying, so use a mask if you're sensitive. The results are amazing and it only take a few minutes!
I've made a video of how to create the mercury glass effect and instructions to create the poinsettia flowers. You can view it below or on our YouTube channel.
Blog Candy Alert!! Follow our blog via email and comment on this post for a chance to win a special blog candy!
Thanks for stopping by today, I hope you have a wonderful crafty weekend!