DieCember® Blog Hop WINNERS!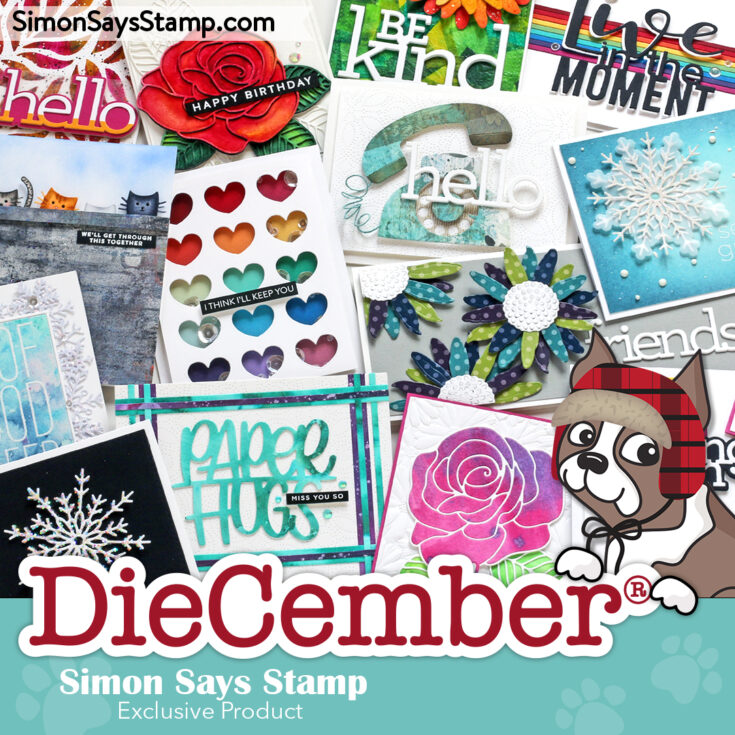 Hello, friends! Have you seen our Simon exclusive DieCember® release? It's full of creative and innovative dies that are sure to bring you lots of creative options for your card making pursuits! Included you'll find tons of useful and fun sentiments, beautiful florals and leaves, delightful geometrics and plates, a slimline envelope die, coordinating dies from some of your favorite stamp sets, and a whole slew of clever icons. No matter your style, you're sure to find an item or two (or twelve!) that are must-haves. There are some wonderful new products from CZ Design, too! We are so excited for you to play with all of these awesome new products!
To celebrate this phenomenal release, we hosted two amazing blog hops! The hops featured many talented designers and each one created wonderful projects to inspire you. If you missed either of the hops, you can find the direct links here: DAY ONE and DAY TWO.
A BIG thank you to all of YOU who joined us for the hops! We enjoy hearing from each of you, and your words of encouragement and appreciation to each of the designers mean so much to us here at Simon and to them. It's our tradition to give away gift certificates to random commenters on each blog stop, and today we are revealing all of the winners! So without further ado, I present to you our winners!
from Simon Says Stamp's blog: Jade!
from Kristina Werner's blog: Cherry Robinson!
from Cathy Zielske's blog: Titus Debbie Says!
from Nina-Marie Trapani's blog: Donna Kalinowsky!
from Nichol Spohr's blog: Leora Henkin!
from Caly Person's blog: Jeanne Beam!
from Suzy Plantamura's blog: Denise Costa!
from Amy Rysavy's blog: Linda M Mazzola!
from Lisa Addesa's blog: Daniel D!
from Heather Ruwe's blog: Kelly Hunsaker!
from Sidnie Des Jardins's blog: Donna Rinckel!
from Cheiron Brandon's blog: Maureen Morton!
from Barb Engler's blog: Audja!
from Lea Lawson's blog: Jana Yeager!
from Jo Nevill's blog: Angie Cammack!
from Yana Smakula's blog: Shar Zar!
from Simon Says Stamp's blog: Christine Kosmak!
from Debby Hughes's blog: Mary Mauger!
from Laura Bassen's blog: Jenny Del Castillo!
from Amanda Korotkova's blog: Anni!
from Yoonsun Hur's blog: Mary-Anne V!
from Heather Hoffman's blog: Lynn Hill!
from Bibi Cameron's blog: Jacqueline Nigro!
from Anna-Karin Evaldsson's blog: terriavidreader (IN-USA)!
from Bobbi Lemanski's blog: Mary Bartolotta!
from Vicky Papaioannou's blog: Laurie Black!
from Gayatri Murali's blog: Kristin Rigsbee!
from Keisha Charles's blog: mendo.dre!
from Dana Joy's blog: Lisa Achilles!
from Daniel West's blog: Lisa Brussow!
from Preeti Chandran's blog: Brenda Turner!
from Kath Stewart's blog: Laura Pyle!
from Kim Hamilton's blog: Crystal Strumberger!
If you see your name listed above, CONGRATULATIONS! Please email R[email protected] and let him know that you are one of our DieCember® Blog Hop winners! You'll receive a $25 Gift Card. ???
Thanks again for hopping along with us! We hope you enjoy our fantastic DieCember® release and that they give you creative enjoyment for months to come!
Winning ROCKS, and so do you!