Did You Know? October 2023 Edition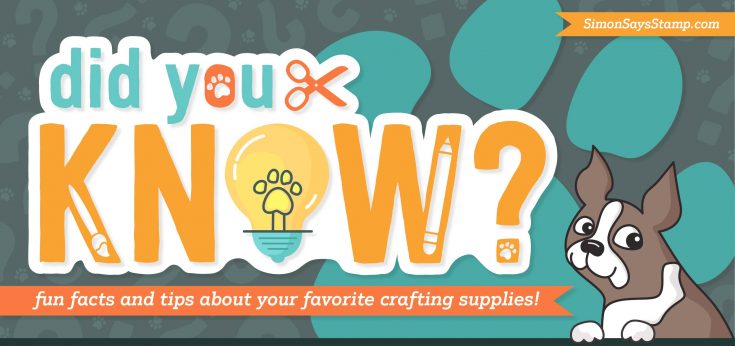 Hello crafters, it's Shari Carroll here with you! Today I have a new edition of our popular Did You Know series!
If it's your first time seeing this feature, each month we bring you fun facts, creative tips, and even crafty hacks about your favorite supplies and brands; you can then use these awesome tips that you learn in your next crafting projects! Are you ready to learn some fun tricks? Keep on reading!
I'm already gearing up for the holidays and thought it was a good time to share some crafty gifting ideas with you. Let's get started!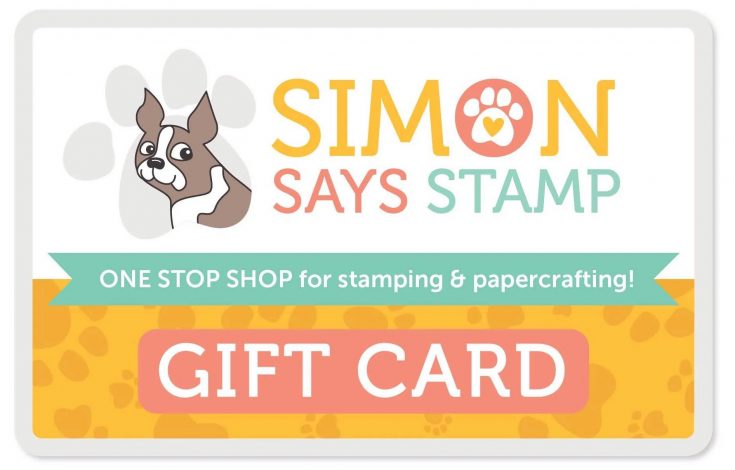 Did you know we offer Simon Says Stamp gift cards in our store? Gift cards are handy when you're not sure what to select for your loved ones. These come in values of $25, $50, $75, $100, and $200. You can send them as a gift straight from our store.
Our gift cards are delivered by email and contain checkout redemption instructions. They also have no additional processing fees.
PAWSITIVELY SATURATED INK CUBES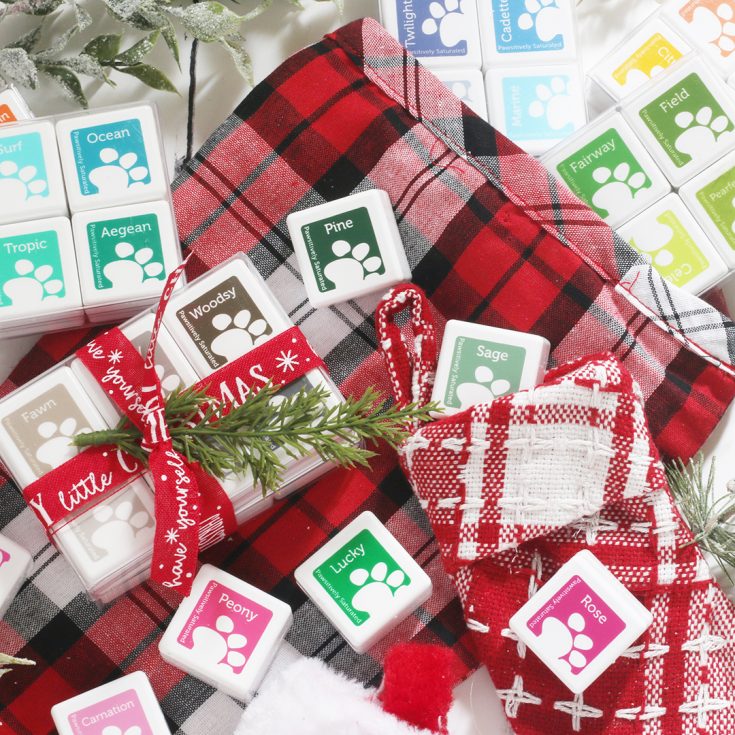 We have now released all 60 colors of our popular Pawsitively Saturated ink cubes. These packs of six ink cubes can make PERFECT stocking stuffers or small last-minute gifts. Wrap them in ribbon, pull the packs apart to give away single pads, or slide a couple packs into a stocking.
TIP: Not sure what color to give? Mix them up!! Make your own color combinations to spread the joy.
PAWSITIVELY EVERYTHING TOOLS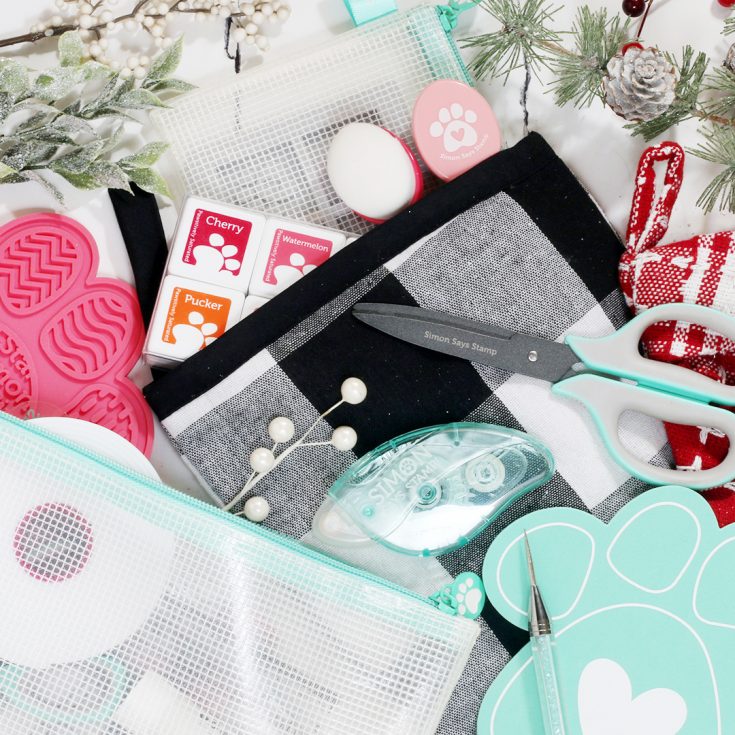 We've come out with several fantastic tools that are must-haves, especially for friends who are just entering into the beautiful world of paper crafting. Having the right tools makes crafting so much easier. A few of our favorites are our Pawsitively Everything Scissors, PET tool, Large Ink Blending brushes, 6′ t-square, Foam Tape Roll, Dot Runner adhesive, Pierce and Place tool, and our new Pawsitively Perfect Craft Pad!
TIP: Tuck a selection of tools into our Junior Mesh bag to keep them all together, then slide the pouch into their stocking!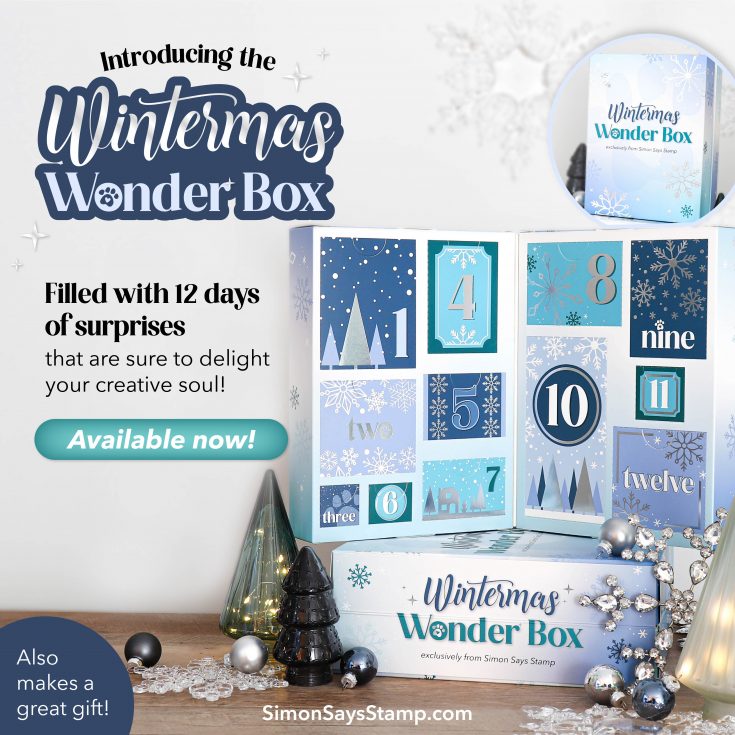 Did you know that yesterday, we released our first-ever ADVENT box? This is our Wintermas Wonder box with 12 days of surprises. This can be a perfect gift for a friend… or for yourself!
Capture the wonder and excitement of the season with these carefully created crafty surprises. These are only available while supplies last!
HDSA CRAFTY PARCELS
We are working to make a difference in the lives of those affected by the devastating illness of Huntington's Disease. Our Crafty Parcels go on sale this coming Monday, October 23rd.
Your donation through this purchase and the net proceeds will be donated to HDSA Central Ohio. You will receive a box of craft supplies donated by our generous vendors to support this campaign.
The $50 donation purchase has a retail value of at least $100, and the $150 donation purchase has a retail value of at least $300.
100% of the net proceeds from the Donation Boxes will help those in need. What better way to give for the holidays!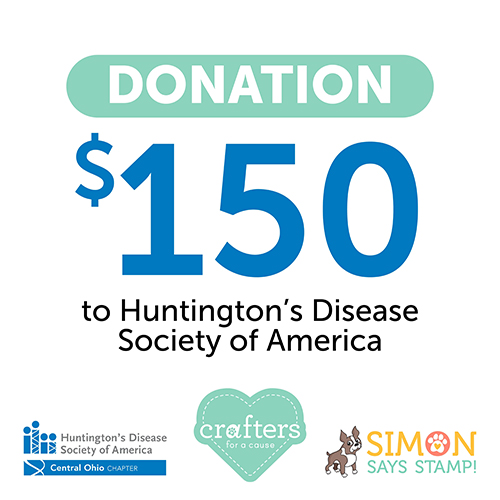 I hope these tips have helped you learn about some special items for your upcoming holiday crafting gift-giving. Thanks for tuning in today and spending some time with me!
SUPPLIES:
| | | |
| --- | --- | --- |
| Simon Says Stamp Pawsitively… | Simon Says Stamp Pawsitively… | Simon Says Stamp Pawsitively… |
| Simon Says Stamp Pawsitively… | Simon Says Stamp Pawsitively… | Simon Says Stamp Pawsitively… |
| Simon Says Stamp Pawsitively… | Simon Says Stamp Pawsitively… | Simon Says Stamp Pawsitively… |
| Simon Says Stamp Pawsitively… | Simon Says Stamp Classic Color JUNIOR… | Simon Says Stamp Pawsitively Everyday… |
| Simon Says Stamp Pawsitively… | Simon Says Stamp Blending Brush SET… | Simon Says Stamp Place And Pierce… |
| Simon Says Stamp Pawsitively Perfect… | Simon Says Stamp Pawsitively Perfect… | Simon Says Stamp DOT RUNNER Tape… |
| Simon Says Stamp PET PAWSITIVELY… | Simon Says Stamp PET PAWSITIVELY… | Simon Says Stamp PET PAWSITIVELY… |
| Simon Says Stamp PET PAWSITIVELY… | Simon Says Stamp PET PAWSITIVELY… | Simon Says Stamp PET PAWSITIVELY… |
| Simon Says Stamp PET PAWSITIVELY… | Simon Says Stamp PET PAWSITIVELY… | Simon Says Stamp PET PAWSITIVELY… |
| Simon Says Stamp PET PAWSITIVELY… | Simon Says Stamp PET PAWSITIVELY… | $150 Donation for HDSA with $300 + In… |
| $50 Donation for HDSA with $100 + in… | Simon Says Stamp Gift Card – $25 | Simon Says Stamp Gift Card – $50 |
| Simon Says Stamp Gift Card – $75 | Simon Says Stamp Gift Card – $100 | Simon Says Stamp Gift Card – $200 |