Did You Know? October 2021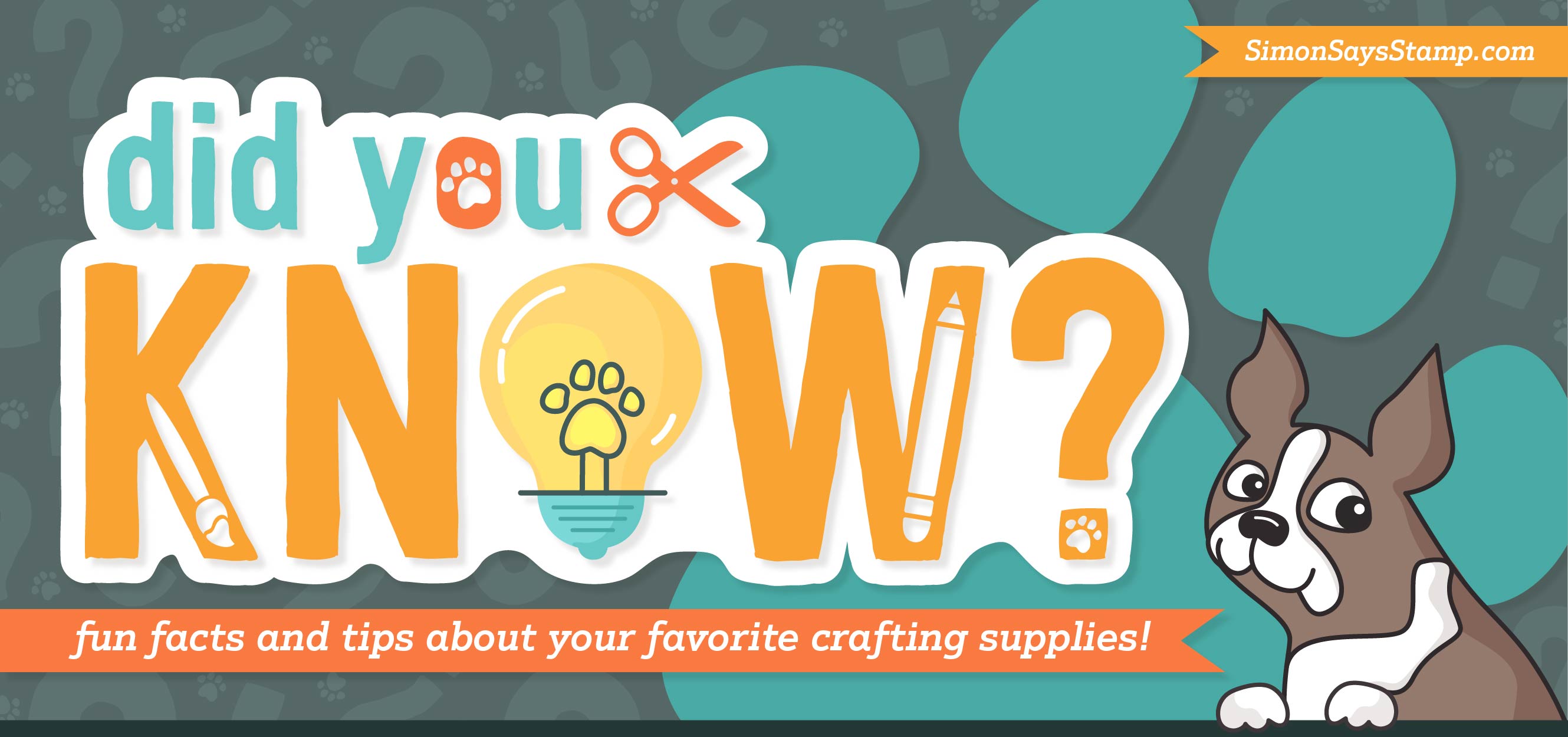 Hello crafters, it's Nina-Marie Trapani here with you! Today I have a new edition of our popular Did You Know series!
If it's your first time seeing this feature, each month we bring you fun facts, creative tips, and even crafty hacks about your favorite supplies and brands; you can then use these awesome tips that you learn in your next crafting projects! Are you ready to learn some fun tricks? Keep on reading!
Have you seen our brand new and PAWSITIVELY Saturated Inks? These premium dye inks are specially formulated for the smoothest of stamping and ink blending. Each pad is a foam base, saturated with hand-picked ink colors that you can only find here at Simon Says Stamp. Your stamped and ink blended projects will truly shine with the delicious array of colors and high quality of these inks.
Pro tip: Did you know these work beautifully with our exclusive Pawsitively Everything Tools? Our PETs come in a rainbow of colors, perfect for pairing with your spectrum of inks!
Our Simon exclusive Pawsitively Everything Storage Boxes are an organizer's dream! These handy boxes (sized at 5 1/2″ wide, 6 1/4″ tall, and 2″ deep), are designed to fit a wide variety of your craft supplies, including markers, ink blending tools, embellishments, A2 watercolor cards and card fronts, sentiment strips, and more! These boxes also work perfectly with our Pawsitively Everything Storage Pockets.
Want to learn more about our Pawsitively Everything Storage Boxes? Watch this video!
In addition to our Storage Boxes, our Simon Says Stamp Pawsitively Everything Clear Pockets are an efficient way to organize your A2-sized products. Items such as watercolor cards and sentiment strips fit perfectly inside our Clear Pockets! This is especially helpful once you've cut apart your sentiments strips because it allows you to keep your cut strips together with the full-sized sheets. The pockets even have a tab closure to prevent small pieces from slipping out!
Keeping your beautiful cardstock and specialty papers looking perfect is a must for any crafter! Did you know that we now have exclusive Pawsitively Everything Cardstock Sleeves that are specifically designed to hold all your 8 1/2″ x 11″ cardstocks? These heavy-duty plastic sleeves are made from high-quality materials and feature many useful design elements. You'll notice the cutout in the front that allows for easy access inside the sleeve. The heat-sealed edges are very durable, and we even rounded the corners of the sleeves to prevent knicks and cuts on your fingers as you use them!
Calling all embossing stampers! Have you seen this new tool from Rabbit Hole Designs?? This refillable powder tool has a soft bristle brush that gently applies powder onto your paper prior to embossing; its large size also provides wider coverage than other similar tools. The powder tool is also environmentally friendly because it is designed to not over-powder your paper, minimizing waste. This handy device also has a cap that protects and keeps your bristles clean when not in use.
I hope these tips have helped you learn a few tricks for your upcoming crafting projects… Thanks for tuning in today and spending some time with me!
SUPPLIES
RESERVE Simon Says Stamp Pawsitively…

RESERVE Simon Says Stamp Pawsitively…

RESERVE Simon Says Stamp Pawsitively…

RESERVE Simon Says Stamp Pawsitively…

RESERVE Simon Says Stamp Pawsitively…

RESERVE Simon Says Stamp Pawsitively…

Simon Says Stamp PET PAWSITIVELY…

Simon Says Stamp PET PAWSITIVELY…

Simon Says Stamp PET PAWSITIVELY…

Simon Says Stamp PET PAWSITIVELY…

Simon Says Stamp PET PAWSITIVELY…

Simon Says Stamp PET PAWSITIVELY…

Simon Says Stamp PET PAWSITIVELY…

Simon Says Stamp PET PAWSITIVELY…

Simon Says Stamp PET PAWSITIVELY…

Simon Says Stamp PET PAWSITIVELY…

Simon Says Stamp PAWSITIVELY…

Simon Says Stamp PAWSITIVELY…

Simon Says Stamp PAWSITIVELY…

The Rabbit Hole Designs COTTONTAIL…