Did You Know: November 2022 Edition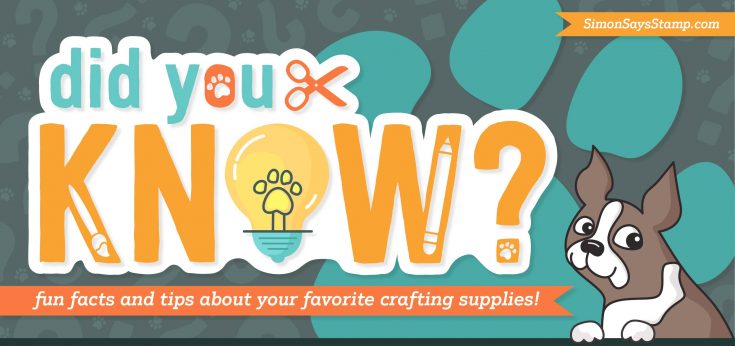 Hello crafters, it's Shari Carroll here with you! Today I have a new edition of our popular Did You Know series!
If it's your first time seeing this feature, each month we bring you fun facts, creative tips, and even crafty hacks about your favorite supplies and brands; you can then use these awesome tips that you learn in your next crafting projects! Are you ready to learn some fun tricks? Keep on reading!
When the weather turns colder and outdoor activities aren't keeping me as busy, I feel inspired to get organized in my craft room. I've found a few items that I think you'll appreciate.
INTERDESIGN ORGANIZER WITH DIVIDERS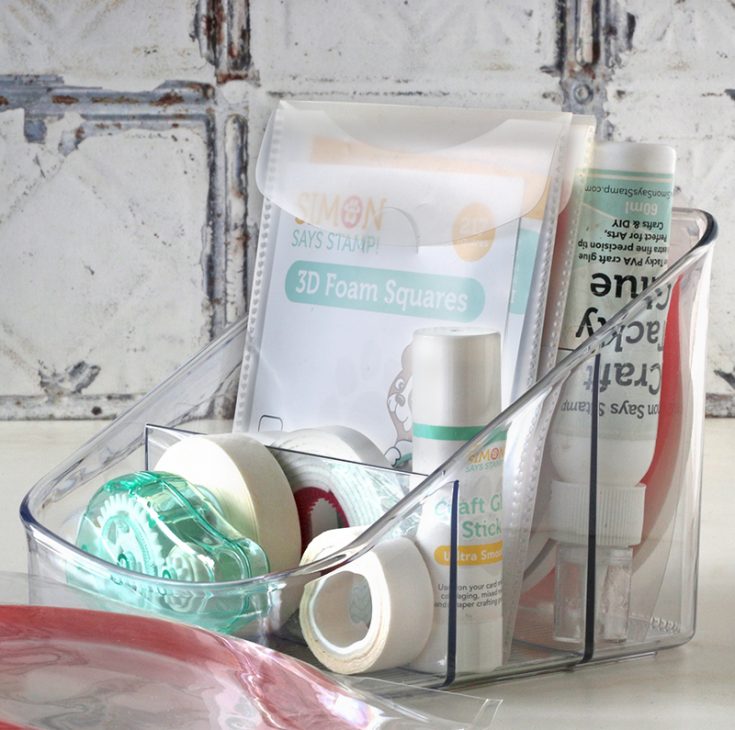 I've been struggling with storage for my many types of adhesive. I've been using a basket, but it becomes unruly in a short amount of time. I recently discovered the Interdesign Organizer with Dividers and was pleasantly surprised at its size and that it held all my go-to adhesives in one neat and tidy place. The best part is that I return my things back to their place, leaving me more room to work. It measures 6.5 x 6.25 x 5.25 inches, so it doesn't take up too much space.
The front tier is perfect for dot runner adhesive and Very, Very Low Tack Tape. The second tier holds taller items like a Glue Stick, White Foam Tape Roll, and Simon Says Stamp Foam Squares. The back tier holds rolls of Red Line Tape, Tear-rific Tape, and Simon Glue.
TIP: Store your glue bottles upside down, so it's always ready to use!
Tip: Store your Foam Squares in the Simon Says Stamp Pawsitively Clear Pockets.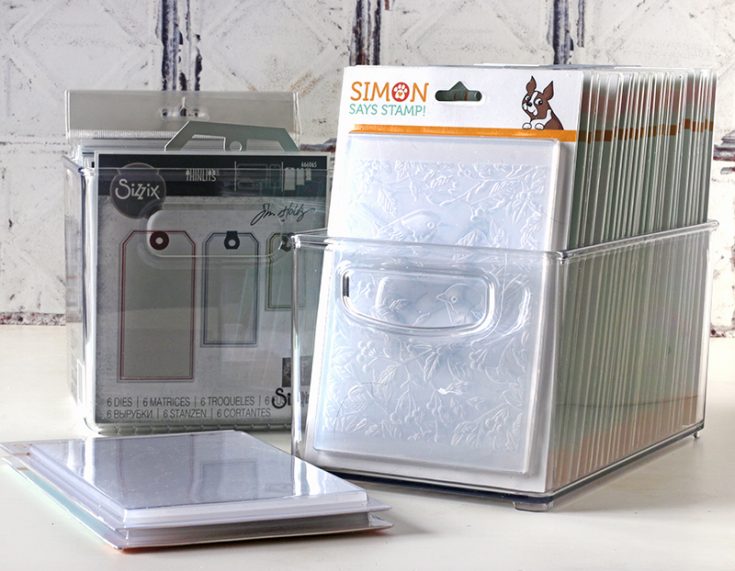 These clear plastic bins are handy for many crafting items. I use them for my embossing folders and dies. They measure 10L x 6W x 5H inches. You can also use them to store your 4×6 stamps sitting upright or 6×8 stamps on their side. I really like that I can see thru them for easy identification of what's inside.
These bins hold at least 24 embossing folders with room to flip through. And they'll hold even more without their packaging.
TIP: These are stackable when filled with items shorter than 5″.
TIM HOLTZ DISTRESS SPRAY STORAGE TIN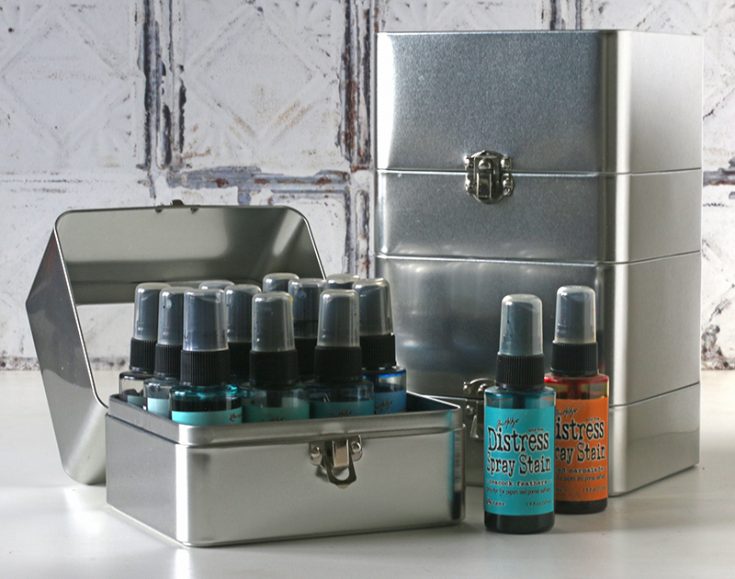 As my collection of Distress spray stains grows, it was really time to find suitable storage. I chose to go with the Tim Holtz Storage Tins. Each tin holds 12 spray bottles, and they are stackable. They also have a nice flip lock on the front to keep them sealed.
You can organize your colors however you want. One option would be to have your regular Distress and Oxides together. I'm using each tin for a color family.
TIP: Place a tag or sticker on the outside with swatches of the colors inside.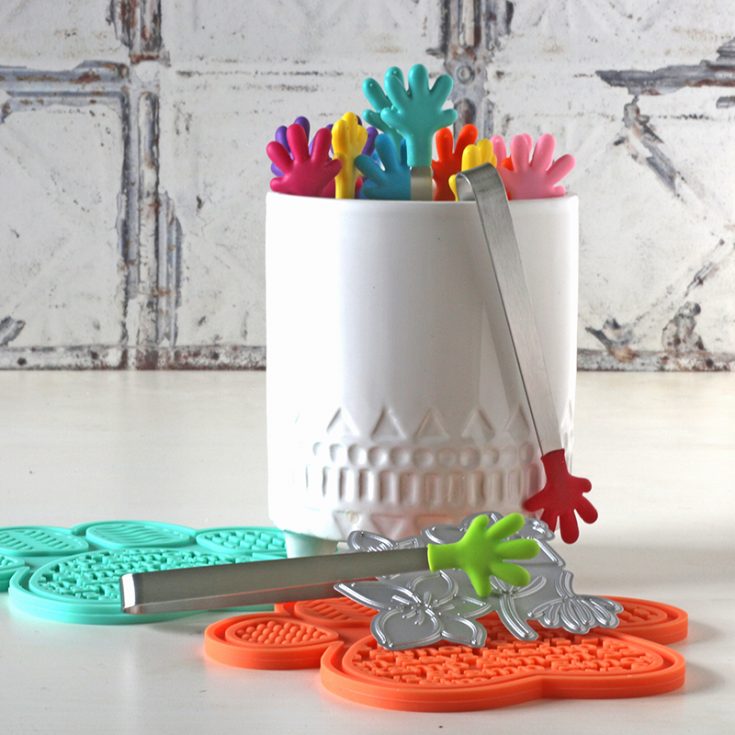 And just for fun and function, Hot Hands! Oh MY! These are not only adorable tongs, but they are also super HANDy!! The silicone hand tip can withstand heat. You can use these with your shrink plastic to hold it in place while heating. If your one to do hot foiling, you'll find the no-slip hand perfect for handling your hot foil plates. The tiny fingers are also great for holding your paper while heat embossing!!
I hope these tips have helped you learn about some items for your craft supply organization… Thanks for tuning in today and spending some time with me!
SUPPLIES:
| | | |
| --- | --- | --- |
| InterDesign LINUS PACKET ORGANIZER… | InterDesign KITCHEN BINZ 64530 | Tim Holtz DISTRESS SPRAY STORAGE TIN… |
| Simon Says Stamp HOT HANDS PURPLE… | Simon Says Stamp HOT HANDS YELLOW… | Simon Says Stamp HOT HANDS TEAL mt3teal |
| Simon Says Stamp HOT HANDS Bright… | Simon Says Stamp HOT HANDS ORANGE… | Simon Says Stamp HOT HANDS GREEN mt6gree |
| Simon Says Stamp HOT HANDS BLUE mt7blue | Simon Says Stamp HOT HANDS LIGHT PINK… | Simon Says Stamp HOT HANDS RED mt9red |