Did You Know? January 2022 Edition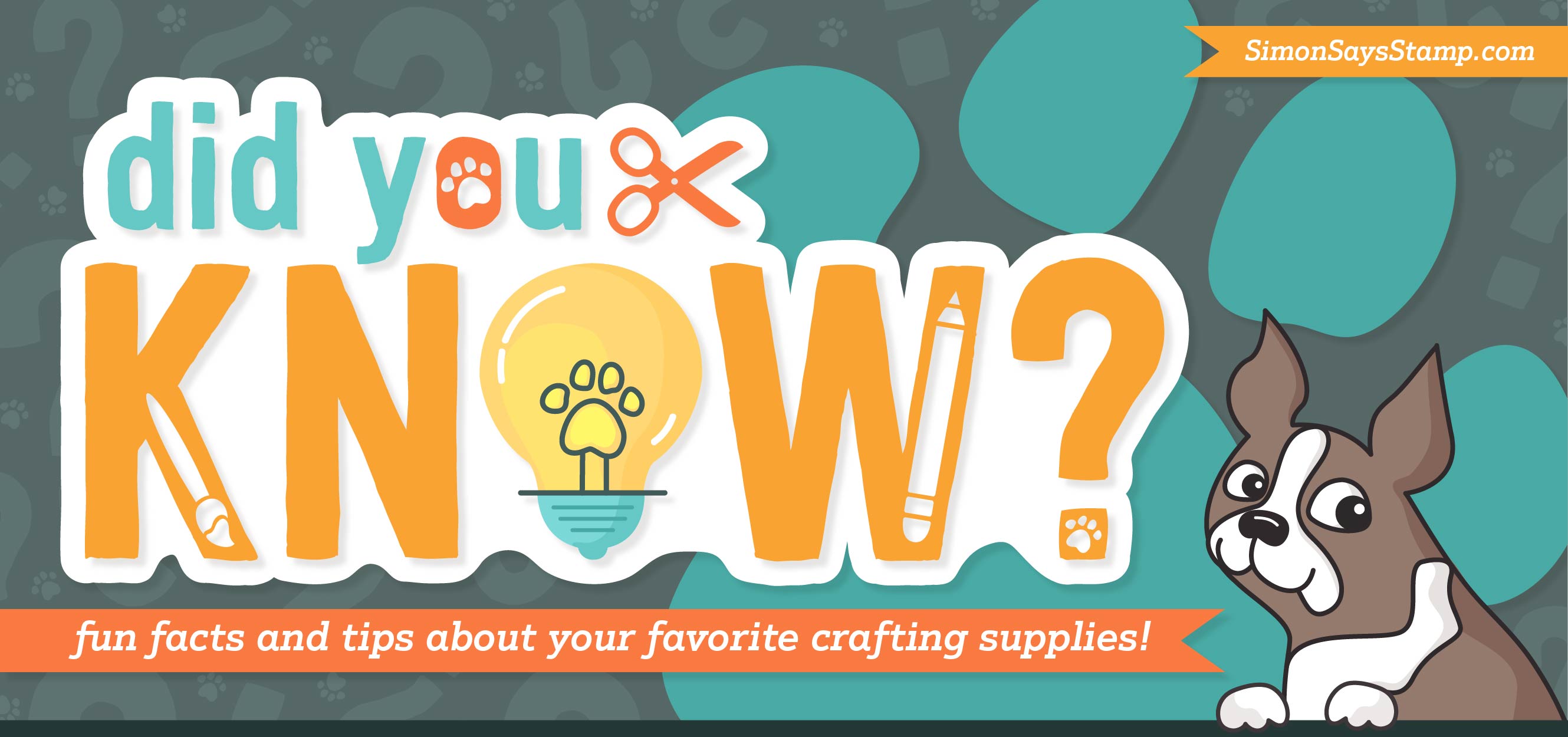 Hello crafters, it's Nina-Marie Trapani here with you! Today I have a new edition of our popular Did You Know series!
If it's your first time seeing this feature, each month we bring you fun facts, creative tips, and even crafty hacks about your favorite supplies and brands; you can then use these awesome tips that you learn in your next crafting projects! Are you ready to learn some fun tricks? Keep on reading!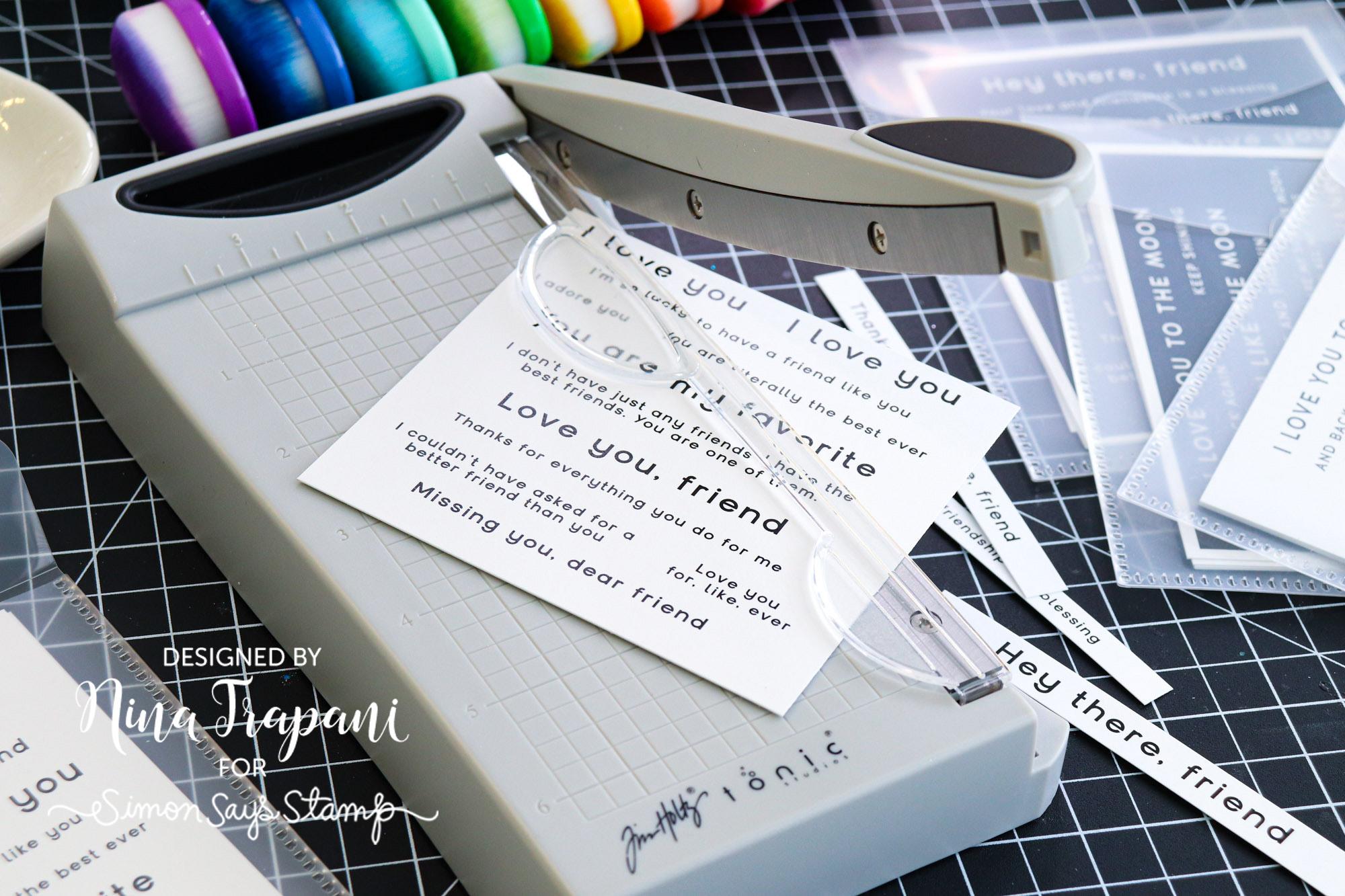 For all your small trimming projects, I find it super-handy to have a paper cutter like the Tim Holtz Mini Trimmer on my desk so I don't have to break out a larger one. This is perfect for cutting sentiments or A2-sized paper projects and I reach for it ALL the time! Its small footprint doesn't take up a ton of space either, so I usually leave it out permanently.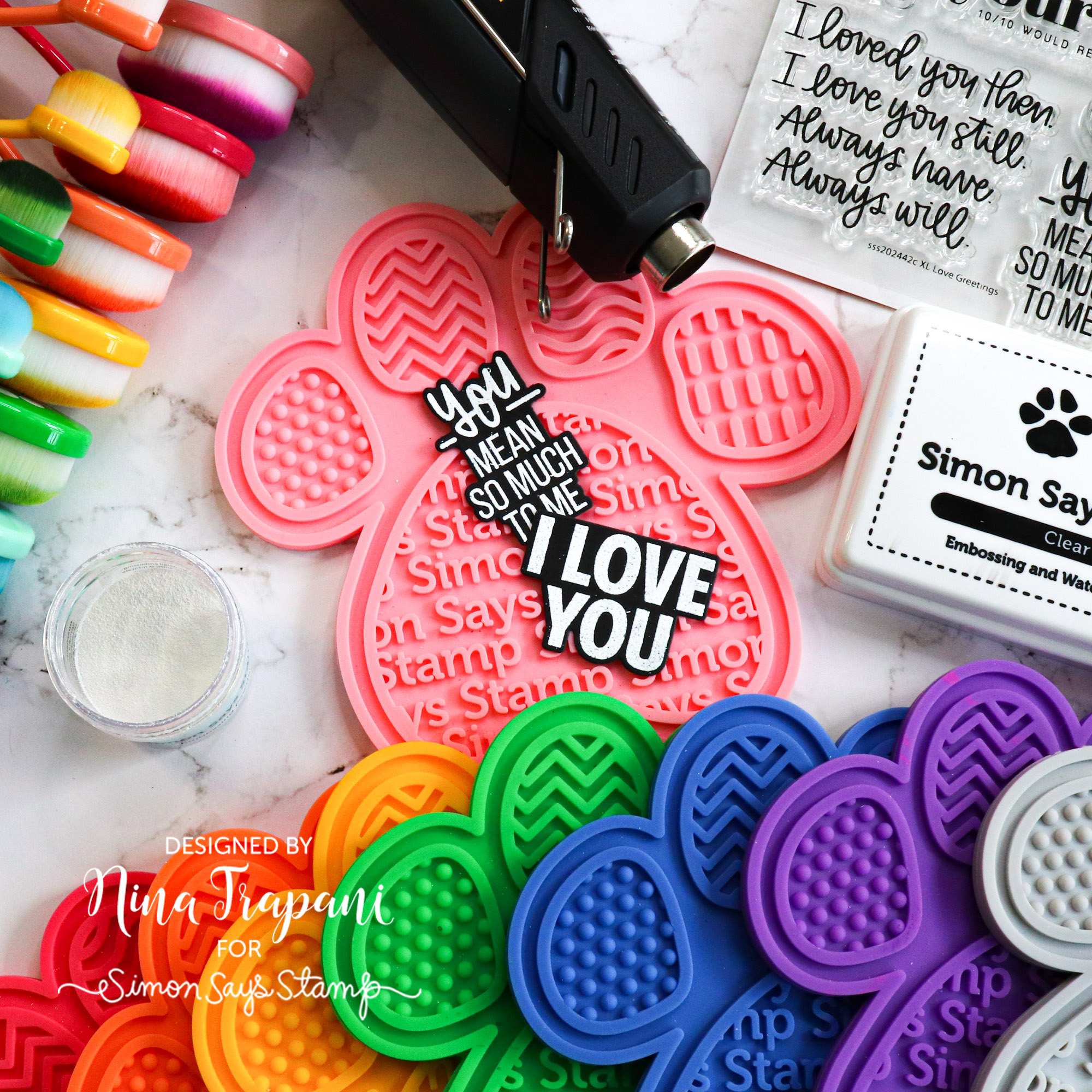 Heat embossing is a fabulous technique–but I'm sure you have burned your fingers more than once trying to emboss smaller items. I find that our Simon Says Stamp Pawsitively Everything Tools (available in a rainbow of colors!) is the perfect place to rest my paper as I set the embossing powder. The heat-safe silicone protects your work surface underneath and of course prevents finger burns!
Did you know? Another great feature of our rainbow PETs is the fact that they can be color coordinated with our other Simon tools and inks! Look how pretty the Pawsitively Saturated Inks look on top of the PETs!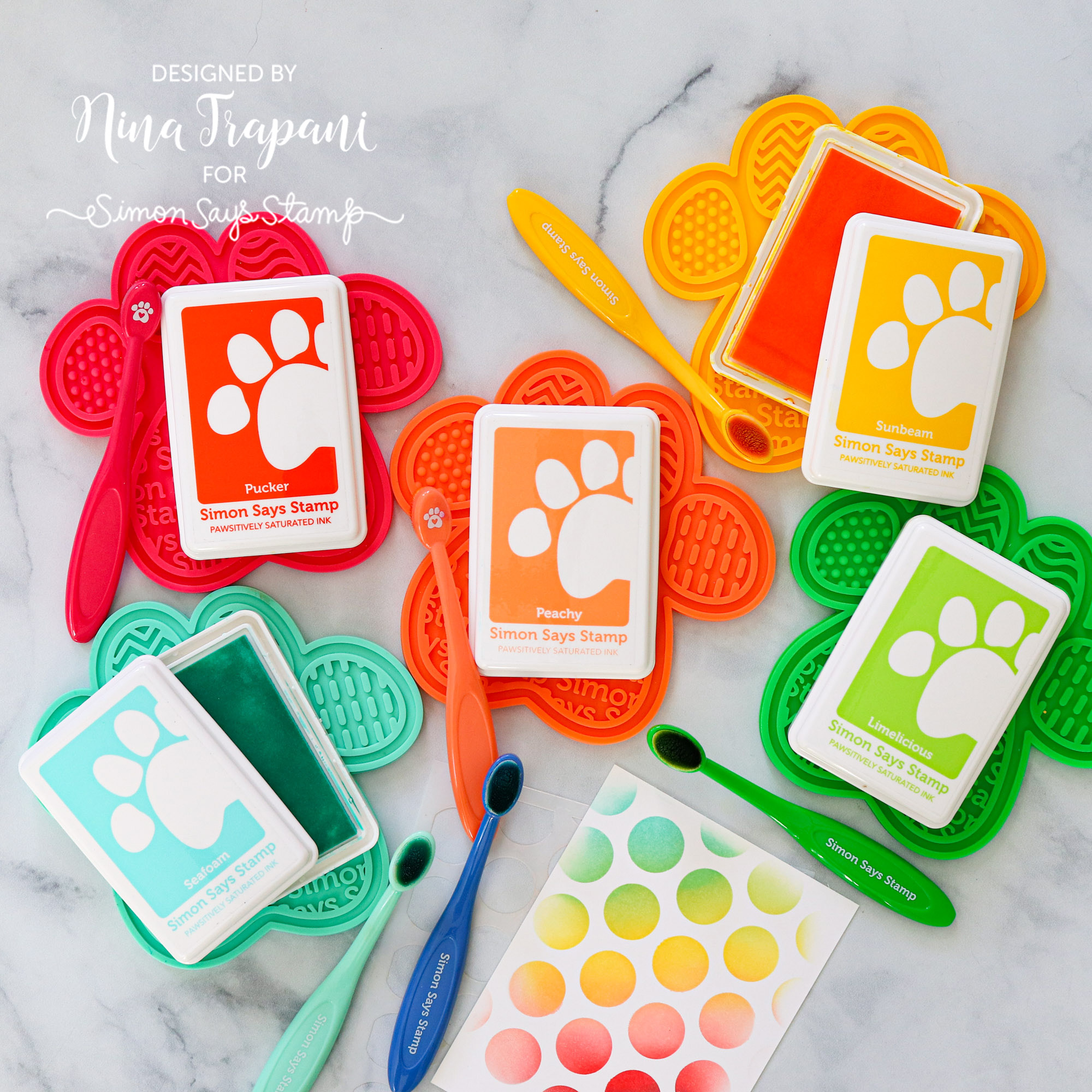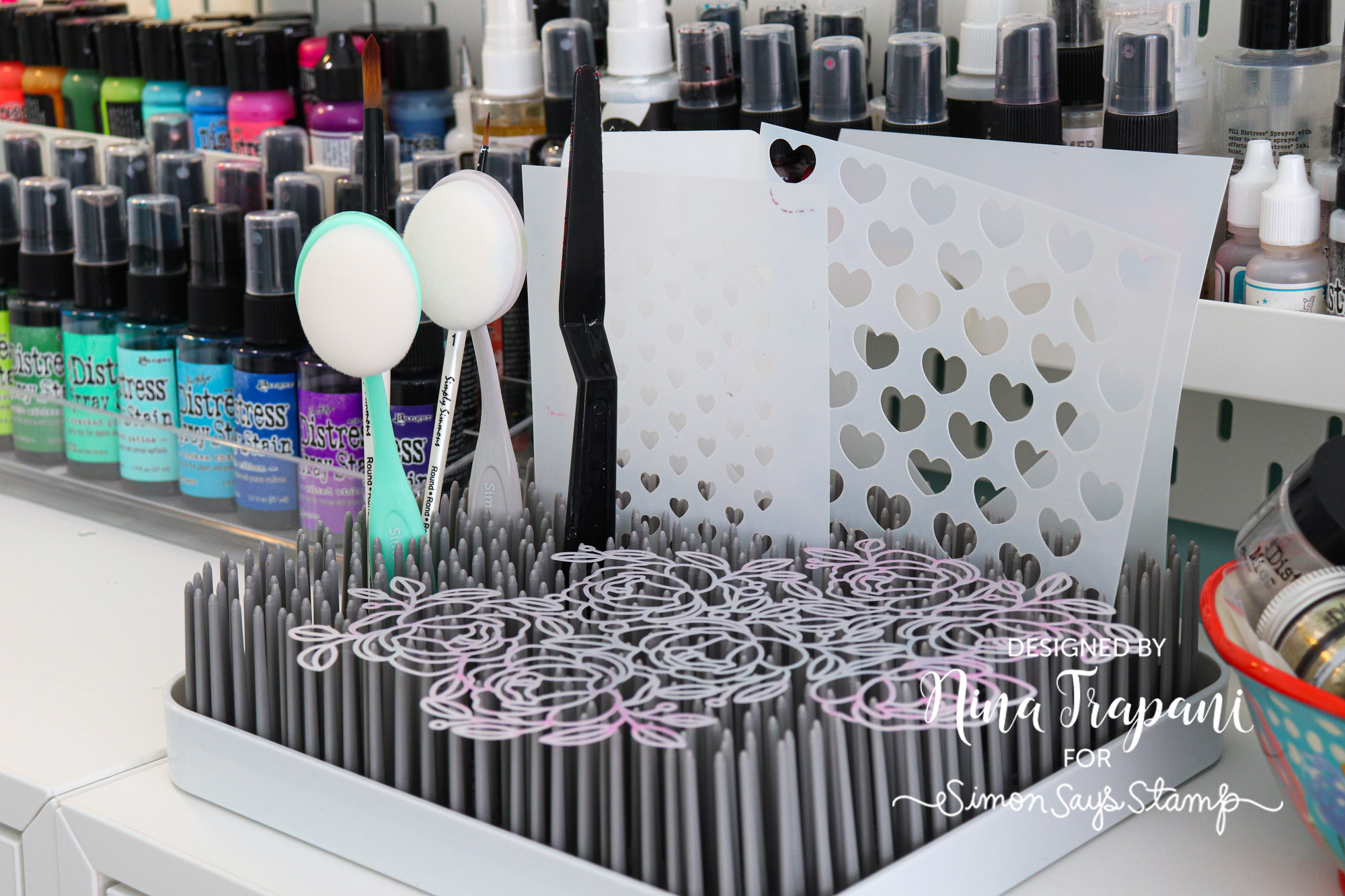 This handy rack is perfect for drying your crafty supplies! Whether you just washed a stencil or have wet brushes, this allows you to keep everything out of the way while they dry! I especially love that I can fit many products on the rack all at once; very useful when you've got multiple projects going on!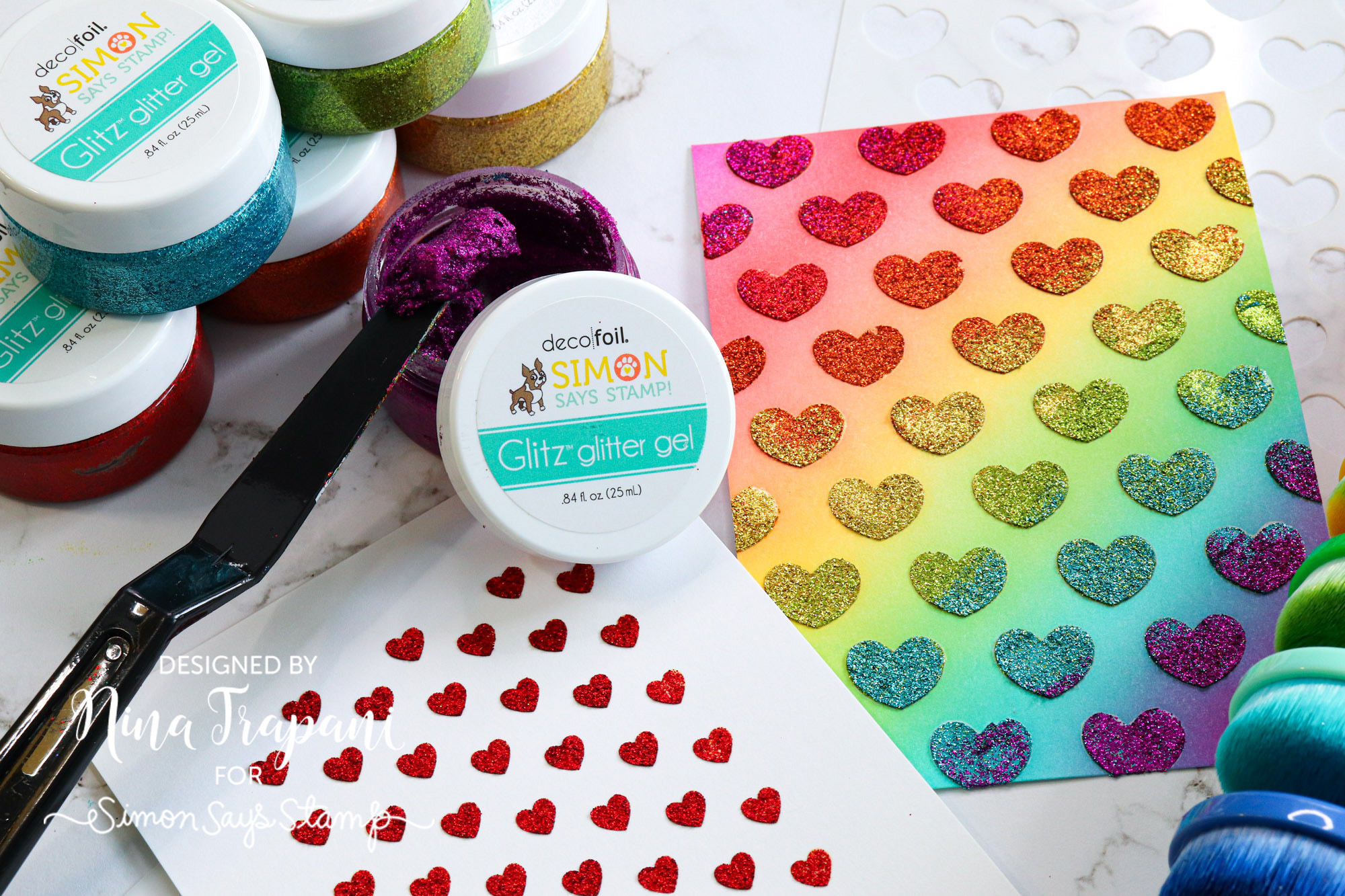 Gorgeous and glittery, the rainbow of mini Glitz Glitter Gels from Simon are so much fun to use for shimmery stenciling! You can use the colors on their own, or mix them like I did for the panel on the right in the photo above. Did you know? If your glitz dries out, you can refresh it by adding a small amount of water into the jar and mixing it into the glitter gel.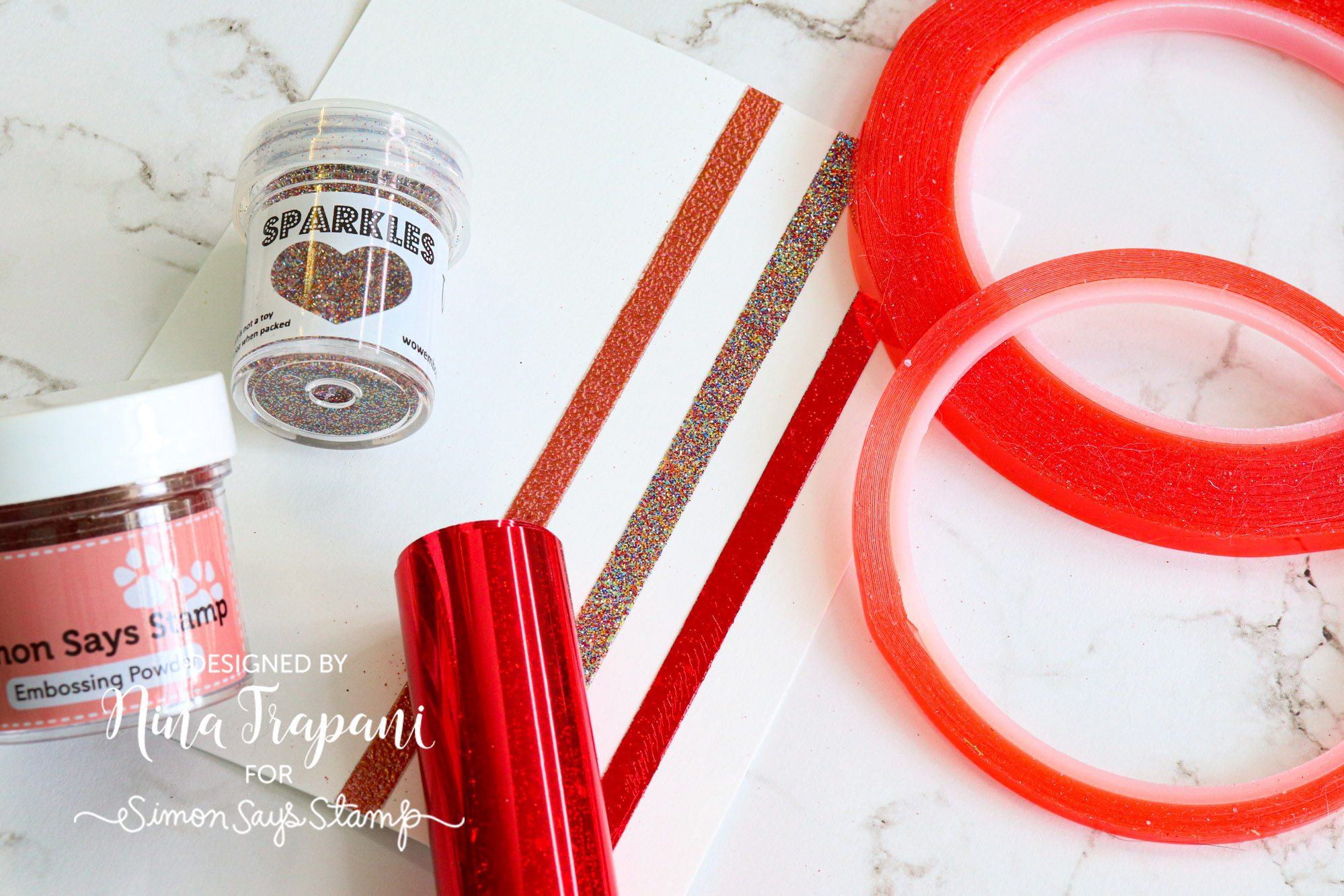 Red Line Tape is a super-strong, clear double-sided adhesive that is fantastic for adhering projects together that require something more than standard adhesive. But a little-known feature about this tape is its versaility to use it as a decorative strip! You can adhere foil, glitter, or embossing powder onto the tape for quick, easy trims and patterns on your projects!
I hope these tips have helped you learn a few tricks for your upcoming crafting projects… Thanks for tuning in today and spending some time with me!
SUPPLIES
Boon GRAY LAWN Countertop Drying Rack…

Tim Holtz Tonic MINI TRIMMER 4496eus

Simon Says Stamp RED LINE TAPE 1/8…

Simon Says Stamp RED LINE TAPE 1/4…

Simon Says Stamp PET PAWSITIVELY…

Simon Says Stamp PET PAWSITIVELY…

Simon Says Stamp PET PAWSITIVELY…

Simon Says Stamp PET PAWSITIVELY…

Simon Says Stamp PET PAWSITIVELY…

Simon Says Stamp PET PAWSITIVELY…

Simon Says Stamp PET PAWSITIVELY…

Simon Says Stamp PET PAWSITIVELY…

Simon Says Stamp PET PAWSITIVELY…

Simon Says Stamp RAINBOW MINI Set of…