Did You Know? Fun Facts and Crafty Tips! February 2020 Edition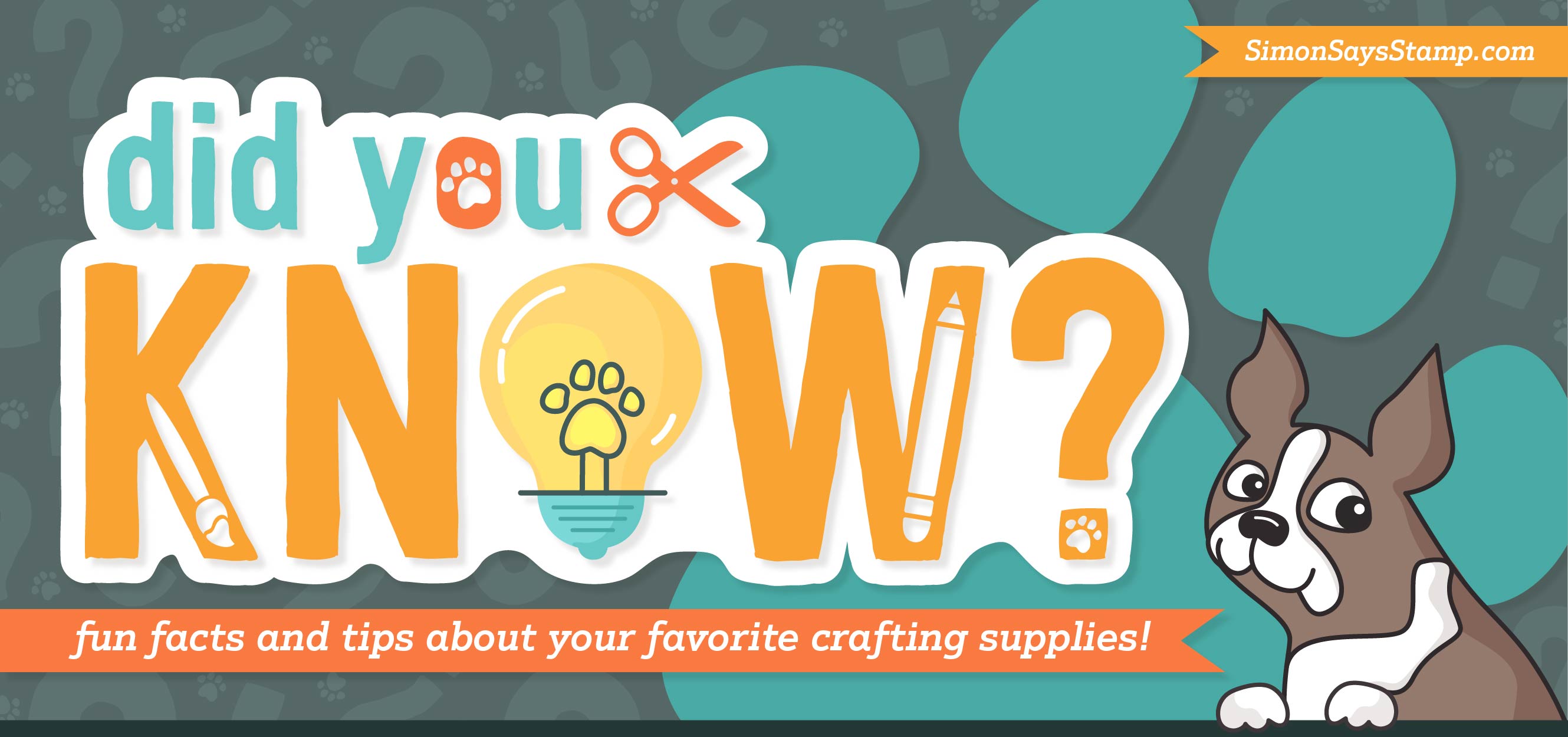 Hello crafters, it's Nina-Marie Trapani here with you! Today I have a new edition of our popular Did You Know series!
If it's your first time seeing this feature, each month we bring you fun facts, creative tips and even crafty hacks about your favorite supplies and brands; you can then use these awesome tips that you learn in your next crafting projects! Are you ready to learn some fun tricks? Keep on reading!
DIY Envelopes
Sometimes you want a special envelope to coordinate with a card you made! Did you know that you can use our Simon exclusive A2 V-Flap, 4 Bar Square Flap and 4 Bar V-Flap envelope dies to make pretty, custom envelopes? Use pattern paper or cardstock to make the envelope and then either leave them simple, or let your imagination go crazy with decorating!
Therm O Web Pixie Spray
If you love working with detailed stencils but have trouble with the stencils not staying in place as you work with them, you'll want to check out the Pixie Spray from Therm O Web! This low tack adhesive is perfect for holding stencils in place while you ink blend, add paste and more. The best part is that the adhesive doesn't leave a residue on your project after removing the stencil!
Reverse Sentiment Strips + Black Marker
Our popular, Simon exclusive Reverse Sentiment Strips are pre-printed on white cardstock, which means after you trim each strip out of the sheet, you can see the white core of the cardstock. If you want the strips to look like they are made from black cardstock, simply take a black marker to trace along the edges of each strip! The result looks super-pro and crisp!
Waffle Flower Mini Water Media Mat
If you love to watercolor as much as we do here at Simon, you're going to enjoy working with the Waffle Flower Mini Water Media Mat! This silicone mat can be used to hold your paper as you color, since the surface of the mat has a natural grip to it. You can also use it as a palette for mixing colors; the bright white color of the mat shows the true colors of the pigment beautifully for accurate color mixing.
Chameleon Colored Pencils
Did you know that Chameleon colored pencils are designed with a light and dark end on each pencil so that you can create shading easily? Simply pick a pencil and start with either the lighter or darker end; then flip the pencil and finish the coloring with the other side of the pencil! In no time at all, you'll have beautifully shaded coloring! We love using these pencils with our exclusive, Spring Flowers coloring cards!
I hope these tips have helped you learn a few tricks for your upcoming crafting projects… Thanks for tuning in today and spending some time with me!
SUPPLIES
Simon Says Stamp A2 V FLAP ENVELOPE…

Simon Says Stamp 4 BAR SQUARE FLAP…

Simon Says Stamp 4 BAR V FLAP…

Therm O Web PIXIE SPRAY iCraft…

Chameleon SET OF 25 Color Tones…

Waffle Flower MINI WATER MEDIA MAT…

CZ Designs SENTIMENT STRIPS REVERSE…

Simon Says Stamp SENTIMENT STRIPS…

CZ Designs SENTIMENT STRIPS REVERSE…

Copic Sketch Marker T10 TONER GRAY