Debby Hughes Dazzles Again!
Hi Bloggers! Happy Sunday to you! Every time I ask Debby Hughes to cook up some inspiration for our readers I always get really excited to see what super fun and creative way she'll use our exclusive SSS products! I'm telling you, this genius has ENDLESS ideas on how to stretch your stamps, dies, & stencils to make amazing projects! Today's content is of no exception, and I hope you enjoy!
Hi Debby here with my next look at stretching your supplies! I totally and utterly fell in love with the Holiday Release from Simon and top of those new products for me had to be the Snowflakes; they haven't left my desk over the last few weeks :) So I thought it only fitting to take a fresh look at these gorgeous dies.

As it turns out the Funky Snowflake makes awesome Rudolph antlers!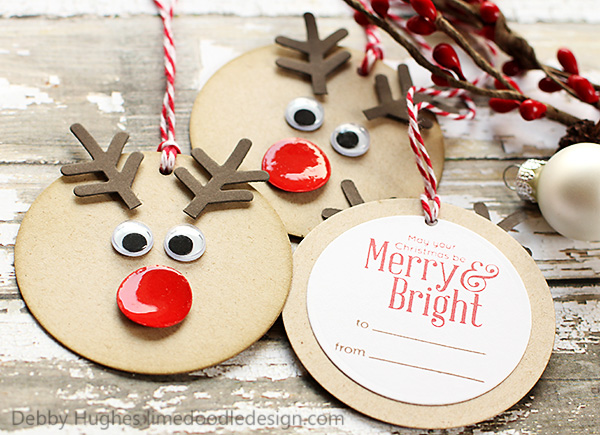 I was inspired to make these tags after seeing mouth-watering Rudolph cookies on Pinterest :) They are so simple to make; a circle die cut with a little Distress Ink bought in from the edges to add dimension, a couple of snowflake points for antlers, a red glossy nose and to ramp the fun factor up, a couple of googly eyes to finish :)
SUPPLIES:
After taking a little look at one of the Holiday dies I thought it only fitting to do the same for one of the new stamp sets. When I was looking at the cute Hey Pumpkin set it occurred to me that the jack o lantern eyes and nose reminded me of a picture we have on our hall wall! A few years ago I bought a print from a young illustrator called Anna Betts. Anna often uses simple triangle shapes in her art work to represent trees. Using Anna's work as inspiration I used the A2 card curve edge die to create a mask for some Distress Inking, firstly creating a lake and then mirroring the masking to create a hill. I cut the jack o lantern face to separate the eyes and nose from the mouth and then used it to stamp the 'trees' in the foreground. The sentiment is part of the From Us set and the sun was one of the solid circle stamps from Lots of Dots.

I hope I've inspired you to take a fresh look at your Holiday supplies and really get the most out of them :)
SUPPLIES:
Thanks for reading today and thanks so much to
Debby
for providing gorgeous inspiration!