Hi bloggers!  Happy Sunday to you! I'm super pumped to share some sneaks and favorites from the NEW Amy Tangerine line from American Crafts at CHA! We just love seeing Amy and the new fun products she has! All of these beauties are COMING SOON to Simon Says Stamp!
I borrowed this great collage pic preview from Amy's blog: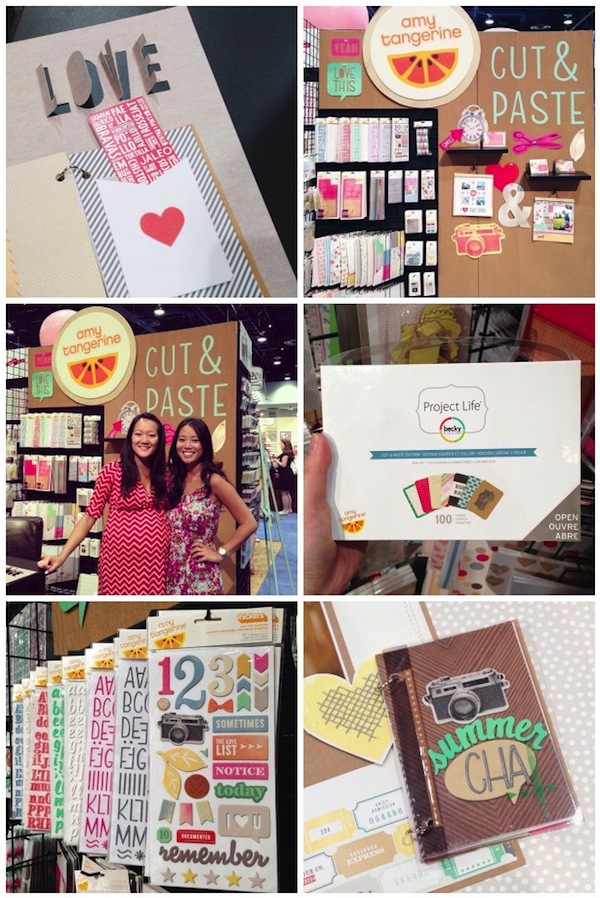 Hello there – it's Amy of Amy Tangerine. I got to meet up with some of the amazing crew from Simon Says Stamp. Love that they stopped by my booth with American Crafts at CHA's Create-n-Connect last week in Vegas. We thought it would be fun to do some behind-the-scenes reporting from there. And naturally we had to get a group shot. I especially love how cute Heidi is with her sneaky little belly rub (I am about 32 weeks pregnant) in this photo.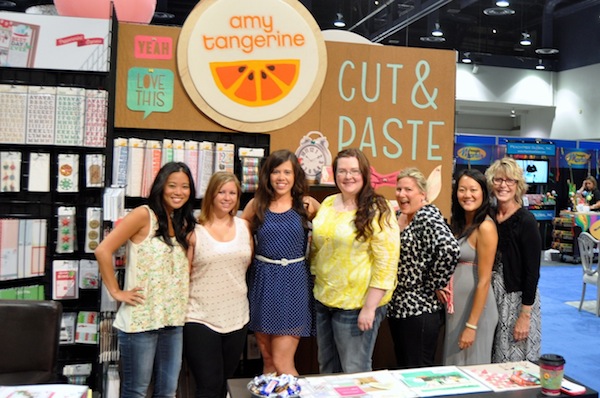 I gave Kristina a little tour of the products from my newest collection, Cut & Paste. (Check out yesterday's blog to see some more sneaks of this new collection!!).
I thought it would be fun to ask what a couple girls loved from the line and why. Then I would give you a bit of insight into the thoughts behind designing it.
Sarah chose the rubber Thickers and she said,
I LOVE THICKERS! This are my favorite pack yet! Although they're "thickers", these letters are slim and won't overtake your favorite photos – captions anyone? Also, they're shiny and bright…gotta love that!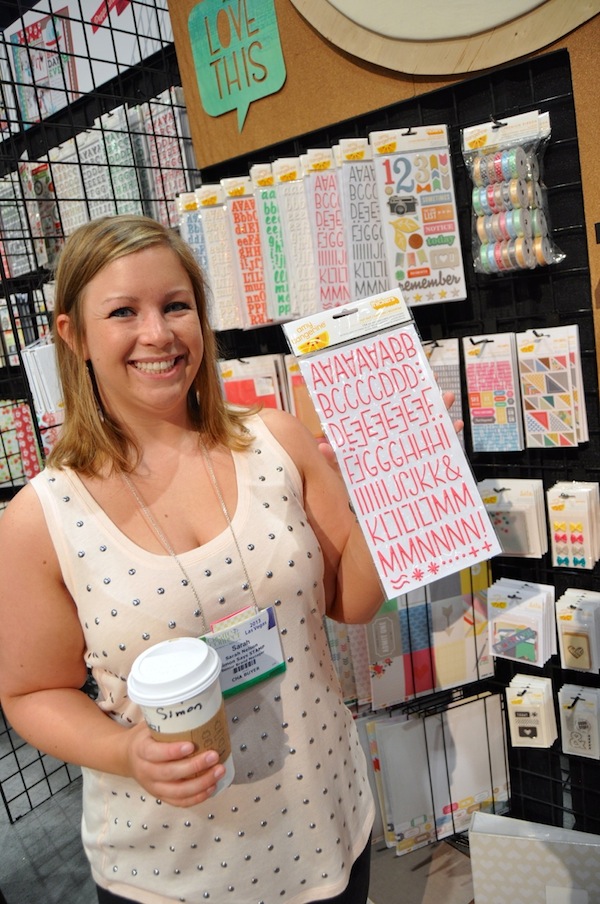 I wanted this cool font as a thicker because of the size for both titles on scrapbook pages and for cards. Love that the rubber gives it a nice dimension and look. I used them on the cover of my mini album for the show, and people couldn't stop rubbing them, not even kidding.
Steph loved the vellum pockets because,
Ever since I started getting into scrapbooking, I've found myself saving "doodads" to remember a special event, night, moment, or place.  Matchbooks, corks, ticket stubs, & more!! I needed a place to put these things in, and not only are the designs adorable, but the vellum allows you to see what the heck is in there! ;)
Love the translucency of vellum and the fact that it could be printed with cute designs. This pack comes with a nice variety of patterns and some sayings. My favorite is one that says, "good stuff". Also love the fact that the sides are machine stitched. They don't come with an adhesive backing, but I think that makes it even more versatile for applying on different projects.

Hope you liked this little behind the scenes look at the Cut & Paste line, expected to be in the store in late August, early September!!
Thanks for reading today & thanks so much to Amy for giving us the grand tour at the show!!
Now that you know what Sarah & my favorites are…we want to know YOURS! Join our following and comment on the blog post with what you're liking the most from our CHA reports for a chance to win some surprise blog candy!