Hi readers! Happy Wednesday! I hope your week is going great so far! I'm pleased to have guest designer, Sandy Allnock back to give us some awesome tips and tricks on Copic Hair Color ideas to make colored hair more realistic looking! Be sure to watch her video for even more tips & tricks! We're proud to sell her line of stamps called "Ciara's Friends". Feel free to peruse them below and enjoy!
Hello stampers and color-ers! It's my turn to bring you some crazy fun with Copics….but first I want to say a huge THANK YOU for your warm welcome over here with all your sweet comments on the blog and YouTube! I read them all – it means so much to know that you're enjoying my creations!

Enough of all that. You're intrigued by that Hair Salon title, eh? Let's get down to brass tacks, then!

So many folks have asked me for suggested colors for hair. And as you'll see in the video, it's so hard to pick! There are crazy numbers of possibilities, especially if you're like me and pick all kinds of wacko colors to try out. So click the play button, and I'll meet you below the video for a little more info.
Watch the video:
What did you think? Nutty colors, eh? I hope it shook up your thinking just a little; it's a shame that we buy ALL these markers and just don't use them all to their fullest. Me included! I've been trying to play with my less-used colors and experiment with what they go with – so keep an eye out for me to come up with more crazy suggestions!

In the video, I said you could take a better look at the sheet of samples, so here it is. If you'd like to download a higher res pdf, you can pick that up over HERE.
And of course, the finished card – pin away! A bonus tip – to fussycut the award, trim it out as best you can with some detail scissors, then find a matching Copic – color over it and no one will ever know your fussycutting isn't 100% perfect! Here I stamped it in navy ink, so found that B18 matches that.
Don't forget the inside of your card! I layered the top section with matching paper from BoBunny, then stamped the poem sentiment (anyone know this old JT song?) and diecut it with the heart from the Simon Says Hearts and Spoons set. I added a scrap of the red paper along with a little heart – and the inside has lots of love!
One last picture for you…this is me and my girl Ciara! Just so you know, she's 14—that's way old for a sweet golden retriever. She's been with me since she was a year old, and has been by my side faithfully all these years. My stamp line (8 sets now, 2 more coming out in a couple weeks!) is in honor of her, so she'll have quite the legacy. All of her pup friends, other critters, and people we know, are being turned into stamps that will get used for years to come. She's pretty proud!
That's about it for me here….thanks so much for stopping by the blog and watching the video. If you want to see more of the Ciara's Friends line, check out my page HERE – and send me links with your cards so I can add you to my gallery of ideas!
SUPPLIES:
Thanks for reading today! Thanks to Sandy (& Ciara!!) for providing us great inspiration!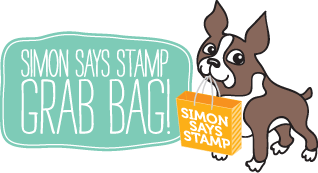 Blog Candy Alert!! Follow our blog via email and comment on this post for a chance to win a special blog candy!
Congrats! Blog Candy Winner!
From: Let's Get Distressed!: Erum!
Please email me ([email protected]) with your mailing address and the name of the blog you won from to claim your prize!