Cold Hands, Warm Heart New Release & Blog Hop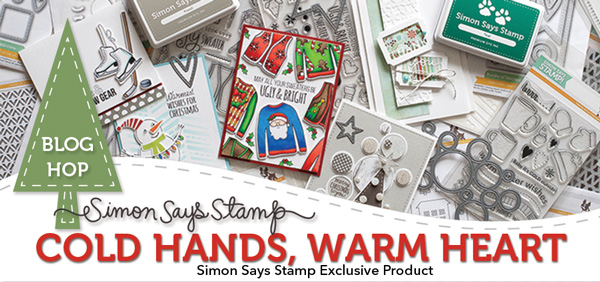 Hi friends!  Have you ever heard that those with cold hands, have warm hearts?  A woman I worked with when I was in high school used to say that all of the time.  She had very cold hands, but most definitely the warmest of hearts.  I think of her often and smile. :)  In fact, I bet ya she would really enjoy getting a card after all of these years….
Card making is meant to bring joy to each others hearts.  Sharing a card is a great way to uplift a friend, celebrate a special occasion, announce a big event, and get festive with the season.   We hope the the products in this release help you get your card making and crafting ON!  Tomorrow is World Card Making Day and we hope you have a chance to celebrate making cards with and for your friends and family!
We celebrate the release of Cold Hands, Warm Heart with a blog hop with some lovely card making friends.  Want to get inspired!?  I SURE DO!  These hops are like Christmas morning for me.  I hope you like them too!
The card above was designed by Shari Carroll.  Thanks Shari!  As a favor, I asked her to design the Flower Pattern stencil a few months ago.  She designed it AND is putting it to good use!  Check out how she used the new Thank you Ticket Die too.
The hop starts here!  If you get lost along the way, here's the route:
Simon Says Stamp
Shari Carroll
Kristina Werner
Jennifer McGuire
Laura Bassen
Sandy Allnock
Debby Hughes
Lucy Abrams
Kathy Racoosin
Nichol Magouirk
Erin Schreiner
Heather Ruwe
Kim O'Connell
Stephanie Klauck
Heather Pulvierenti
Wanda Guess
Teri Anderson
Be sure to leave a comment at each stop on the hop.  We'd love to hear how you are planning on celebrating World Card Making Day!  Every stop on the hop will have a GRAB BAG Prize.   Simon's grab bags ROCK!  The giveaways for the prize pack will close at 1pm Friday, October 10. Winners will be announced on the Simon blog.
Happy hopping!