Class Information + Giveaway!
Hi readers! Happy Tuesday! One of the many things that is so special about the paper crafting community is the amazingly kind and supportive nature of our fellow crafters as well as the ability to inspire each other! Classes and challenges are such a wonderful venue for inspiration and support! Today we're sharing some information about a fun class coming up, and a challenge that is going on NOW!
Read on…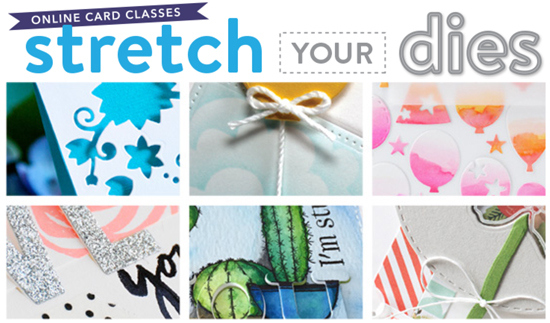 You've used and loved your die-cutting machine for years– and now it's time to step up your die-cutting game! In Stretch Your Dies, you'll learn new tricks, techniques, and ideas for putting your favorite dies to work to create truly unique cards.

Join instructors Kristina Werner and Jennifer McGuire, plus special guest artists, for this all new card-making class.  Based on the same concept in our popular Stretch Your Stamp series, we're putting the spotlight on our favorite styles of dies and die-cutting techniques.  From playing with word dies to discovering ways to using mini dies, we'll take you step by step through over 20 "to die for" techniques and help you get more out of your die cutting investment.

Class Begins March 16, 2015, and registration is open now!
GIVEAWAY!
Would you like to win a spot in the Stretch Your Dies class? Comment on this blog post for a chance to win! If you're already signed up for class, they will refund your dues. Winner will be announced soon! Good luck!
The 30 Day Color Challenge is in full swing! If you haven't been tuning in just yet, you may want to start with Day One!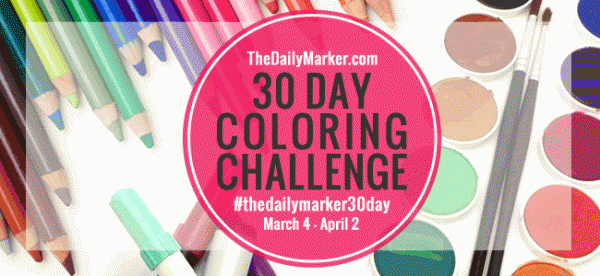 Kathy Racoosin is calling all people who love to color to join her by taking a 30 day coloring challenge. The idea is to color something everyday even if it's for five minutes. The challenge is all about adding more color into our lives and carving out a little time for something that makes you happy. Kathy will be posting every day on her blog for 30 days coloring with many different mediums (something for everyone). With every challenge there are GIVEAWAYS, and ways to share you work via her blog or on Instagram kathyrac. (When sharing your work use the hashtag #thedailymarker30day) Visit thedailymarker.com for more details. . I hope you will take the challenge or jump in when you can.
GIVEAWAY!
Tune into Kathy's blog on Monday, March 16th for a chance to win the blue & purple Copic blending kits! This is a great prize for beginning colorers! Good luck!
Thanks for reading today! Do something CREATIVE today! ?