Cheer and Joy Blog Hop WINNERS and World Card Making Day WINNER!
Hello friends! Have you seen our Simon exclusive Cheer and Joy release? Our Simon Says Stamp exclusive Cheer and Joy product lineup is bursting with lots of ways to create festive cards, tags, and paper projects for the holidays! Included you'll find beautiful products including intricate snowflakes, life-like pinecones, sensational sentiments, and adorable gnomes as well as wintry florals, adorable woodland creatures, and some brand new collectible enamel pins that will fill you with delight! There are also fun new goodies from CZ Design and a fresh new set of watercolor cards from Suzy Plantamura. We are so excited for you to play with all of these awesome new products!
To celebrate this phenomenal release, we hosted a two-day blog hop! The hops featured many talented designers and each one created wonderful projects to inspire you. If you missed the hops, you can find the direct links here: DAY ONE and DAY TWO.
A BIG thank you to all of YOU who joined us for the hops! We enjoy hearing from each of you, and your words of encouragement and appreciation to each of the designers mean so much to us here at Simon and to them. It's our tradition to give away gift certificates to random commenters on each blog stop, and today we are revealing all of the winners! So without further ado, I present to you our winners!
from Simon Says Stamp's blog: Charlotte Thornsbury!
from Jennifer McGuire's blog: Jen Brenza!
from Cathy Zielske's blog: Hanh!
from Nina-Marie Trapani's blog: Sandra Meier!
from Amy Rysavy's blog: Ana Korban!
from Suzy Plantamura's blog: Anja Bytyqi!
from Lisa Addesa's blog: Zlatka!
from Heather Ruwe's blog: karenajo!
from Gayatri Murali's blog: Helen F!
from Karin Åkesdotter's blog: Joyce Verdon!
from Barb Engler's blog: Jennifer!
from Crystal Thompson's blog: Roxanne Camus!
from Marge Yoon's blog: Gail Spresser!
from Lea Lawson's blog: Debbi Smith!
from Betty Wright's blog: Rosemary!
from Simon Says Stamp's blog: Lora Schnuckel!
from Debby Hughes's blog: MyBonnetBee!
from Laura Bassen's blog: Melody Gleed!
from Yana Smakula's blog: Linnea Sundstrom!
from Nichol Spohr's blog: Laurie Kirk!
from Yoonsun Hur's blog: Subhashini S!
from Heather Hoffman's blog: Bunny!
from Amanda Korotkova's blog: Patti Bailey!
from Cheiron Brandon's blog: Brian Poteraj!
from Bibi Cameron's blog: Christy Malone!
from Emma Williams's blog: Jennifer Scull!
from Vicky Papaioannou's blog: Alison Woodstock!
from Anna-Karin Evaldsson's blog: Nancy Littrell!
from Bobbi Lemanski's blog: Cyndi Morris!
from Preeti Chandran's blog: scrap2go.ds!
If you see your name listed above, CONGRATULATIONS! Please email Re[email protected] and let him know that you are one of our Cheer and Joy Blog Hop winners! You'll receive a $25 Gift Card. ???
Thanks again for hopping along with us! We hope you enjoy our Cheer and Joy release and that it gives you creative enjoyment for months to come!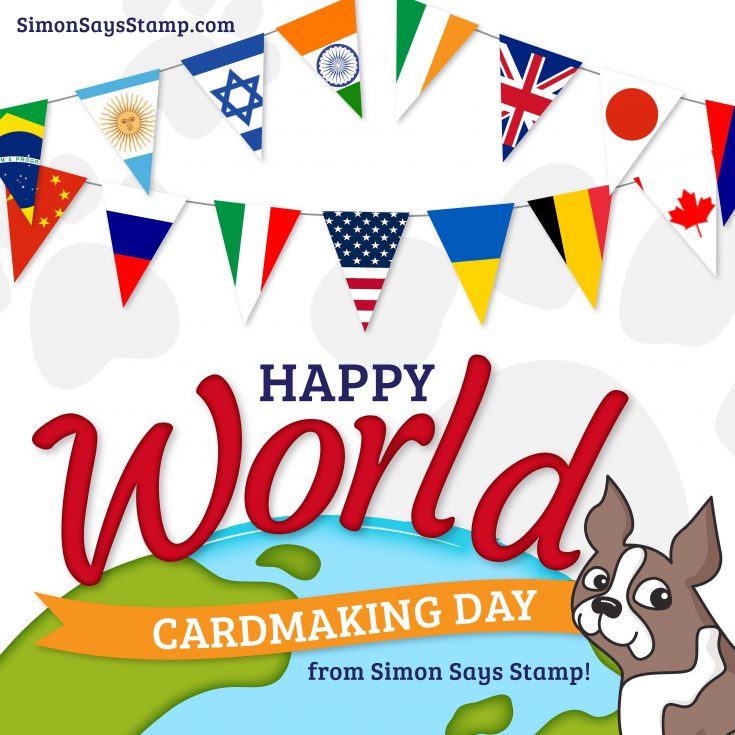 Before we go, we have another winner to announce! On October 5th, we celebrated World Card Making Day, and we asked you to share what you were working on on this post with the promise of a randomly selected winner of a $100 gift card from Simon!
CONGRATULATIONS, Mandi H.! Please email [email protected] and let him know that you are our World Card Making Day winner! You'll receive a $100 Gift Card. ???
Winning ROCKS, and so do you!