Best Days Blog Hop WINNERS!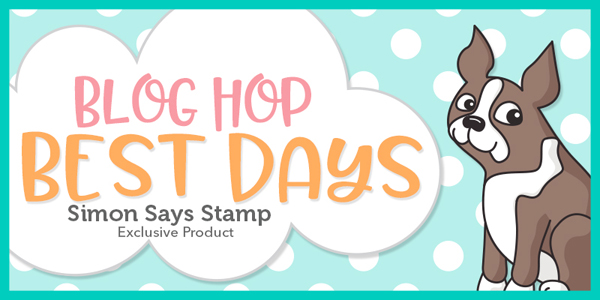 Hello friends! Have you seen our exclusive Simon Says Stamp Best Days release? This awesome collection of products includes gorgeous florals, brand new Picture Book animals, adorable products for baby projects, fun stamps and stencils, two new collections of Suzy's Watercolor Prints, plus some awesome new stuff from CZ Design!
To celebrate this phenomenal release, we hosted a two-day blog hop! The hop featured many talented designers and each one created wonderful projects to inspire you. If you missed the hop, you can find the hop links here: DAY ONE and DAY TWO.
A BIG thank you to all of YOU who joined us for the hop! We enjoy hearing from each of you, and your words of encouragement and appreciation to each of the designers mean so much to us here at Simon and to them. It's our tradition to give away gift certificates to random commenters on each blog stop, and today we are revealing all of the winners! So without further ado, I present to you our winners!
from Simon Says Stamp: Carol Blaisdel!
from Jennifer McGuire's blog: Keely Jones!
from Kristina Werner's blog: Tammy Hanson!
from Cathy Zielske's blog: Jan Elmore!
from Nina-Marie Trapani's blog: Janice Carl!
from Kelly Latevola's blog: Loly Borda!
from Jessica Frost-Ballas's blog: Danielle Dietz!
from Suzy Plantamura's blog: Angela Lunn!
from Jean Manis's blog: Lisa A Creations!
from Heather Ruwe's blog: Kathie A Zimmerman!
from Sarah Moerman's blog: Kelsey Thomas!
from Lorraine Aquilina's blog: craftjunkiesc!
from Amy Kolling's blog: Paula Desmarais!
from May Park's blog: Denise Bryant!
from Kathy Racoosin's blog: Arianna Barbara!
from Simon Says Stamp's blog: Laurie Brown!
from Debby Hughes's blog: Cathy Morris!
from Laura Bassen's blog: Cornelia Fulmore!
from Yana Smakula's blog: Sue D!
from Nichol Spohr's blog: Mindy Eggen!
from Amanda Korotkova's blog: Cindy Thick!
from Amy Rysavy's blog: Alicia Lutman!
from Lisa Addesa's blog: Cindy Aguirre!
from Heather Hoffman's blog: lynneatw!
from Barb Engler's blog: L Verdolin!
from Bibi Cameron's blog: Jeanne Beam!
from Tracy Freeman's blog: Lana Branham!
from Lin Brandyberry's blog: Tami B!
from Gayatri Murali's blog: Pam Whitehead!
If you see your name listed above, CONGRATULATIONS! Please email [email protected] and let her know that you are one of our Best Days Blog Hop winners! You'll receive a $25 Gift Card. ???
Thanks again for hopping along with us! We hope you enjoy our Best Days release and that it gives you creative enjoyment for months to come!