Believe in the Season Blog Hop – Winners!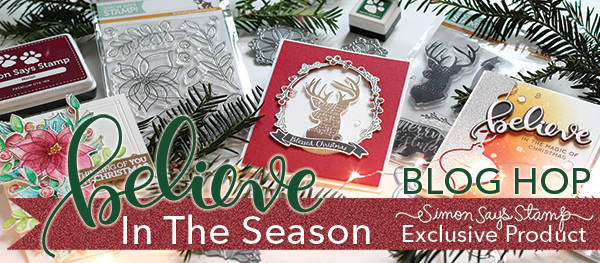 On October 21st, we had a really fabulous and fun Blog Hop to celebrate the newest Holiday 2016 release from Simon Says Stamp called "Believe in the Season" This release is jam packed with new stamps and dies perfect for Winter occasions crafting! Beautiful poinsettias, word dies, snowflakes and even deer!  We shared lots of ideas for using our new collection. This truly was a super release! If you haven't had a chance to visit the hop, click here to view the first post. I know you will find lots of tips, tricks and inspiration! The "Believe in the Season" Gallery is chock full of awesome inspiration and has been updated – and we hope you will take a look! (Be sure to add your links if you've made something with the new stamps and dies!) To see the entire new release click here! 
BIG Congratulations to all of the blog hop winners! Thank you for hopping along with us and taking the time to leave feedback for the designers in the form of comments along the way. We really really enjoy hearing from you!
Winners list by blog:
Simon Says Stamp Blog: Tiffany Dixon
Laura's Blog: Kristie Maynard
Debby's Blog: Greta H
Kristina's Blog: Melissa Edwards
Jennifer's Blog: Barbara Walborn
Kathy's Blog: Rebecca Reynolds
Suzy's Blog: Ina Nelson
Nina-Marie's Blog:Candace Weigand
Nichol's Blog: Carol Ann
Yana's Blog: Anna Sigga
Wanda's Blog: Becky Green
Heather's Ruwe's Blog: Gail Scott
Kelly's Blog: Alidon Day
Anna Karin's Blog: Nicole Vögeli
Barb's Blog: Patty Eifert
Shari's Blog: Ann Rister
Heather Hoffman's Blog: Diana Sowers
CONGRATULATIONS WINNERS!  Each winner will receive a $25 gift certificate to the SSS store!  Please check your inboxes for an email from us with more information about your prize!  If for some reason we couldn't reach you via email, please email [email protected] and let us know you are one of our Blog Hop winners for the Believe in the Season Hop. Thank you again for hopping along with us!